As Singapore edges closer to becoming a Smart Nation, many have identified the need to prepare the nation's workforce with the right skillsets and tools to succeed. DigiPen Institute of Technology Singapore's Continuing Education program aims to do just that by equipping professionals, managers, executives, and technicians (PMETs) with relevant, in-demand skills and expertise that will enable them to thrive in the digital economy.
DigiPen (Singapore) first started its Continuing Education program in 2009 under the WSQ DigiPen®-Ubisoft® Campus Programme. These first Train-and-Place programs were launched to meet the economy's growing demand for people in the interactive digital media sector. This unique collaboration between DigiPen Institute of Technology Singapore, Ubisoft Singapore, and the Singapore Workforce Development Agency (now separated into Workforce Singapore and SkillsFuture Singapore) saw trainees undergo 10 months of learning and acquiring specialist technical skills under the mentorship of industry experts. Trainees chose from one of three tracks — programming, designing, or art — and spent five months gaining academic knowledge, followed by five months of on-the-job exposure. This helped to give each trainee a taste of industry life, and it also allowed them to apply their new skills in a professional setting.
The WSQ DigiPen®-Ubisoft® Campus Programme ran from 2009 to 2014. Five cohorts successfully completed the program, with 100% of Singaporeans and permanent residents securing permanent employment in top game development companies upon graduation. The high success rate is testament to the importance of such reskilling programs, further cementing DigiPen (Singapore)'s commitment to producing industry-ready graduates no matter their age or stage of life.
Today in 2018, new needs are once again emerging within the rapidly-evolving economy. Hiring managers are on the lookout for employees who bring knowledge and experience in fields like robotics, AI, machine learning, data analytics, cybersecurity, and the like. Even as business needs are changing in the push towards digitization, there's a global shortage of talent in these fields.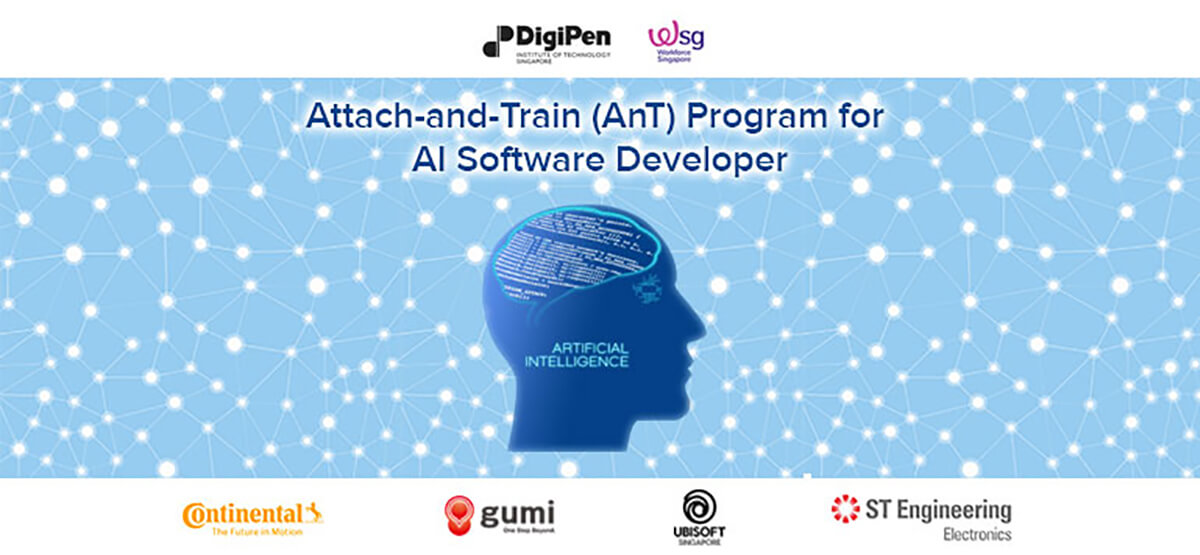 To address this need, DigiPen (Singapore) is currently running the newly launched Attach-and-Train (AnT) Program for Artificial Intelligence (AI) Software Developers. This is the first time an AI program is directly addressing the Singapore industry's need for skilled AI talents. The AnT program was created in collaboration with Workforce Singapore and hopes to reskill PMETs into AI software developers, primarily in the area of games. Candidates follow a six-month program consisting of four months of academic coursework and two months of on-the-job training at one of the four partnering companies — Ubisoft Singapore, gumi Asia, Continental Automotive Singapore, and ST Engineering Electronics.
The AnT program is just one of the many ways in which DigiPen (Singapore) collaborates closely with industry leaders. The institution is committed to providing and equipping students with the right skillsets for them to excel and play a key role in Singapore's Smart Nation blueprint. Positive industry trends continue to feed our belief in this mission, and we are confident that future programs will be equally cutting-edge, relevant, and timely. We are thankful to our industry partners for their continuing support and look forward to more collaboration opportunities in the future."
"While the video game development industry is still young, the Singapore government, local companies, and institutions have put everything into place to boost the growth of a healthy ecosystem. Ubisoft Singapore is heavily involved in growing this ecosystem, with strong ties to schools such as DigiPen (Singapore) and the tech community. With DigiPen (Singapore), we are helping to shape their gaming curriculums by providing internships and sending our developers to give talks and teach courses. The WSQ DigiPen®-Ubisoft® Campus Programme was launched in 2009 to help working professionals transition into careers in the game and media industries. Through this program, we hired a lot of local talent, many of whom now hold senior and leadership positions within the company," Hugues Ricour, Managing Director of Ubisoft Singapore says. "We are very excited to continue our longstanding partnership with DigiPen (Singapore); the current AnT program is a golden opportunity to reach out to anyone looking for a career switch to enter the video game development industry. We are looking forward to working with our first trainee in October!"
The four partnering companies were engaged from the start and jointly helped to select and identify candidates who would be suitable for the program. Upon successful graduation and completion of the program, trainees will also be given the opportunity to secure potential full-time employment with one of the four partnering companies.
"It has been a pleasant experience working with DigiPen (Singapore) on this program," says Mr. Tan Yuh Cherng, Executive Vice President and General Manager of Training and Simulation Systems, ST Engineering Electronics. "Partnering with DigiPen (Singapore) has helped to expand our talent pool. As we offer candidates opportunities for a successful career switch, they have also contributed to the company in a positive and meaningful way. We have recruited several DigiPen (Singapore) graduates and their skillsets have proven to be highly relevant to our business in providing advanced training and simulation systems. We are pleased with the quality of their work and are positive about the progress of the AnT program. We look forward to welcoming candidates who have joined the program in this niche field of AI software development."
As part of the AnT program, trainees will get an introduction to programming and game software development, mathematics for AI applications, AI for games, advanced AI techniques, and more. Additionally, the course fees are fully funded by Workforce Singapore and the partnering companies, and each trainee receives a monthly training allowance of $2,000 to mitigate any financial concerns associated with making a career switch.
"We want to support and present different opportunities to individuals who come with a wealth of past experiences in their own fields. As a technology leader in our industry, we believe in continuous learning in order to achieve even greater heights," Mr. Lo Kien Foh, Managing Director of Continental Automotive Singapore, says. "The AnT program fits very well into the framework of our learning philosophy where we strive to allow every individual to excel via continuous learning."
Upon successful graduation of the program, trainees will be conferred a Specialist Diploma in Artificial Intelligence Software Development, and the skills they learn will be applicable well beyond the field of games.
"At the end, we want to contribute to the digital economy by doing what we do best — educating the workforce," says Mr. Tan Chek Ming, Managing Director of DigiPen (Singapore). "The AnT program is just one of the many ways in which DigiPen (Singapore) collaborates closely with industry leaders. The institution is committed to providing and equipping students with the right skillsets for them to excel and play a key role in Singapore's Smart Nation blueprint. Positive industry trends continue to feed our belief in this mission, and we are confident that future programs will be equally cutting-edge, relevant, and timely. We are thankful to our industry partners for their continuing support and look forward to more collaboration opportunities in the future."