For someone who describes herself as "an artsy person," it may come as a surprise that Jobelle Lim is now pursuing a career as a software engineer at PayPal. Though she had always been interested in art and design, life had other plans for Jobelle when she discovered her hidden aptitude for software development while studying at DigiPen (Singapore).
Jobelle took chemistry and biology during her junior college days but had always been sure that she wanted to further her education in something art-related upon completion of her 'A' levels. While planning for university, she researched fine art courses in Singapore and came across DigiPen (Singapore). Jobelle was intrigued by the design-focused programs and the Institute's strong ties to the game industry. Being an avid gamer herself, she applied for and subsequently enrolled in the BS in Computer Science and Game Design program.
After her first trimester on campus, Jobelle realized something peculiar — despite her initial inclination for the art and design subjects, she started enjoying the computer science and programming modules more. After some consideration, Jobelle changed her major to BS in Computer Science in Real-Time Interactive Simulation in her second year. "Even though I don't consider myself to be someone who is very math and science oriented, I like programming," she says. "There's a certain beauty to writing good code, and seeing the end product that you want gives a sense of achievement."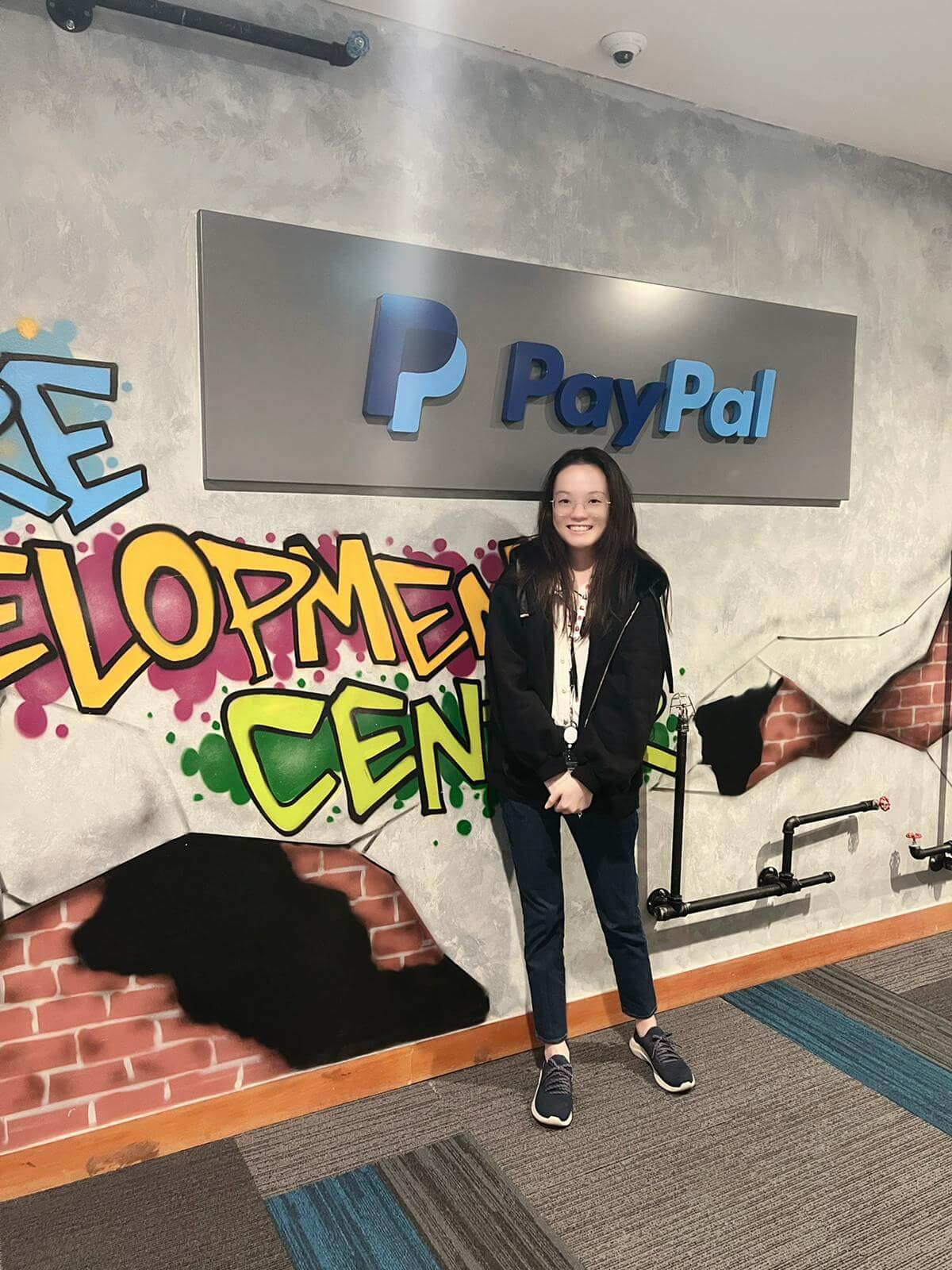 When Jobelle graduated in 2021, she knew she wanted to join a company whose products she believed in. She also knew she did not want to go into the games industry, as she had discovered through her time in school that she much preferred playing games to making them. When she came across the opening for PayPal, she applied, having been a loyal PayPal user for over a decade. "I've seen the company's product grow and change over the years and decided that I want to be part of that," Jobelle says. She successfully got in and started working at PayPal in January.
Today, Jobelle is a backend software engineer and works in the team that handles payments. She does regulatory change management, which means she makes updates to PayPal's payment services and processes in accordance to the laws and regulations enacted by the many countries where PayPal does business. Since this is her first job after graduation, the learning curve was initially steep, and it took Jobelle a while to get used to things. For one, she primarily uses Java now while she mostly used C++ in school. Thankfully, her strong software development foundation meant she could easily pick up new programming languages when needed. Another big difference between working and schooling was the need to monitor and follow up on projects and changes. "I have to regularly monitor the performances in databases and present this information in a dashboard format," Jobelle explains. She adds that this was different from just doing a final submission for a visible product like a game at the end of the trimester.
As someone who graduated and started her first job during the pandemic, Jobelle is thankful for the welcoming culture at PayPal. This has made it easy to assimilate despite the team working from home on most days. "I love the inclusiveness of the company, and we have frequent festivals celebrating minorities, such as during Pride Month," Jobelle says. "PayPal also takes employees' mental wellness seriously, and there are care packages, time off, and welfare policies," she adds. Most importantly, Jobelle is grateful to have supportive teammates and a manager who is present whenever she has questions.
Speaking candidly about her journey so far, Jobelle says she never expected herself to pursue an education and career in computer science. "When I took up programming in school, I didn't expect to experience such fun — and challenges — while going through my course," she says. "DigiPen (Singapore) taught me endurance, and the rush of satisfaction that I get upon figuring out what went wrong with my code is something that still motivates me to continue on this path." Jobelle adds that she has no regrets and highly recommends pursuing a computer science degree due to how relevant and in-demand the skillsets are as the digital economy grows.
With time, Jobelle hopes to continue honing and developing her skills as a software engineer. She also looks forward to branching out into a producer-like role one day as she continues to push forward great products with the rest of her team at PayPal.