The world is an exciting place for a fresh graduate to be. You've just finished up your final semester in school and the possibilities are seemingly endless: What company should you join? Are you looking to grow in a start-up culture or join the ranks of an established multinational corporation (MNC)? Do you want to work locally or overseas?
These are just some of the many factors you have to consider, and when you sit down to weigh your options, exciting prospects can quickly turn into daunting and overwhelming choices if you don't know where to begin.
Bachelor of Science in Computer Science in Real-Time Interactive Simulation (BSCS RTIS) graduate Tan Yao Wei was recently in the same boat. He graduated just over a year ago and is now currently working at NetVirta Singapore as a software engineer specializing in 3D graphics processing. Yao Wei was back on campus earlier this year to share his tips on how to go about securing your first job after graduating, and what you should look out for when choosing a company to join.
1. Adopt a mindset of seeking opportunities
If you want the world to be your oyster, don't limit yourself. According to Yao Wei, it's important to adopt a mindset where you constantly seek out opportunities. This includes looking beyond school resources and casting your net wider by looking for vacancies on your own. Start planning for your career even before you graduate. Beyond the usual job search portals, Yao Wei also recommends checking out AngelList and TechInAsia for career opportunities in start-ups and smaller organizations.
If there is a particular company you're keen on, do your homework and find out more about their values, direction, and past projects. You should tailor your application and portfolio to be in line with their needs in order to boost your chances of success. Familiarize yourself with your strengths and weaknesses, and make sure your portfolio mirrors this accurately.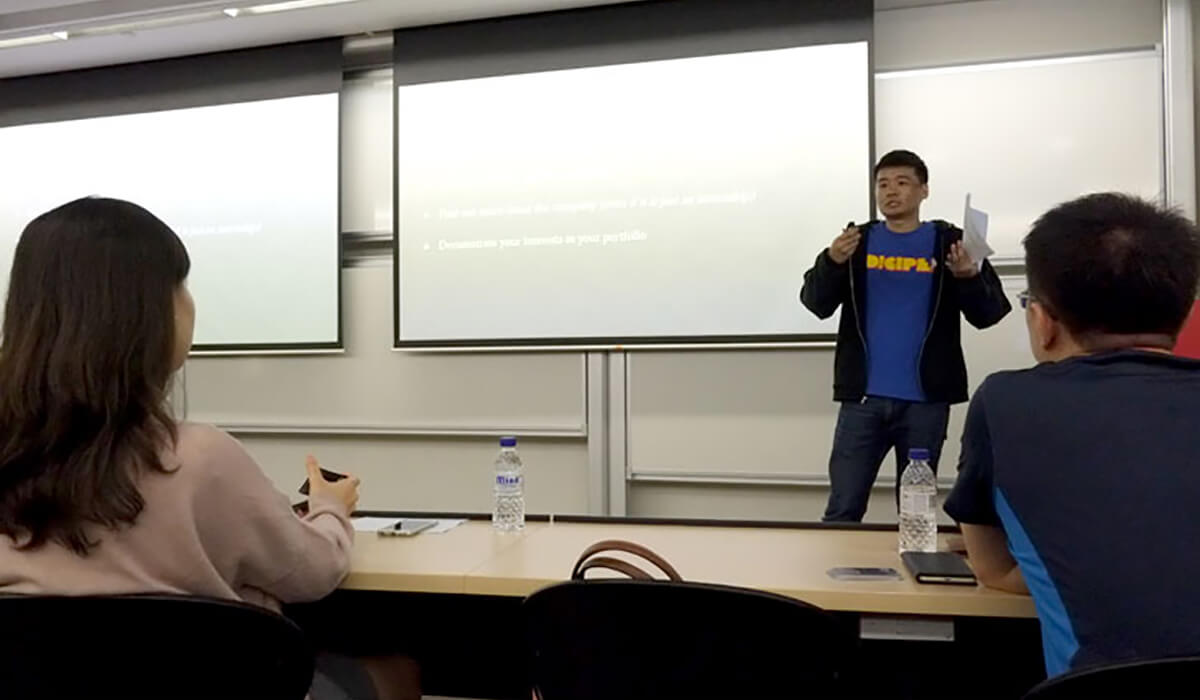 2. Look for internship opportunities
Before securing a full-time job, it is also helpful to kick-start your career through internships. Internships give you valuable experience and insights into the industry and can be a good launching pad for your career. Start searching and applying for internship placements as early as possible. Yao Wei initially applied for internships only a few weeks before his intended start date. He thought that the interview process would be shorter, but soon realized that the hiring process for interns and full-timers was the same. Many companies take internships very seriously and use it as a platform to scout out potential hires.
When applying, it's also good to understand the difference between doing an internship over two semesters versus doing two internships over two semesters. In the first scenario, it will be easier for you to secure an internship since the employment period is longer. You will probably be working on the same project throughout the internship which allows employers to entrust you with bigger tasks over time. On the other hand, doing two internships over two semesters allows you to work for two different companies — good if you're looking to gain more exposure in a new environment.
3. Choosing between small and large companies
This is perhaps one of the biggest considerations you have to make. Carefully weigh the pros and cons of both before finalizing your decision. This is what Yao Wei has observed about both environments so far: As a software developer, joining a larger company means that you'll be exposed to a large code base and will have more mentors to turn to when you encounter problems. There will also likely be more red tape and bureaucracy to clear, but being a part of a respected and recognized company will open more doors for you in the future.
Smaller companies grant the benefits of speed and efficiency, making it easier to handle cross-department problems. That said, be prepared that your job scope will not be as clearly defined. Expect to learn and perform tasks beyond what you were initially hired to do. These instances are great learning opportunities for you to grow, but bear in mind that having a non-established workflow can also be challenging at times.
4. Don't put all your eggs in one basket
When it comes to job searching, be prepared that you'll be doing a lot of waiting. One of the biggest lessons that Yao Wei learnt during his job-hunting process was that it is common to encounter long periods of silence from prospective employers, even if the interviews went well. He was initially wary about applying for more than one job at a time. "I didn't want to be caught in a situation where the company I wanted only got back to me after I'd accepted another offer," Yao Wei says. But thinking in this way ended up limiting his options, resulting in wasted time and opportunities. In reality, you might tick all the boxes in a company's job description but still end up without an offer due to factors beyond your control. Furthermore, job listings do not stay open for long so you shouldn't take your time to mull over it. Don't be afraid to apply for multiple positions concurrently since you never know who will get back to you, or when.