Cindy Lee was among the first batch of students to graduate from DigiPen (Singapore) in 2013 with a Bachelor of Arts in Game Design (BAGD). As a former student at Nanyang Junior College, she was also among a small group of DigiPen students — roughly 5 percent at the time, who did not come from a polytechnic.
After earning her degree, Cindy was eventually hired on as a pixel artist at Springloaded, a humble indie outfit of currently eight employees that specializes in pixel art games. She continues to work there today as a lead designer, helping develop mobile titles like The Last Vikings and Tiny Dice Dungeon.
When Cindy first started out, she had a lot of mentoring from the company's founder, James Barnard. "Pixel art is not as easy as it looks," Cindy said. "It's a very mathematical way of drawing, and you're constrained by the size of the canvas that is given to you."
James elaborated that pixel artists often have methodical techniques to make their art look good, such as altering the color to give an illusory effect. "One wrong color at a wrong place can make one's pixel art look weird," he said.
Even among my junior college friends, I was the only one who actually pursued my passion."
The game studio cites Metal Slug as an inspiration when it comes to the pixel-perfect look they're trying to achieve. However, with the help of modern graphics technology, the studio also stylizes its pixel art to include soft glows that give their games a subtle pop, while still retaining a retro look. James said that his reason for specializing in pixel art is so that the player can interpret an image in their own way — more so than with conventional 3D art.
As a junior college student, Cindy's formal technical training did not start before joining DigiPen. Polytechnic students often have an advantage over junior college students in that they can already specialize in a skillset needed to produce games. When the first batch of BAGD students was accepted, Cindy said that some of her fellow classmates, who had studied at polytechnics, already had a few years of industry experience under their belts.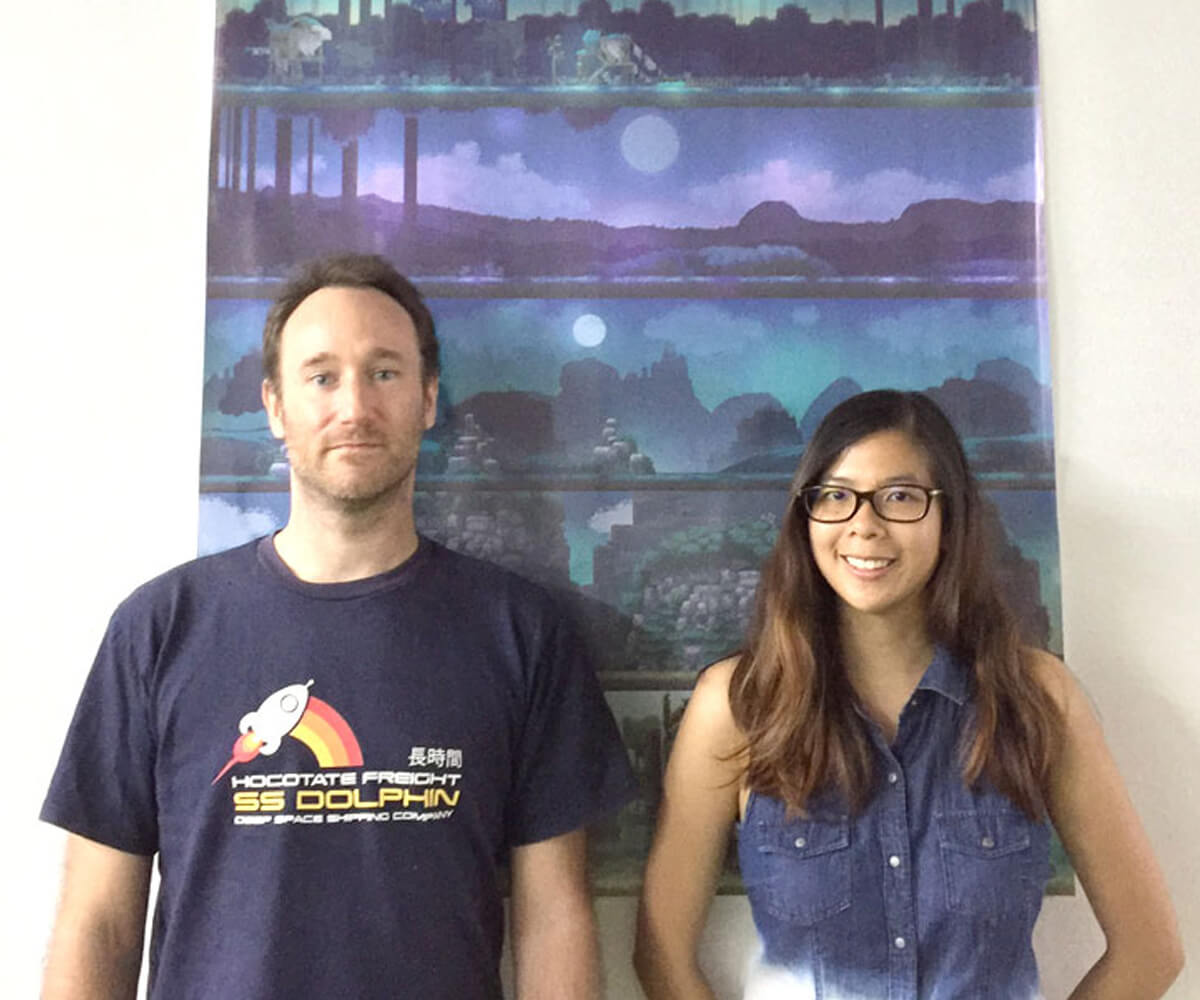 "It was really scary for me, because I only had art classes up until secondary school," Cindy shared. "I didn't even know what Photoshop was. It was hard at the start when you feel so far away from what other people already know." Cindy also mentioned that prior to DigiPen, she never had the chance to use different art media such as charcoal, chalk, and paint.
In addition to the technical challenges she faced as a junior college student, she also had a hard time convincing her parents that she had the drive and passion to make it in the video games industry. Cindy's parents had initially expected her to pursue an engineering or economics degree. "Even among my junior college friends, I was the only one who actually pursued my passion," she added.
Three years into Springloaded, Cindy has grown from being a pixel artist to taking on bigger roles in the company, like being the lead designer and extending a helping hand in other vital areas like playtesting, customer support, marketing, and scripting in C#.
"It really helps that Cindy is an avid mobile gamer, so she knows how the content in a mobile game works," James said. "Considering the education she went through, she's now become a full package of art and design. It's hard to find someone that versatile."
Cindy gives credit to her education, including the group of peers with whom she studied.
"It also helped that the student body had a lot to share, like how the games industry worked, so I knew what to expect," Cindy chimed. "I was like a sponge absorbing everything."
Last year, Springloaded's game The Last Viking was named one of Google Play's Best Indie games of 2016. This was a big deal for the company, as it reaffirms their belief that pixel art is relevant today. "From the conferences we attend, we hear from game companies that they are not sure if pixel art is relevant," James said. "But winning this is a big deal for us. It shows that there are people out there who are passionate about pixel art as much as we are."
That wasn't the studio's only notable mention. The Last Vikings also picked up nominations for Best Game Design and Best Game Art in Casual Connect Asia. It was also the runner up for the Indie Pitch Arena at Mobile Games Asia in 2015. Springloaded's previous game, Tiny Dice Dungeon, won Best Free-to-Play Game at Casual Connect Asia 2014 and was nominated for Best Game Story and Best Mobile Game at the same event.
Today, the forward-looking indie company is hard at work on their upcoming releases. Cindy said that Springloaded is slated to release Desert Island Fishing, a fishing simulator with an underlying environmental message, in the upcoming month. They have also pitched Nether Realms, a monster creator game, to DigiPen Game Studios during their previous call for proposals. Nether Realms also won first place at GMGC's Manila's Indie Pitch Arena.