Having gone through and survived the full rigor of the DigiPen curriculum, there's no one better than our graduates who can understand what it entails. Here on campus, we are fortunate to have three alumni back with us as faculty — Kevin Prior, Howard Sin, and Gerald Wong. Kevin and Howard graduated from the BS in Computer Science in Real-Time Interactive Simulation program in 2005 and 2013 respectively, and Gerald graduated with a BS in Computer Science and Game Design in 2013.
All three of them bring to the classroom a wealth of experience from their professional careers. Kevin attended DigiPen in Redmond, Washington, and worked in a number of notable companies in the U.S. such as Sandlot Games, Nintendo Software Technology, and Offbeat Creations upon graduation. Kevin was the fifth employee that Offbeat Creations hired, and Disney eventually acquired the studio while he was there. While there, he contributed to major design and production work on Marvel: Avengers Alliance and Marvel: Avengers Alliance Tactics. "I really enjoyed this working experience as I liked helping a scrappy, small studio grow. Plus the work was very dynamic," Kevin says.
In early 2015, Kevin took a hiatus to travel the world while creating his own projects. He lived as an indie developer for close to two years before rejoining the workforce in late 2016. That's when Kevin found an opening as a game director at Binaree, a small international mobile game developer in Seoul. He relocated for the job and worked on developing projects attached to external IP. Even though none of the projects saw the light of day, he still considers his stint at Binaree a good experience. After Binaree, Kevin wanted a break from full-time game development and decided to join DigiPen as a game design lecturer. Teaching is also his way of giving back to others. "I really like being around people who are chasing their dreams, and I hope that I can help students find what they really want to achieve with their lives here," he says.
This similar sentiment of giving back also resonates with Howard and Gerald. Howard was the first DigiPen (Singapore) alumnus that was hired as a full-time faculty member on campus. Post-graduation, Howard worked as a software engineer in local game studio LambdaMu Games. He stayed for two years and was promoted to a senior engineer during that time. He left to form his own game company, 4EVA Studios, in mid-2015. On top of juggling his studio's operations, Howard also ventured into teaching. He was an adjunct lecturer at Nanyang Polytechnic for close to three years, teaching modules on programming, game development technologies, and artificial intelligence. In January 2018, he came back to his alma mater, where he continues to teach programming, game development, and advanced computer graphics modules to undergraduates and Continuing Education students.
"There are two parts to my decision to come back to DigiPen as faculty. Firstly, as an alumnus who has greatly benefited from the teachings of the school, I wanted to contribute and help the next generation," Howard says. "Secondly, there is an increasing gap between industry expectations and school standards because of how fast new technologies are emerging. Coming back to teach means I can share my experiences from the industry with my students as a means to bridge that gap."
Gerald is the newest alumnus who is back with us as a lecturer. He had his first taste of teaching back when he was still studying for his diploma at Nanyang Polytechnic. There, he had a chance to teach secondary school students how to make their own games using the Warcraft III World Editor as part of an outreach activity. Post-polytechnic and national service, he enrolled in DigiPen (Singapore) and graduated in 2013. Upon graduation, he joined Koei Tecmo Singapore, where he worked as a full-stack developer for over five years. He contributed to a mix of console, mobile, and browser-based titles during his time there. Gerald also spent over a year at the studio's headquarters in Japan, where he serviced and developed a web-based social game.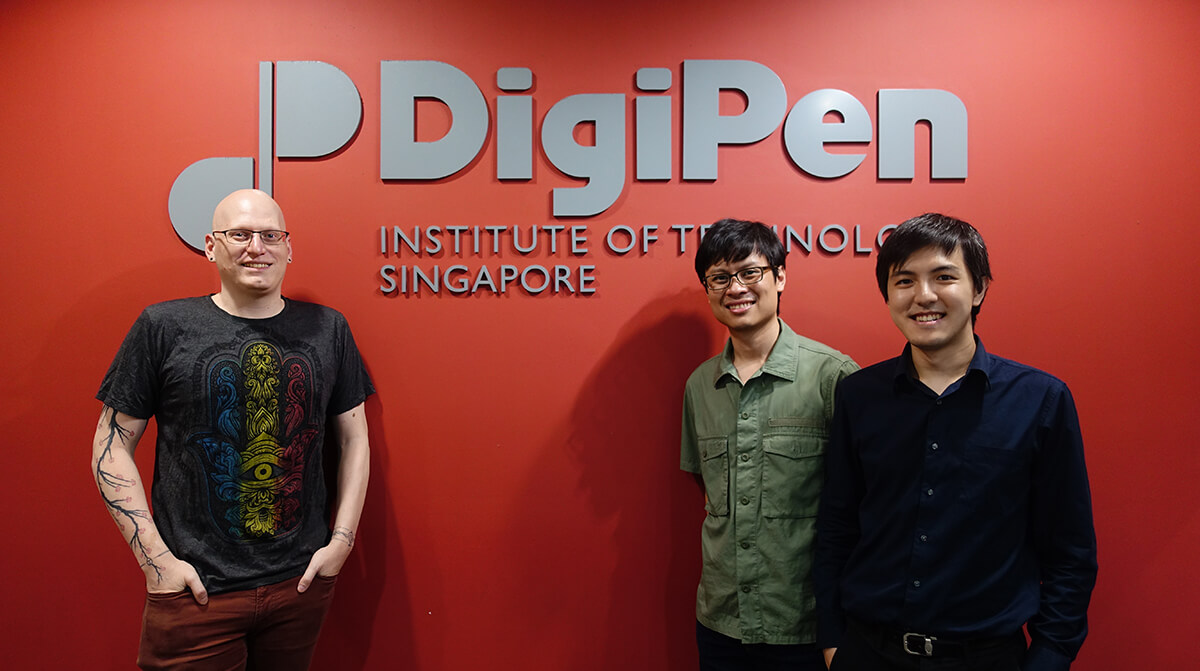 In September last year, Gerald decided to explore teaching again. He returned to DigiPen (Singapore) as an adjunct lecturer and was later converted to full-time in January 2019. He currently teaches programming and scripting classes.
Having accrued many years of industry experience from various companies, these alumni-turned-faculty have a plethora of tips to share with their students. For instance, it's not uncommon for those entering the game industry to want to work on the next big project or AAA title right away. Statistically, however, this outcome is unlikely. "Most professionals have worked on a lot of games they aren't completely proud of, or games that have never shipped," Kevin says. "Surviving in the industry has a lot more to do with how you handle failure than success."
Kevin and Howard have also both embarked on the indie route before and are quick to dispel the romantic notion that starting one's own company is an easy or sure ticket to success. Howard often encourages his students to consider the practical and business aspects of any decision they make, and Kevin has these words of advice to share: "Seriously, don't try to start a company when you don't have the resources," he says. "I initially thought that the game industry was going to be a wildly creative place where the best ideas would float to the top. Turns out, it is more of a business where people prefer stability over creativity."
Given the rapid way the digital economy is growing and evolving, Gerald also stresses the importance of being able to know how to learn, unlearn, and relearn. "Don't be afraid to try out new ideas or ask for help when you get stuck," he says. Learning is a lifelong journey and doesn't stop just because you've completed certain modules. Engaging in discussions with faculty, classmates, and industry members is a good way to hone your analytical skills and open your mind to new ideas. Kevin adds: "Be bold and dare to speak up. Share what you're passionate about. You never know where a life ally might be found, but the chances of finding them are slim if you aren't vocal."
As lecturers, these alumni-turned-faculty are all keen to see their students succeed and eventually even surpass them. The idea of a "student overtaking the master" is not just a cliché but rather a dream for any teacher. Howard sums it up by saying: "Beyond career success, I hope that my students will become industry leaders who can steer the direction of the tech sectors and not just merely work in them."