As a training and simulation software engineer from ST Engineering, a typical day for Alvin Lui usually involves hours of programming, followed by meetings with various teams to update each other and ensure that their work is progressing as planned. Alvin's team is currently involved in two large-scale projects that he's stoked about — not just because they are multimillion-dollar ventures, but also because Alvin is not a typical employee. Without a bachelor's degree or polytechnic diploma to his name, Alvin had never even dreamed that it would be possible for him to work on something of this scale. But all that changed when he enrolled in and graduated from DigiPen (Singapore)'s pioneer Attach-and-Train (AnT) Programme for Embedded Software Developer.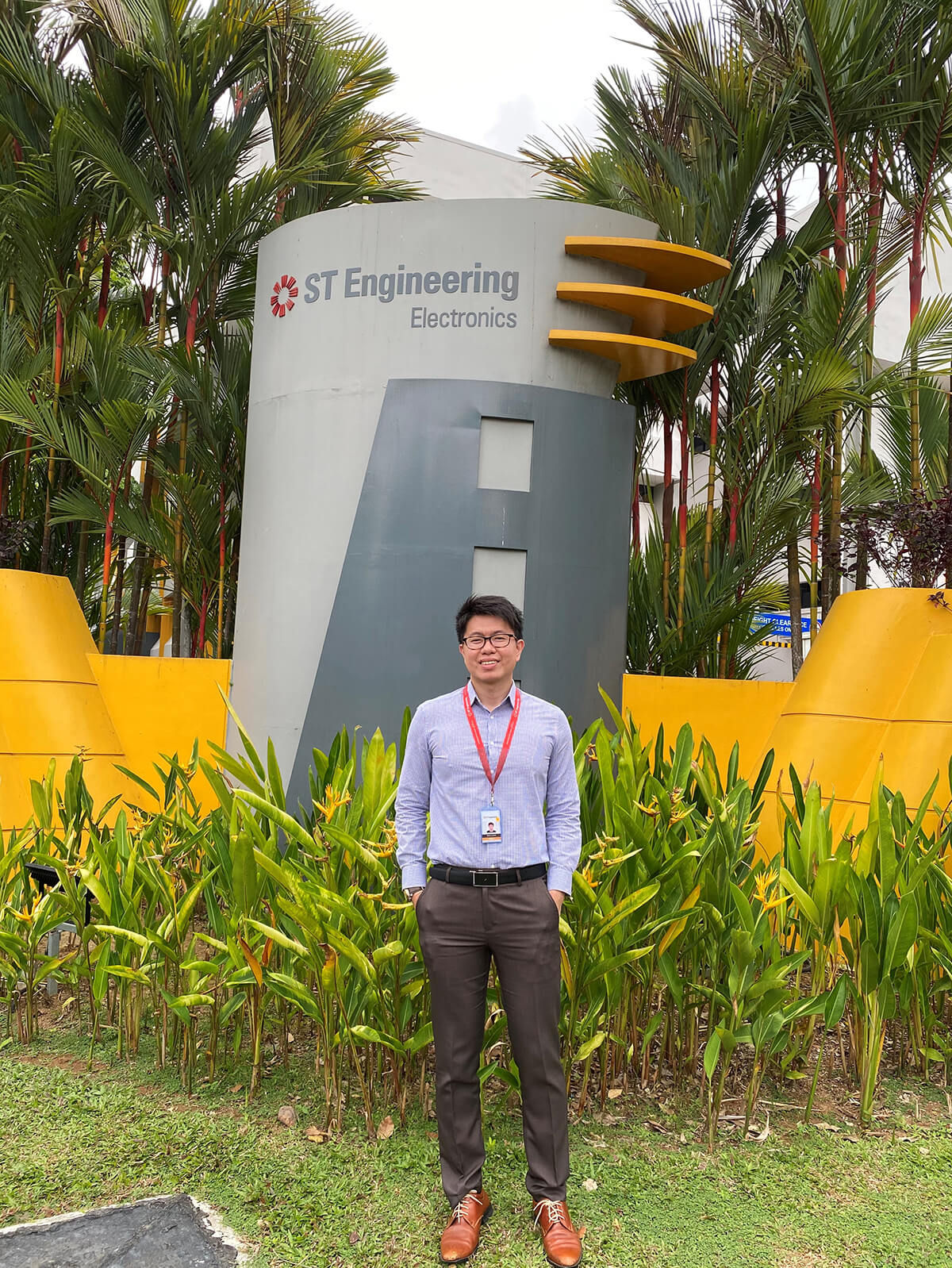 Up until the point where he was a university student, Alvin's educational journey was nothing out of the ordinary. He graduated from Catholic Junior College and matriculated at Nanyang Technological University (NTU) to pursue a bachelor's degree in mechanical engineering in 2014 after completing his National Service. While pursuing his undergraduate studies, Alvin also worked part-time as a trainer at Robotics Connection, a center that offers enrichment courses and workshops in science and robotics. He was in charge of teaching students aged 6 to 18 the basics of computer science and programming, using resources like Arduino, Raspberry Pi, and Lego Mindstorms EV3. After a year at Robotics Connection, Alvin was offered the chance to be a full-time senior robotics trainer. He took the opportunity and became a registered robotics instructor with the Ministry of Education. This allowed him to teach at local secondary schools, including Hwa Chong Institution and Methodist Girls School, while continuing to mentor students at Robotics Connection.
On top of his undergraduate studies and career at Robotics Connection, Alvin also ran a side gig where he provided repair services for graphing calculators. This provided him with a steady stream of income that could cover his hostel rental fees at university. For many, juggling a full-time job and full-time studies is no easy feat. But Alvin managed by watching NTU's pre-recorded lectures during his daily commute between his work place and his hostel.
Things were looking good when life threw Alvin's family a curveball. Three years into his undergraduate studies, he received news that his dad had been retrenched. While considering the financial strain it would place on his family to put him through his final year of university, Alvin decided to weigh his options. "My main objective for enrolling into university from the get-go was not just to attain a degree, but to deepen my knowledge in mechanical physics and dynamics," he says. Alvin knew all along that a large portion of his university modules did not align with his passions. While he thoroughly enjoyed his mathematical modules, he wasn't as keen on those that focused on materials and their properties. This epiphany — coupled with the fact that his job was already paying him a base salary that was comparable to the average median income of a fresh graduate — made Alvin wonder if it was worth it to continue pursuing his degree. He eventually withdrew from NTU, as doing so would allow him to save a year's worth of time and school fees, which he felt would be better channeled toward developing himself professionally.
Leaving school was a big decision, but Alvin says he has no regrets. "While getting a degree would have been a nice acknowledgment of my education, I am content knowing that I have experienced three years' worth of that journey. Not graduating does not take away what I have earned in that time — the friendships I've forged and the skills and knowledge that I've acquired," he says.
After withdrawing from NTU, Alvin continued teaching full-time at Robotics Connection. He took on even more classes since he did not have to plan around his studies anymore. He earned another promotion to become a robotics education engineer in 2017. This allowed him to plan lessons, design course materials, and train other trainers, in addition to his previous job's duties mentoring and guiding students.
Though Alvin enjoyed his job immensely, he started feeling stagnant in terms of professional growth and wanted an avenue to deepen his knowledge. An opportunity to do so arose in 2019 when Alvin came across DigiPen (Singapore)'s Attach-and-Train (AnT) Programme for Embedded Software Developer. The upskilling program was just what Alvin was looking for, and he enrolled that May.
As part of the program, Alvin honed his skills in the C programming language, learned to read circuit diagrams and use electronic components, and had the opportunity to build real-time operating systems for embedded microcontrollers. Beyond expanding his skills and knowledge base, Alvin says his key takeaway from the AnT Programme wasn't just what he was taught but how he was taught. "During the course, there was minimal spoon-feeding and lots of room for exploration," Alvin says. This experience proved especially helpful during his on-the-job training at ST Engineering, where he had to independently find solutions for his projects. "Without DigiPen (Singapore)'s training, I would have felt intimidated by such an environment. But having gone through the AnT Programme, I now view these situations as opportunities to discover multiple ways to approach every problem," he adds.
Alvin was subsequently offered a full-time position at ST Engineering after his three months of on-the-job training, which he gratefully accepted. Looking back on his time in the AnT Programme, Alvin is glad to have gone through it despite its grueling pace. He is grateful for the months of academically rigorous brainstorming, discussions, and analytic problem-solving, which he credits for turning him into the competent software engineer he is today. When asked about his best piece of advice for others who are interested in joining the AnT Programme, Alvin says, "The course is challenging, but it can be a 'fun' kind of challenge if you learn to strike a balance. Most importantly, stay positive!"