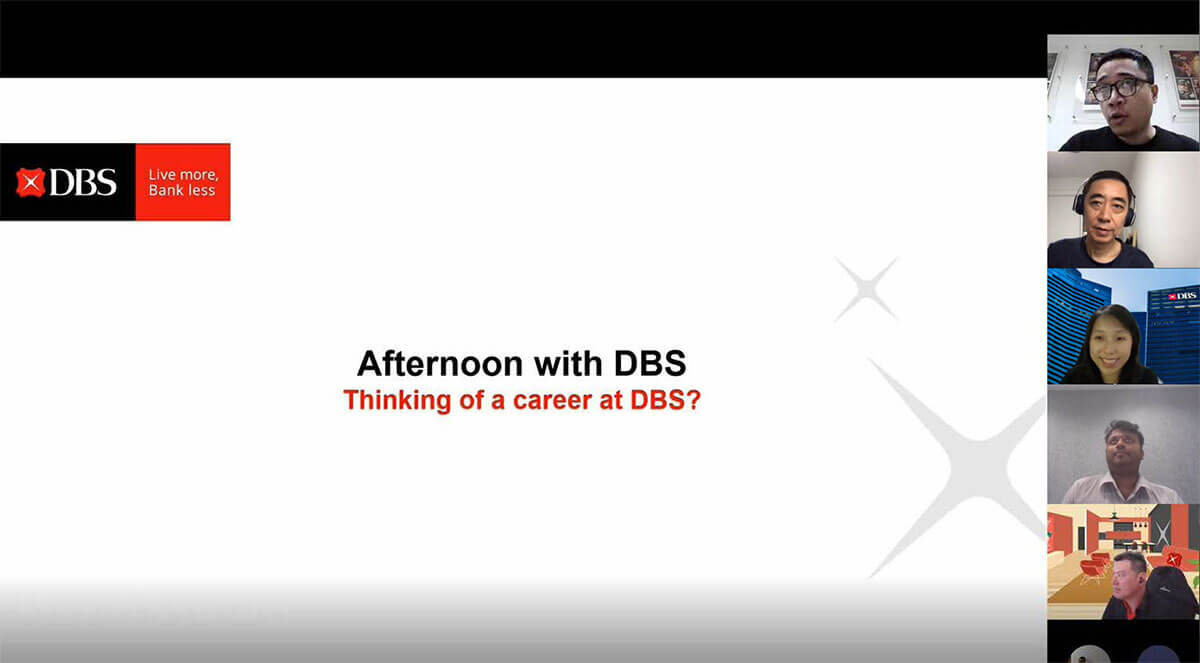 As part of our strong ongoing industry engagements, DigiPen (Singapore) students were recently treated to an exclusive panel sharing session by professionals from DBS Bank. The panelists included Raymond Fang, vice president and architect in public cloud; Kush Gupta, vice president of institutional banking — future ready technology; and Vivian Goh, campus recruiter, group human resource. Each of them shared about their career journeys, why they decided to join DBS Bank, and how they got there. During the session, the panelists also gave practical advice for those who are embarking on the job search process for the first time. Read on for their top career tips and advice for fresh graduates.
Know your interests and motivations
First things first: What motivates you? What are you interested in? Throughout the session, the advice about knowing yourself well surfaced again and again. It is important to have a clear idea of your strengths, weaknesses, likes, dislikes, and interests when it comes to finding a good career fit, as this will guide a lot of your decision making. This process of refining your interests and motivations should actually start long before you graduate as you work on different projects and take on internships, if you have the opportunity to do so.
Think long-term
When you're a fresh graduate out of school, thinking about which company or industry to join is likely one of the biggest decisions in your life. When faced with a big decision like this, Raymond says it's best to think in the long term. "Don't focus so much on what the company can pay you or what position you're being offered," he says. "Instead, think about where you'd like to be after 10 or 20 years."
Having a long-term goal will guide your career decisions as you chart a path toward that goal. For example, if you aim to become an accomplished software developer, pick a company that is known for pushing the boundaries of technology.
Besides considering long-term career goals, it is also important to think about the long-term impact of the industry that you are about to enter. You will likely have better prospects and learn more in an emerging and in-demand field than you would if you joined a sunset industry.
Don't pigeonhole yourself
Be open-minded and curious about where you can apply your skills after graduation. For example, computer science graduates are not just limited to technology companies these days, as almost every industry is in need of such expertise in the push toward digitalization. With regard to DBS Bank, Kush shared that technology is a very important part of banking today. "Many banking projects revolve around technology such as cloud systems and blockchain technology," he says. The rise of mobile and internet banking is another area that requires multiple domain experts. Besides being built and supported by software developers and engineers, personal banking apps and websites also require the help of UI and UX designers to ensure that a user's journey is as smooth and seamless as possible.
Prepare well for job interviews
Successfully landed a job interview? Congratulations! It is now time to dialogue with representatives of the company to see if you are a good fit for the role and vice versa. In order to prepare for this, it goes without saying that you need to do research and read up on the company and role that you are applying for. A good resource to tap onto is a company's corporate website.
Next, familiarize yourself with your own key achievements and outstanding projects. It is not uncommon for an interviewer to ask about this, hence it is important to have these answers at your fingertips.
Finally, be authentic. "Be who you are, especially during the application and interview process," Vivian says. "The worst thing that you can do is to try and fit into a mold of what you think the company is looking for." After all, companies are not after cookie-cutter staff and would welcome diversity in the office. Pretending to be someone who you are not also puts you in an uncomfortable position since you get hired based on what you show during the interview process.
Adopt an attitude of lifelong learning
Learning does not stop when you leave university — this was a sentiment echoed by all three panelists. Technology is rapidly advancing, and many jobs are also affected by constant growth, innovation, and change. In order to keep up, you will be expected to pick up different technical skills, depending on what your role requires. Kush encouraged fresh graduates to build strong foundational knowledge before entering the workforce, since that will make it easier to pick up additional technical skills. When in doubt or faced with any difficulties, don't be afraid to reach out to colleagues for help as well.
In a similar vein, Raymond suggests that one way to gain further knowledge and experience is to volunteer or help out in projects beyond your team. This will broaden your perspective and expose you to different working styles, experiences, and requirements.
It is also a good idea to keep afloat of general news and industry trends beyond your company. Building up your knowledge in multiple domains will make you a more valuable and well-rounded employee over time.