From being just a small indie games startup to taking on large-scale government projects, Lionfish Studios has come a long way. We caught up with alumnus Zhang Zi Tian to find out more about the studio's journey so far, plus what they plan to do next.
Lionfish Studios was born out of a love for creating and developing games. It was founded in 2014 by Koh Shi Xiang, Zhang Zi Tian, and Cheong Wen Bin. Shi Xiang and Zi Tian were polytechnic classmates, and both Zi Tian and Wen Bin graduated from DigiPen (Singapore) with a BA in Game Design and BS in Computer Science and Game Design, respectively. Since all three of them had always harbored dreams of making their own commercial games, Zi Tian introduced Shi Xiang and Wen Bin to each other, and they all agreed to embark on the indie route together.
The first game the studio released was a mobile tactical role-playing game called Lion City Heroes. It was created in collaboration with the Ministry of Culture, Community, and Youth as a celebratory game to commemorate Singapore's 50th year of independence. Since then, the team has also worked on other small indie games like The Clone Wos and Vaulting Sheep, both of which have garnered positive reviews. But of all the indie titles Lionfish Studios has released, their mobile game Super Parcel Panic has been the most successful so far.
"Super Parcel Panic is a multitasking casual game," Zi Tian says. "When we launched it, we partnered with a Philippines [telecommunications provider] called Globe to help us push out the game in that region. The campaign was met with good response." That and other collaborations boosted Super Parcel Panic's reach, helping cement it as the most popular game from the studio to date.
And while Lionfish Studios has enjoyed success as an indie game studio, it has also evolved into much more than that over the years. The games market is a competitive one, and the team had the foresight to realize they needed to grow their skillsets and expand the team in order to maintain their own competitiveness. They did so by scaling up their operations and taking on various interactive media projects in addition to their in-house games — using the funds from those contracts to hire more staff. To date, they've hired for various roles including artists, game designers, and programmers.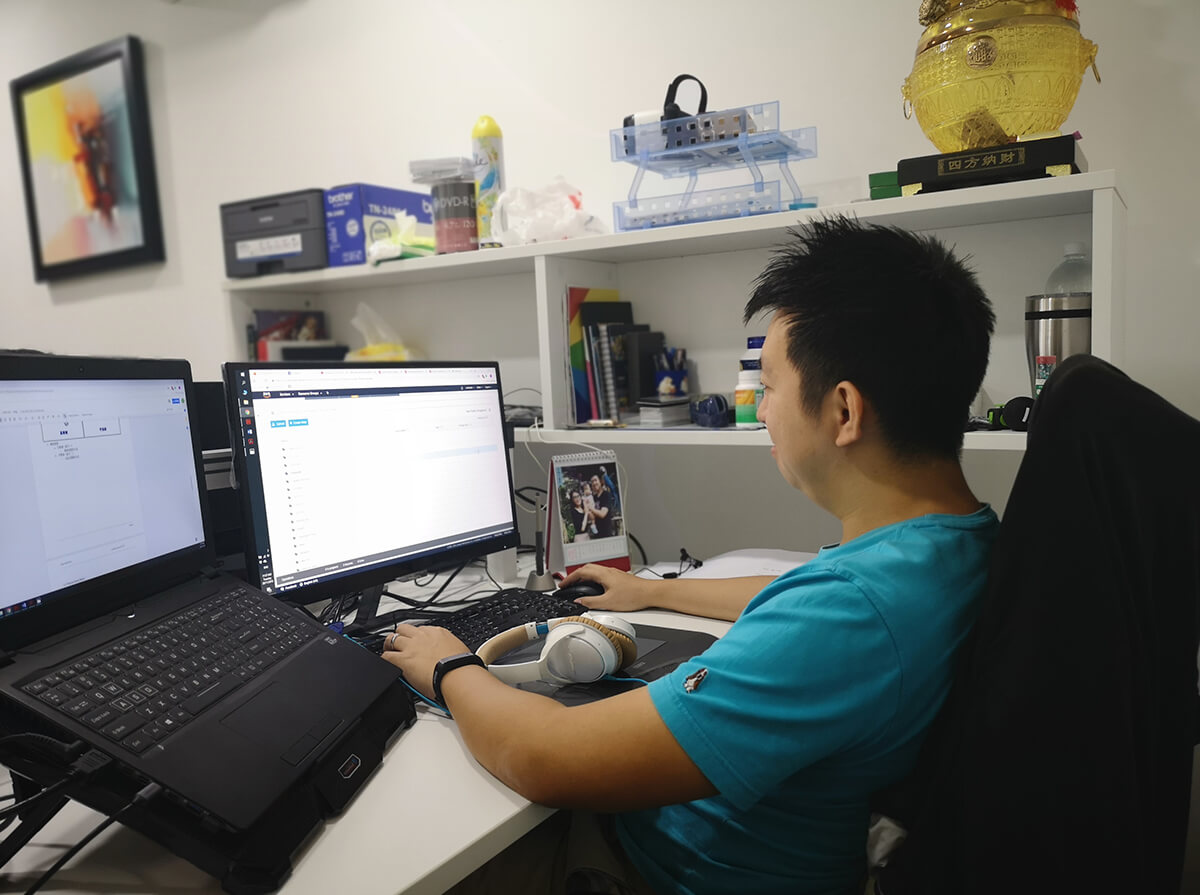 Now, Lionfish Studios specializes in the creation and development of games and digital media for both consumer and corporate clients. They also provide gamification consultancy, as well as virtual and augmented reality solutions. According to Zi Tian, gamification is so effective as a messaging and learning tool because of the interactivity it offers. He explains that gamification is the process of applying theories and principles of game design to other fields in order to help clients meet their needs. The Lionfish Studios team advises their clients on what technology or implementation methods will work best for them while guiding them through the development process.
"No other type of media excels at taking input and giving a response to the user as well as games," Zi Tian says. "Whenever we have a new client, we will advise them how best to achieve their goals using game principles like user motivation, experience, and engagement. Most people think that gamification just involves converting whatever content they have into a game, but without proper planning and design decisions, that won't be effective."
One of the most memorable projects the Lionfish Studios team has worked on so far is the Warriors of the Seas app, which they developed in collaboration with the Singapore Navy. This was a gamification project to help the navy officers better understand the fundamentals and principles of naval warfare through virtual battles. The game also allowed soldiers to familiarize themselves with the roles and duties of other ship personnel onboard.
"In order to make the game as effective as possible, our designers had to quickly learn various elements of modern naval warfare. These were the same principles that the Navy officers had to learn," Zi Tian says. "We had so many meetings that lasted well over half a day at Starbucks just to learn the key concepts of how the navy fleets fight. This was both really intense and challenging, but we had a great time working on it." Warriors of the Seas is not publicly available for download, but the team hopes that it will be one day soon.
Currently, Lionfish Studios is keeping busy with new projects in the pipeline. New clients include the Ministry of Education, where they're collaborating with schools to use interactive media to make learning more fun and engaging, as well as the Changi Airport Group, where the team is helping to develop a board game. In the next three years, Lionfish Studios hopes to build a few more successful indie titles and expand the team locally and overseas as well.
The winning combination of passion, drive, and the tenacity to stay relevant and adaptable amidst the ever-changing digital industry will see them go far, and DigiPen (Singapore) is excited to see what new barriers the team will break next. "It was really challenging to helm a startup studio, but every small step we take forward in building up Lionfish Studios makes everything worth it," Zi Tian says.