"I play games as part of my job," Sim Yi Cong, 2016 BA in Game Design graduate says. "That's an awesome thing to be able to tell others." He is referring to his work as a game evaluation analyst at Tencent Games in China, where he's been based for the last one-and-a-half years. And while he's been growing and thriving there — even scoring multiple pay raises in his short stint so far — Yi Cong admits that relocating for work wasn't a part of his original career plan.
Upon graduating from DigiPen (Singapore), Yi Cong kick-started his career at goGame Singapore, a subsidiary of SEGA. He was hired during the early days of the company and played a big part in helping to grow and mature their core business. "Over the two years that I spent at goGame Singapore, I wore many hats, but my primary role was to serve as a live operations manager. I was mainly involved in day-to-day publishing operations for two mobile titles: Dragon Project by COLOPL Inc. and Disney Crossy Road by Disney," Yi Cong says.
Though Yi Cong enjoyed his work at goGame Singapore, he was keen to expand his horizons. After doing some research, he believed that working in an overseas market would be good for his portfolio and growth. He decided to be open-minded and applied for the position of game evaluation analyst at Tencent Games through their job application portal. To his surprise, he got a call to arrange for a phone interview. In preparation for this, he read up on the game industry in China and realized it was a huge and upcoming market for both talent and consumers alike. After passing the phone interview, Yi Cong was flown to Tencent Games' Shenzhen headquarters for an on-site interview. He was offered the position shortly after and relocated to China once he secured his work visa.
As a game evaluation analyst, Yi Cong's main tasks are to prepare holistic content analyses by assessing a video game's merits across multiple key components ranging from game design, compatible demographics, and even long-term operational value. "On the ground level, we research and play games across a spectrum of genres and platforms to understand their market validity," Yi Cong says. "We do this by diving deep into the individual properties of a game. We examine its mechanics, systems, user experiences, monetization potential, visual style, and quality, among other things." Additionally, Yi Cong helps to review and research the current landscape in the game industry to predict upcoming trends and opportunities that are aligned with Tencent's goals. Part of this research includes collecting new business intelligence on the latest games by attending gaming exhibitions and conferences across different regions. So far, his job has taken him to the Game Developers Conference (GDC), Penny Arcade Expo (PAX), and even GameStart Asia as a Tencent Games representative. This exposure has also provided Yi Cong with multiple networking opportunities where he's had the chance to sit in discussions with developers from AAA studios and inspiring indie developers alike.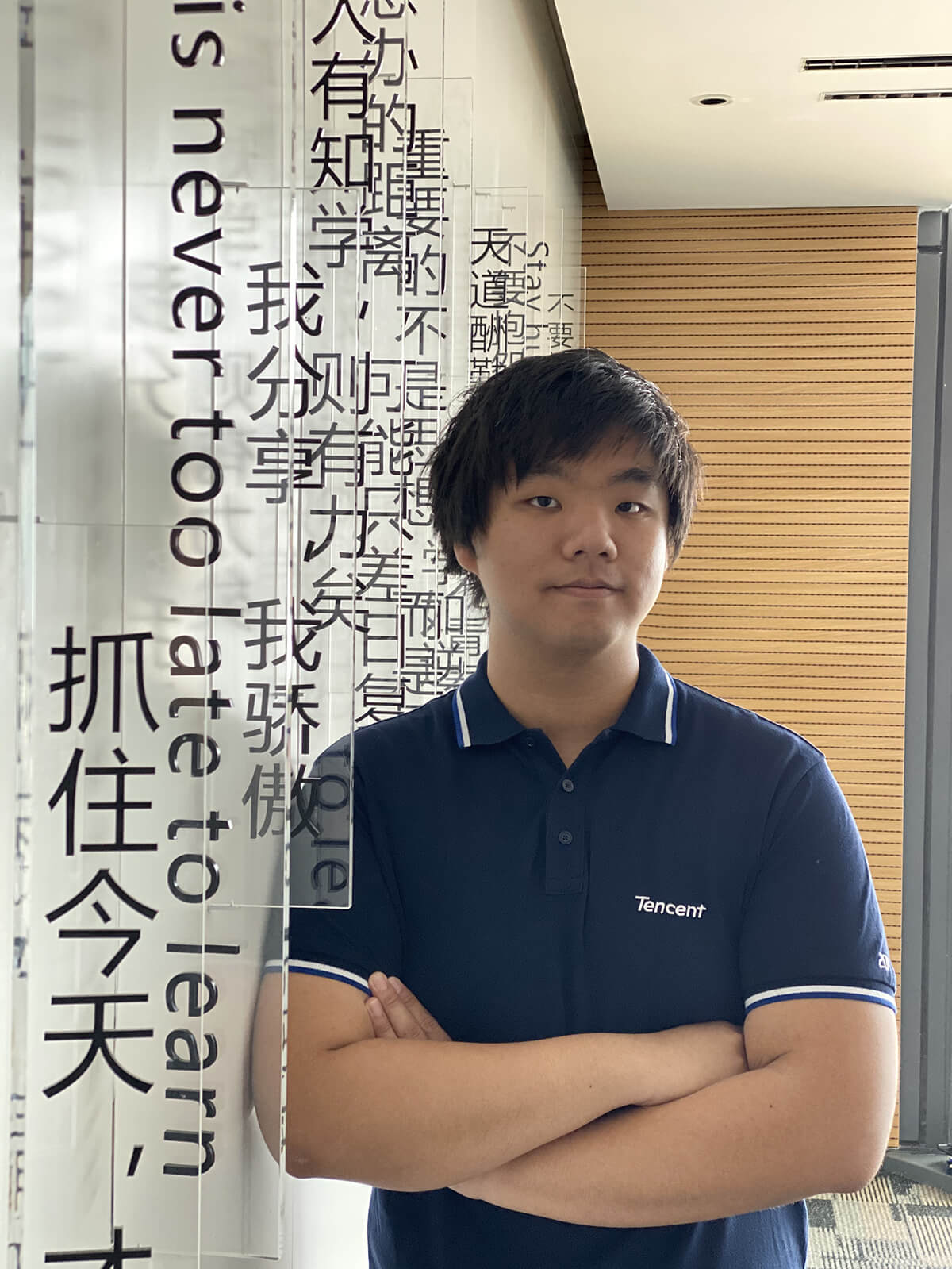 For Yi Cong, the first few months after he relocated to China were the toughest. Yi Cong was already fluent in Mandarin when he moved to China, but speaking the language in a business environment was a whole different ballgame. He further brushed up on his Mandarin and expanded his vocabulary of technical terms in order to be more effective in his work. Now, Yi Cong's grasp of the language has improved to the point where he is comfortable conducting business meetings and giving presentations. This bilingualism has also made him a valuable asset as he's able to translate and bridge gaps in English whenever there's an opportunity.
Language aside, Yi Cong also had to find a way to overcome cultural differences in the workplace. As a foreigner, it can be difficult to explain why some decisions will or will not work in certain markets. "It's common to face habitual inertia from local colleagues and it can take some time before they start being receptive to newer ideas," Yi Cong says. In such instances, he consistently and patiently elaborates upon his ideas or logic in order to get his colleagues to buy into his suggestions. "At the end of the day, the company hired foreigners to gain a different perspective, so they are generally open to new ideas as long as you can explain the rationale behind your decisions," he adds.
Working in a corporation as big as Tencent Games also means that Yi Cong has to collaborate and liaise with various stakeholders. Oftentimes, he says, a project will require input from multiple colleagues who all have their own separate objectives to meet. "Juggling this workload can get chaotic if managed badly, which is something I experienced in my early days here," Yi Cong says. "Over time, I learned how to handle my tasks more effectively through better communications, networking, and setting clear milestone deadlines."
Despite the initial challenges, Yi Cong is now well adjusted at Tencent Games. Working overseas has been an eye-opening experience for him, especially in a bustling city like Shenzhen — dubbed China's equivalent of Silicon Valley. For any of his peers keen to venture overseas, Yi Cong shares that the most important things to do are to manage one's expectations, keep an open mind, seek help from trusted friends and colleagues when in doubt, and play by the rules of the new country. As Yi Cong says, "Keep the adventure exciting, not wild."