Ask any PC gamer out there if they've heard of Razer and the answer is almost sure to be a resounding 'yes.' Founded in 2005 by Min-Liang Tan and Robert Krakoff, and with dual headquarters in Singapore and San Francisco, Razer has become a behemoth in the gaming world with its massive catalogue of gamer-centric hardware, software, and services. Over the years, its products have also won numerous awards for their cutting-edge design and technology.
Two DigiPen (Singapore) graduates, Edwin Lim and Neoh Shi Kang, count themselves lucky to be part of such a dynamic company. Both graduated from the BS in Computer Science in Real-Time Interactive Simulation program and are now working at Razer, Edwin as a quality assurance software engineer and Shi Kang as a software engineer. Additionally, both graduates count themselves as longtime Razer fans who can recall their first Razer products. Edwin bought the Razer Copperhead mouse for himself, and Shi Kang received a gaming mouse from the Razer DeathAdder series as a gift from a friend. Edwin still considers the Razer mouse a staple in his gaming paraphernalia today for its design, grip, and texture. "Using any other brand just doesn't feel as good," he says. And while Shi Kang equally loves his Razer hardware collection — of which he says he has too many items to count — the one Razer product that he can't live without is the Razer Synapse software. It's a configuration tool that allows full customization of all Razer devices through personalizing the binding of buttons, assigning macro keys, changing up the device lighting, and more.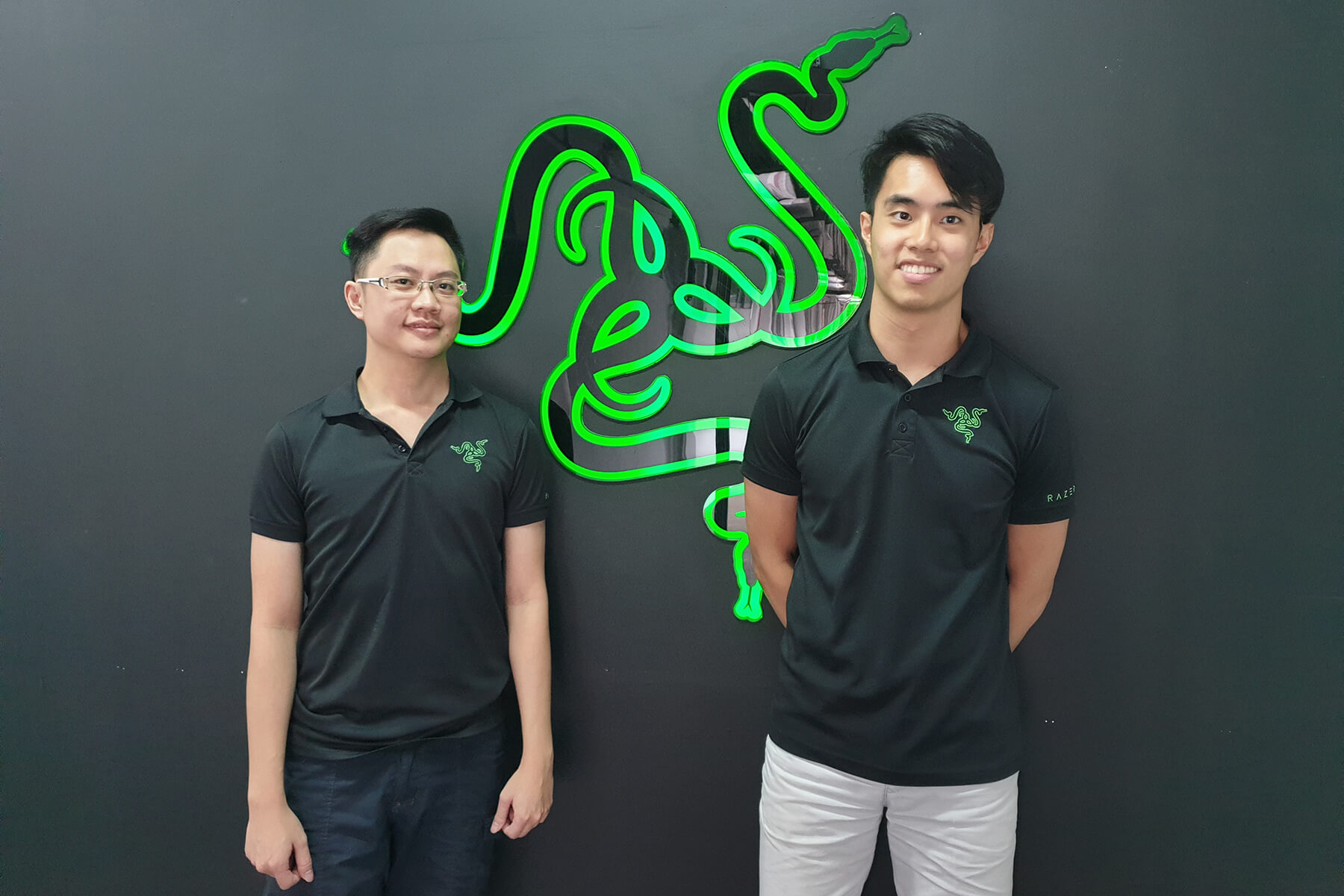 As self-professed gamers, Edwin and Shi Kang are happy to be part of a company that understands fellow gamers and creates products for them. This love for gaming is also what gave both of them the initial push to attend DigiPen (Singapore). Edwin was intrigued by the institution's strong ties to the game industry and was excited to be working and studying alongside like-minded peers who were equally enthusiastic about video games. "It is not always easy finding others to discuss my favorite games and strategies with, but DigiPen (Singapore) has given me an avenue to do so," Edwin says. Shi Kang was originally from a game development diploma during his polytechnic days, and his lecturers encouraged him to continue pursuing his interest in the field at DigiPen (Singapore).
Today, as Razer employees, they're in charge of the development and maintenance of the tools and software used by the company. A typical day consists of scrum meetings, bug fixing, researching, implementing code, improving the current workflow, and building processes. The main difference between their two roles is that Edwin also does software testing and automation, a scope he finds fulfilling. "Software automation wasn't something that we learned in the school curriculum, but it is an important skillset in software engineering. Automation helps to streamline work processes and save time, and I enjoy developing software that helps other engineers in their daily work," he says.
Prior to joining Razer, Shi Kang was a game programmer at Koei Tecmo Singapore for close to three years. Though he worked on a completely different category of products then, the transition was a smooth one since he's primarily worked with the C++ programming language at both work places. "The biggest change in my work then and now is that I used to make video games previously, but now I make software," he says.
Shi Kang credits DigiPen (Singapore) for turning him into the solid programmer he is today. Beyond that, he is thankful that the school has instilled the discipline of 'learning how to learn.' "In this current age that we are in, technology advances extremely fast. Without knowing how to learn, there is no way one will be able to keep up with the rigorous demands of the tech world," he says.
This positive, go-getting attitude has also caught the attention of Shi Kang's supervisor, Henry Hu, who is one of the managers of the Peripherals Software team. "Shi Kang has a very proactive attitude, and he is always keen to acquire new knowledge and skills," Henry says. "He is able to catch up and cope with the demands of the job on short notice and with minimal guidance, always delivers his projects on time and with good quality, and will voluntarily find ways to help improve the software development process."
Henry adds that the greatest strengths he's seen in DigiPen (Singapore) graduates so far are their strong knowledge and understanding of technical skills like C and C++, as well as their hands-on experience with low-level C++ development. Given the opportunity, he says Razer would be keen to hire more graduates in the future and is already on the lookout for additional software engineers.