DigiPen (Singapore) graduates Julian Teh and Michael Tay, who each earned a degree in Bachelor of Science in Computer Science in Real-Time Interactive Simulation presently work as software developers at Autodesk. The US multinational corporation is no stranger to those in the tech business. It makes software for the architecture, engineering, construction, manufacturing, media and entertainment industries.
The broad areas that the company specializes in meant there were many exciting projects to choose from, both from application domain point of view as well as highly technical research and engineering topics. Of the many cutting edge research projects at Autodesk, Reality Solutions division is developing a high-performance 3D application named Autodesk Memento. And this happens to be the project of choice for the two enthusiastic DigiPen (Singapore) graduates. Designed with very intuitive user interface, the application's functional goal is to transform reality captured data to hi-fidelity 3D immersive experience or to hi-resolution 3DPrints. This meant there were big challenging problems to be investigated and solved in the realm of real-time rendering and exploring new user experience paradigms.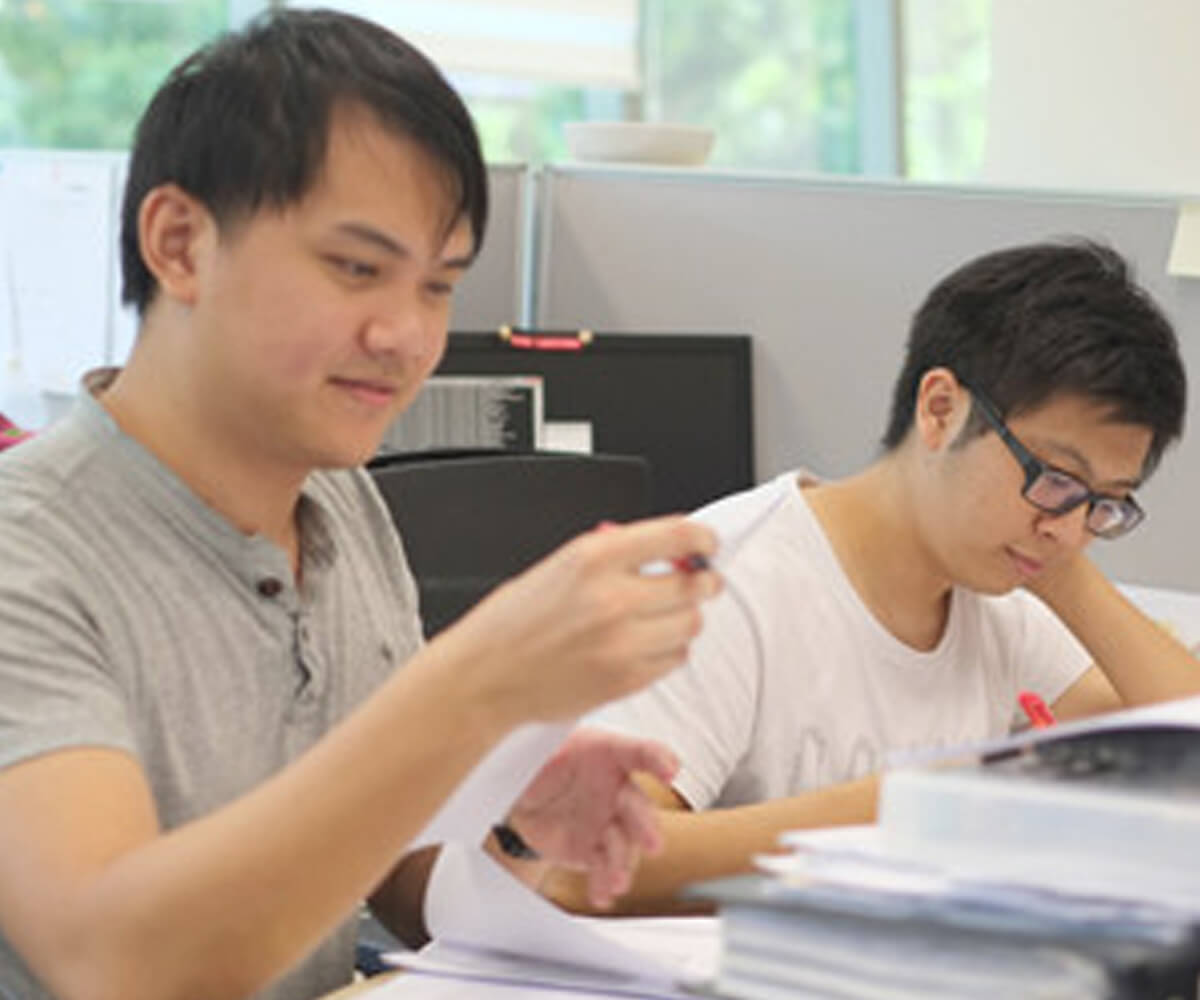 Michael works on graphics development, on top of the usual software development tasks, while Julian deals in UX implementation, working closely with designers to ensure user-interfaces are intuitive and pleasurable to use.
Both are currently working on a project entitled Memento, best described as "3D Capture and Publish on steroids", explained Michael.
"It is an end-to-end platform solution for converting 2D digital photos to 3D realistic mesh representations where you can edit, publish hi-res or simply 3D print. The tools that we offer are more complicated than most 2D graphics editing tool, simply because 3D editing software requires accurate geometric representation."
As one of the tech industry leaders, Autodesk is responsible for turning out some of the most innovative professional products in the market.
"The dynamics in the team are so invigorating – we are always creating new ideas and techniques that are currently not in the market. The techniques we need to put in our product simply cannot be searched on the internet, because it is non-existent in today's products," said Michael, who graduated from Nanyang Polytechnic before attending DigiPen (Singapore).
Working on 3D printing technology has meant ample learning opportunities, something that Julian cherishes.
"Being a part of this field means that we are constantly seeing or hearing about cutting-edge technology being developed or researched, and meeting some of the people behind the work."
Julian, who graduated from Singapore Polytechnic before he attended DigiPen (Singapore) also appreciates that Autodesk has an open-minded attitude towards fresh concepts and the resources to translate powerful ideas into reality.
"If we want to work on new ideas, there is always a chance to do so – and better yet, to actually have our work used by people around the world. Autodesk focuses on enabling others to design and create whatever they can imagine" said Julian.
Customers who buy Autodesk software use them to make other products, such as games, movies and animations. For example, much of the visual effects in the Hollywood movie, Avatar were created with Autodesk media and entertainment software.
"In that way, Autodesk impacts more than simply its customers, but the world. Autodesk is definitely a place where you can make an impact through your work. Although you may be working on something small, knowing that you are contributing to a much grander vision and having a much larger impact is incredibly rewarding," said Julian.
Customers, who are often working in the technical field themselves, have responded with feedback that provide the encouragement to both Julian and Michael to thrive in their roles. Knowing that they improved the user-experiences of Memento users worldwide motivates them.
"I feel a sense of satisfaction when a client pays a compliment to a feature in Memento that I have created after using it. I look forward to making a difference in the world through my work, even in an indirect and imperceptible way," said Michael.
"Getting a 'Kudos' or an 'Accepted Solution' on the Memento forum, or seeing a post or article praising Memento, knowing that I'm helping someone out there to accomplish something… is really satisfying," said Julian.
Both Julian and Michael credit their DigiPen (Singapore) education for preparing them adequately to take on their demanding software development careers. For starters, the academic program of DigiPen (Singapore) ensured that they entered the working world with confidence.
"The knowledge, skills and expertise that were built up" over numerous "modules and projects laid the foundation for me", said Julian. He named core skills such as C++ programming, Computer Graphics, and Computer Science as precious bases on which he honed his know-how.
"Studying in DigiPen (Singapore) has helped me understand the limitations of computer performance. As a game developer, one must find ways to bypass the limitations of a computer to accelerate its performance to its peak. It was like training to be a hacker. That has benefited me in my professional development, as results are needed to be shown as quickly as possible at Autodesk," said Michael who chose DigiPen (Singapore) because of its specialization on real time computer graphics.
"I was passionate about creating games for the industry. As an avid gamer myself, I felt the need to understand how and why a game like Warcraft (One of my favourite games) works," said Michael as he recounted the reason he elected to attend DigiPen (Singapore).
The late nights that Julian often went through as a DigiPen (Singapore) undergraduate also toughened him for the rigors of his job.
"I remember the day before the Beta release (of Memento), I was in my office until midnight. That was the first crunch time I experienced on the job. It brought me back to the many crunch times we had in DigiPen (Singapore), and made me realize that while working life is different, it is in many ways similar to the experience we shared as DigiPen undergraduates."
The intensity of projects back at DigiPen (Singapore) taught Julian the value of team work, which came in handy in his job.
"Aside from the knowledge gained, the experience of working on a product in a team – and with different teams – has proven valuable in the workplace. More than that, the pace of development and the amount of work required from each student made for an extremely smooth transition when it came to dealing with actual product development at work", explained Julian.
In the meantime, Julian and Michael proffer advice to current DigiPen (Singapore) students who aim to work in a company like Autodesk.
"Don't complain about how difficult the courses are or how harshly you are graded. The bar is set high because the industry demands are high. The industry is not going to lower the bar for you – you have to raise yourself up to that bar," said Julian.
"Understand what is necessary for you to work in any company, not only Autodesk. If one would like to work in Autodesk, then he or she needs to focus on modules related to computational geometry or any graphical related courses. Do a background study of the company, and understand what they need. This will help to build your portfolio, and work towards gaining employment in your dream company," said Michael.