DBS Bank, Singapore's leading bank and financial services group in Asia, launched the Skill Enhancement Education & Development Programme (SEED) in 2017. The 24-month training program runs annually and aims to build up a future-ready workforce that is equipped with specialized technological skills.
Cumulatively, over 20 DigiPen (Singapore) graduates have joined SEED so far. Among the latest August 2019 intake are recent graduates Janice Chua, Jasper Yeo, and Foo Chang Hong. They were from the BS in Computer Science in Real-Time Interactive Simulation, BS in Computer Science and Game Design, and BEng in Systems Engineering (ElectroMechanical Systems) — or SEEMS — programs respectively. All three alumni chose to join SEED because they recognized that rapidly evolving technology is changing the way people approach financial services. Joining this digital transformation allowed them to be a tangible part of Singapore's Smart Nation initiative.
As part of the SEED selection process, applicants have to complete a series of online assessments, a coding challenge, and two cognitive tests. Thanks to DigiPen (Singapore)'s rigorous education and curriculum, Janice, Jasper, and Chang Hong all felt prepared and confident when undergoing the technical assessments. "In school, there was a strong focus on low-level programming fundamentals. This deep understanding was crucial in helping me tackle the problems. I was also able to think of solutions swiftly under pressure thanks to all the pressing time limits during examinations," Chang Hong says.
Though he graduated from SEEMS, Chang Hong chose to pursue software engineering over other forms of engineering due to his passion for writing code. He loves developing applications and software solutions and is thankful for the chance to do so as part of SEED. Chang Hong specializes in developing web applications on the AWS (Amazon Web Services) cloud, and in his one year with DBS Bank so far, he has become fluent in reactJS and Elasticsearch programming.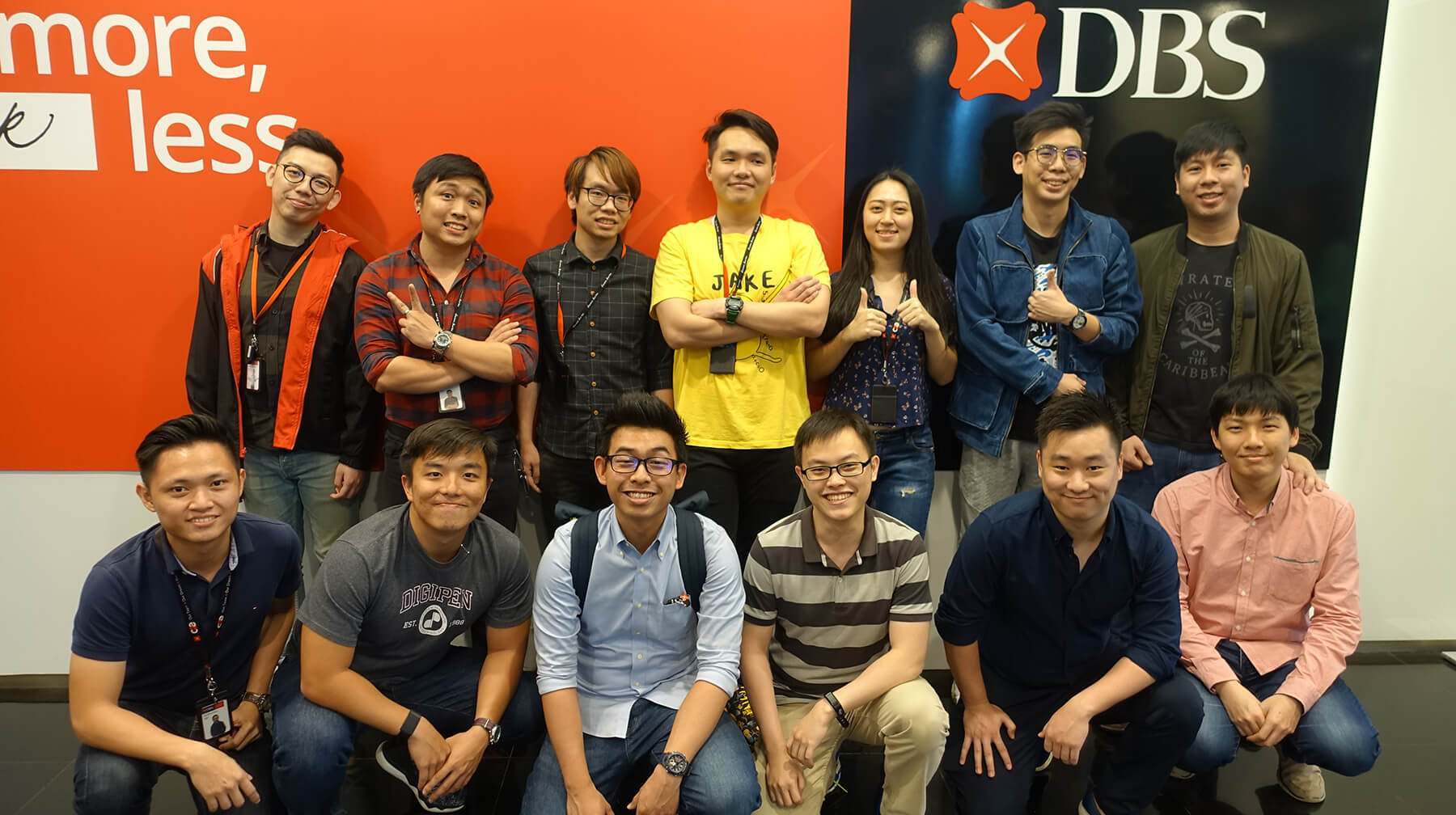 In Janice's case, she was drawn to the hands-on experience and varied projects that SEED offered. She was excited about exploring the ways in which technology could enhance people's lives by improving and automating the delivery of financial services. Janice is a full-stack developer under the SEED Consumer & Core Engine Banking Technology track, doing both frontend and backend software development and debugging for new products used by a massive number of banking customers.
While Chang Hong and Janice are in pure developer roles, Jasper's role requires him to tap into both his computer science and design expertise. As a developer on the frontend team, he combines the concepts and mock-ups that have been finalized by the business users and the design team with the APIs and infrastructure set up by the backend team to create responsive financial and banking applications for web and mobile. Additionally, Jasper creates user interfaces and elements for the DBS design system that are used in multiple other projects. "Having graduated from DigiPen (Singapore)'s BS in Computer Science and Game Design program, the design concepts and the technical knowledge that I have acquired during the course can be applied to my tasks effectively," Jasper says.
All three graduates are grateful for the many opportunities they have been given in SEED and hope to convert to full-time roles after the program is over. Their senior and fellow alumnus Farris Chua (2017, BS in Computer Science in Real-Time Interactive Simulation) was part of the pioneer batch of SEED trainees. He is now a full-time Site Reliability Engineer with DBS Bank, where he helps to build scalable and reliable systems through automation. Drawing from his own experiences, Farris advises his juniors who are in SEED to take this time to gain a deeper understanding of the processes and software development practices in the finance industry, as they are slightly different from the types of projects done in school. Knowing how the banking sector works will allow them to apply their skills more effectively. Additionally, Farris stresses the importance of collaborating and communicating between cross-functional teams. Such soft skills come in handy since he frequently works on projects with the DBS development teams in Hyderabad, India.
We are heartened that our alumni have been contributing to Singapore's financial industry and the digital economy with their computer science knowledge. As Jasper says: "DigiPen (Singapore)'s cross-disciplinary and hands-on curriculum gives its graduates a high degree of flexibility when it comes to choosing their career paths. I had multiple valuable job opportunities when I graduated, but I chose to embark on software development in the financial sector as it is evolving and progressing rapidly in this current digital age."