For most of 2020 and 2021, overseas travel had been put on hold due to the uncertainties and restrictions surrounding the pandemic. The Overseas Immersion Programme (OIP) was no exception. After a two-year hiatus, we partially resumed the OIP this year with 79 of our students flying to Redmond, Washington, for their 12-week OIP from May to July.
OIP is a compulsory learning experience for all SIT-DigiPen (Singapore) undergraduate students. OIP students attend lectures and lab sessions at the Redmond campus as they interact with their American professors, mentors, and peers. They also have a chance to participate in classes that are not offered in Singapore — such as ceramics courses at the DigiPen Ceramics Studio — and visit companies in the vicinity. Furthermore, the opportunity to experience studying and living abroad exposes students to different cultures.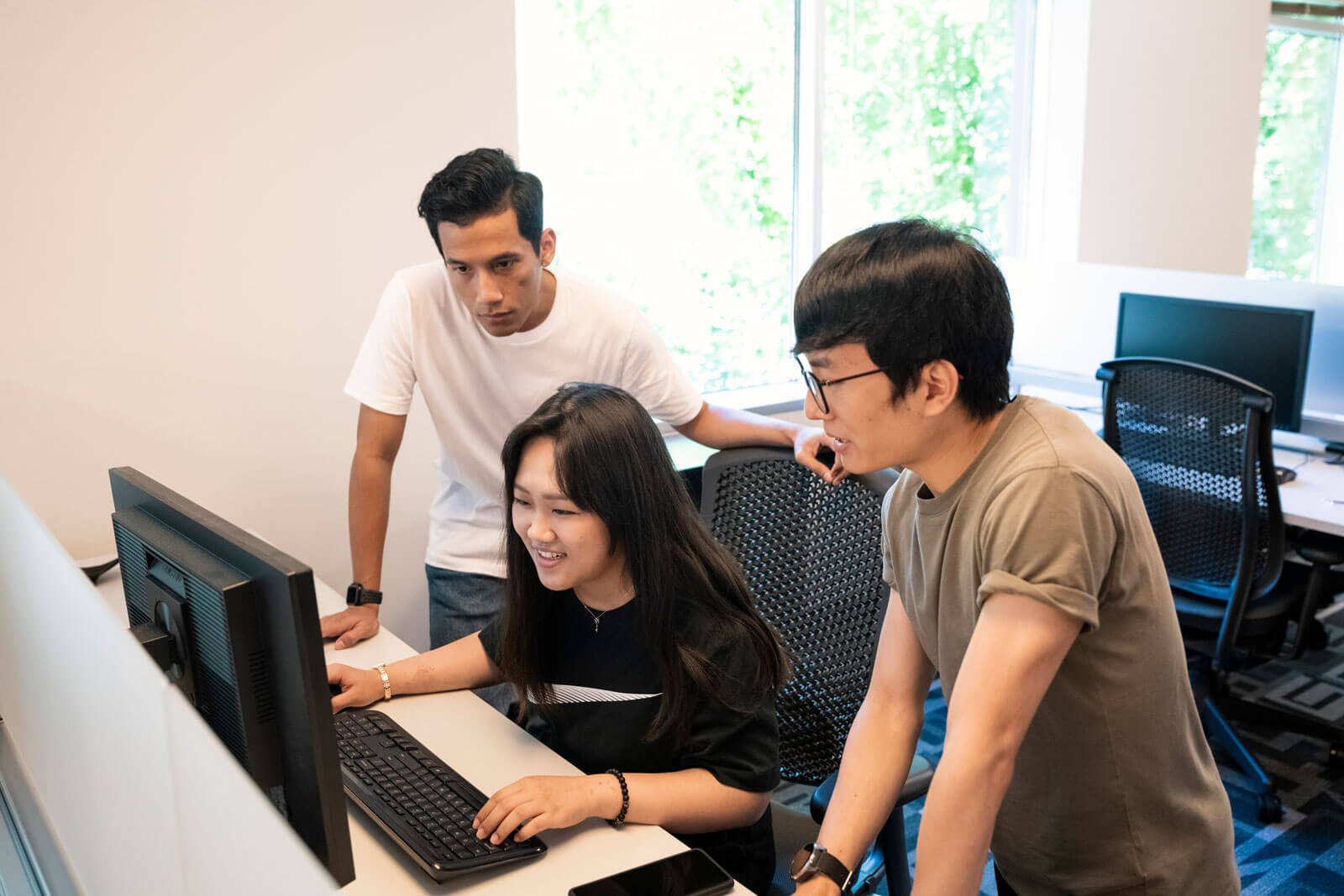 Students participate in OIP during the fifth trimester of their studies. Second-year students Tng Kah Wei, Chua Yip Xuan, and Hans Bin Elias were part of the OIP 2022 cohort that flew over in May to settle in and begin classes. Kah Wei and Yip Xuan are from the BS in Computer Science in Real-Time Interactive Simulation program, and Hans is from the BEng in Systems Engineering (ElectroMechanical Systems).
As part of OIP, DigiPen Housing arranged for accommodation, and the students all stayed at Olde Redmond Place this year. For many of the students, this was their first time living with friends and learning to be independent with chores, cooking, and housekeeping. "The memories of doing everything together with my friends, such as taking turns to do laundry, deciding what meals to prepare, and most importantly just being there for one another, are something I will look back on and cherish for years to come," Hans says.
When not in classes, Kah Wei, Yip Xuan, and Hans also had the opportunity to plan road trips and travel around the Pacific Northwest. Kah Wei, who has always been amazed by military jets and planes, visited The Museum of Flight in Seattle, where he saw historical aircraft up close. He also enjoyed trying out different snacks that were not available back home. "I actually really love peanut butter, and the variety of peanut butter-based snacks here is amazing," he quips. In Yip Xuan's case, she most enjoyed the excursion to Snoqualmie Falls that was organized by the resident advisors from DigiPen Housing. "The view was breathtaking, and we had the chance to hike down to the waterfall's plunge pool to experience a fantastic, up-close view of the falls," she says.
"OIP is an invaluable experience for students to experience the overseas campus while gaining independence and broadening their worldview," Caroline Tan, deputy director of the Student Life and Advising Office, says. "As OIP is also one of the most memorable experiences for our students, we are pleased to have restarted it after two years. DigiPen (Singapore) is looking forward to fully resuming OIP next year."