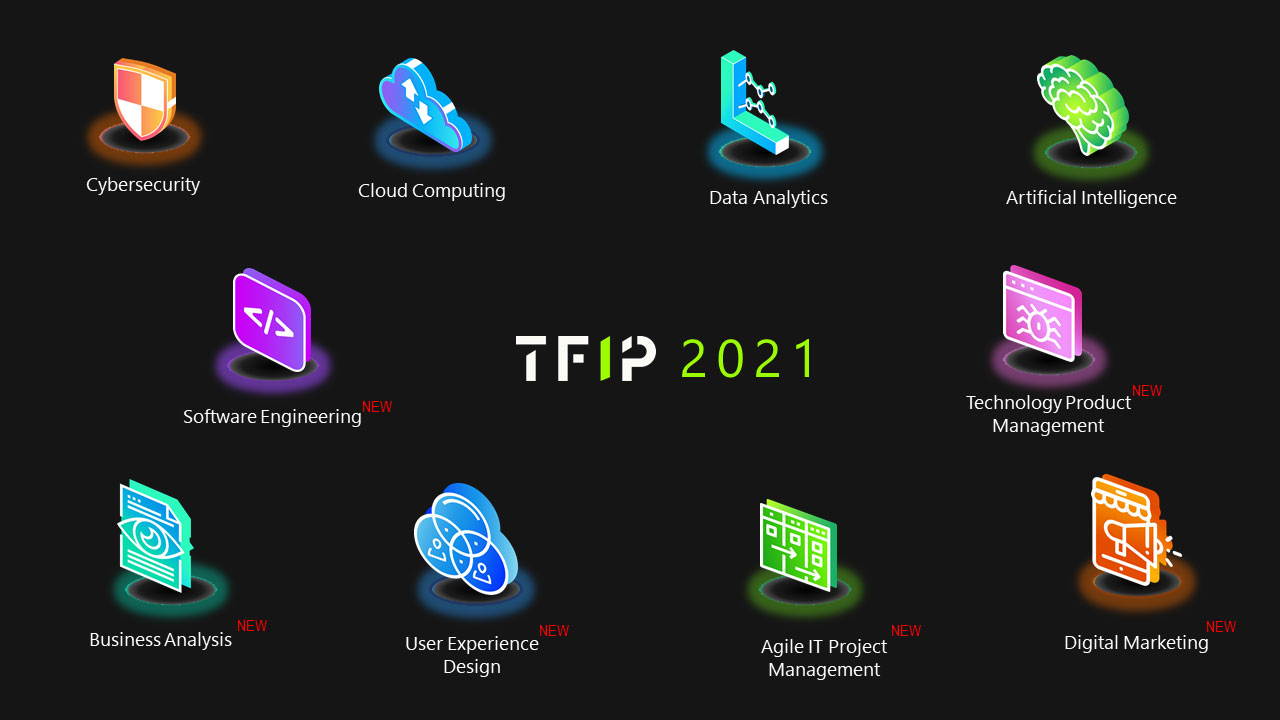 Software engineering and deep tech expertise continue to be in demand as various industries advance their digitalization plans. The financial services sector is no exception, and this month marked the start of the Technology in Finance Immersion Programme (TFIP) 2021. TFIP is offered by the Institute of Banking and Finance (IBF) and Workforce Singapore (WSG), in consultation with the Infocomm Media Development Authority (IMDA) and the Monetary Authority of Singapore (MAS). The program aims to help individuals gain experience in key technology areas for the financial services sector.
TFIP 2021 is a full-time, 12/18-month program consisting of structured training with industry-recognized training providers, followed by on-the-job training at respective financial institutions. In total, TFIP 2021 offers training specializations across 10 different technology domains. Over 30 financial institutions are participating in TFIP 2021, including Citibank N.A., DBS Bank, Goldman Sachs, OCBC, Schroder Asset Management, Singapore Exchange, and UOB.
This is the second year that DigiPen (Singapore) is involved in the program as one of the training providers. Of the 10 domains under TFIP 2021, DigiPen (Singapore) is the training provider for the artificial intelligence, software engineering in either Java or Python, and data analytics tracks. These deep-tech domains are currently in-demand within the industry, and DigiPen (Singapore) will work closely with the respective financial institutions to fill manpower shortfalls in these areas.
The structured training with DigiPen (Singapore) aims to equip individuals with strong computer science fundamentals before diving into specialized training for the different tracks. Under the artificial intelligence track, trainees will pick up the skills to support the development of scalable and optimized artificial intelligence models. They will learn to build algorithms that allow them to extract, transform, and load large volumes of data in real-time. This is important for simulating and developing intelligent solutions.
In the data analytics track, trainees will learn to analyse historical data from reports and use the results to support business and product decisions. They will be able to use development tools to generate dashboards and reports, as well as clean and prepare data and analytical solutions according to business needs.
Finally, trainees in the software engineering track will learn to specialize in either Java or Python. They will also be taught to apply knowledge in application development and will possess strong skills in designing, developing, testing, debugging, and implementing various software applications or tools to support the end users' needs.
DigiPen (Singapore) is committed to equipping all trainees with relevant, in-depth computer science expertise to thrive in the financial services sector. We also look forward to continued partnerships with WSG, IBF, IMDA, and MAS in building a tech talent pipeline for the financial services sector.