Anyone who's ever been to a new school before will know the experience can be completely nerve-racking. Having to navigate an unfamiliar environment, make new friends, and grasp the ins and outs of a new academic system is tough. Kenneth Chia, a second-year student in the BA in Game Design (BAGD) program, can certainly relate. "When I first stepped foot into DigiPen (Singapore) during an open house event, I was bursting with questions," Kenneth says. "Everything was new and confusing to me, but a student ambassador took me around the campus and explained what life was like here."
The encounter left such a positive impression on Kenneth that it prompted him to sign up as a student ambassador himself in early 2018, making him one of the newest volunteers in the program. "Knowing firsthand what it's like to have felt lost as a fresh face on campus, I wish to help prospective students in the same situation by sharing what I've learned in my time at DigiPen (Singapore) so far," Kenneth says.
Roughly three years ago, Ricson Tan, a BS in Computer Science in Real-Time Interactive Simulation (BSCS RTIS) final-year student, was in the same boat. Beyond feeling lost, Ricson was also fearful about what to expect from his course academically. He had heard about the rigor of the programs at DigiPen (Singapore) and was worried about his upcoming classes, but he didn't know who to turn to for guidance. Thankfully, though the modules were challenging, Ricson managed to cope well. "My goal as a student ambassador now is to prevent juniors from feeling the same way I did by sharing my experiences and clarifying any doubts they may have," Ricson says. "I've been a student ambassador for three years and counting, and I still enjoy talking to prospective students. These students, like me, are passionate about making games, and I can relate to them."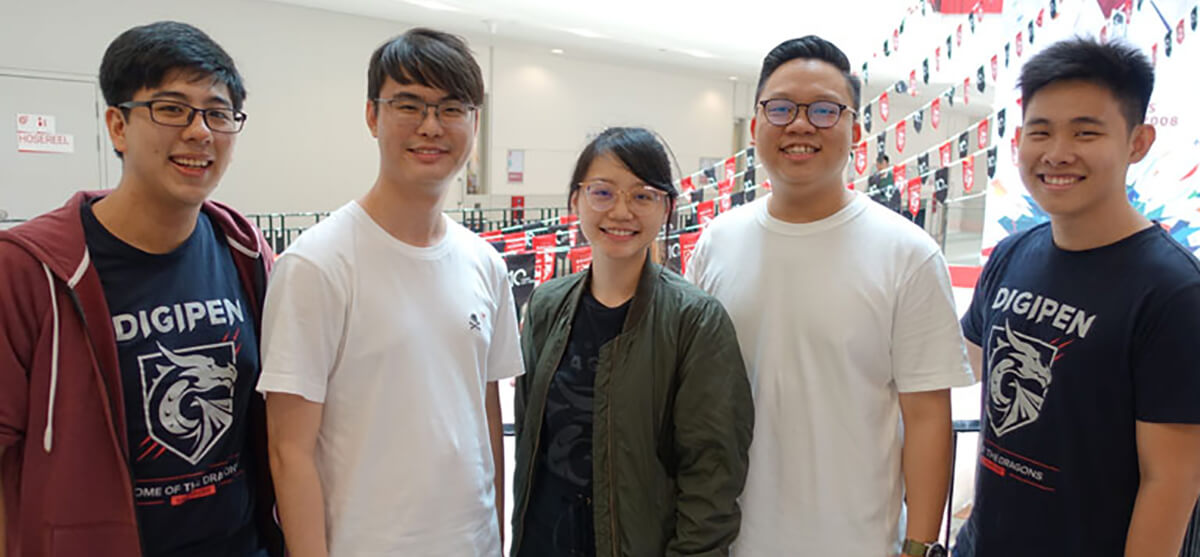 Student ambassadors play an integral role in campus life. Their typical duties include hosting visiting students, assisting in events, conducting campus tours, and staffing information or service tables to answer queries and share about the DigiPen (Singapore) student experience. Additionally, student ambassadors help to facilitate student shadow programs where prospective or interested students can accompany student ambassadors to sit in during their classes. This gives prospective students firsthand exposure to the DigiPen (Singapore) curriculum and pedagogy.
It was after witnessing one such student shadow experience that BFA in Digital Art and Animation (BFA) third-year student Pamphylia Tan decided to sign up as a student ambassador. "In my first year, I was in a drawing foundation class when I noticed a stranger sitting at the back of the room. He looked a little lonely and I went up to talk to him out of curiosity," Pamphylia says. It turned out that the newcomer was sitting in as part of the student shadow program, but since there weren't any BFA student ambassadors available at the time, he was on his own. Pamphylia took the time to tell the prospective student more about the course and what student life at DigiPen (Singapore) was like. She eventually decided to join the student ambassadors program to represent the BFA cohort and has been serving for one-and-a-half-years since. "What I love most about being a student ambassador now are the opportunities I get to talk to different people and hear about why they want to pursue art," she says.
Some of the events that student ambassadors can help out in include Preview Day, Freshmen Orientation, and Acceptance Day. Student ambassadors have the freedom to sign up for the events on a volunteer basis, and it's up to each individual to manage his or her own schedule. For each event that a student ambassador helps out with, he or she will earn 'gems.' The number of 'gems' accrued is dependent on the number of hours of volunteering, and these 'gems' can be used to redeem rewards like vouchers and movie tickets.
Besides physical rewards, student ambassadors also get a chance to hone their social and leadership skills. Samuel Tan, a B.ENG. (Hons) in Systems Engineering (ElectroMechanical Systems) (SEEMS) final-year student, agrees. "When I first joined the student ambassador program two years ago, I was the only one from the SEEMS program. It was hard relating to other student ambassadors initially, but I became more confident and made friends from other courses over time. My public speaking skills have also improved," he says.
Public speaking skills aside, final-year BS in Computer Science and Game Design (BSCS GD) student Adriel Yeo has also learned how to better manage his time in order to balance his studies and student ambassador responsibilities. "I make sure that I complete my work in advance when I know that there are upcoming events so that I won't be tied down with assignments when duty calls," he says.
There are currently 14 active student ambassadors in DigiPen (Singapore) from all five programs, and the DigiPen (Singapore) Admissions Office is always looking for responsible and enthusiastic students to join the program. Applications to the program are open year-round, and interested students may sign up from their second semester onward. Once they've been chosen, student ambassadors will have to attend a short training session to be briefed about their roles and duties in more detail.
"Being a student ambassador is entirely voluntary, so everyone who's part of the program is here out of their simple desire to contribute something to the school," Kenneth says. "We could always use more helping hands, and there's no harm joining us at our next event just to see how things go." Keen to play your part as a student ambassador? Write in to admissions.sg@digipen.edu to find out more.