Of all the internship opportunities that are available, the most valuable experiences are often those that offer you the chance of conversion to a full-time position. Chen Zhiming, BS in Computer Science in Real-Time Interactive Simulation graduate, got exactly that — and more — from his recent stint at No Moss Co, a technology and management consultancy firm based in Sydney, Australia. Not only is Zhiming poised to start working there full-time in early October, but he hit the internship jackpot when he and a few other colleagues were invited by the founders of No Moss Co to start No Moss Studios, the game development arm of the organization.
From the very beginning, the stars were aligned for Zhiming. A friend who was already working part-time as a game developer in No Moss Co believed that Zhiming would be a good fit in the company and suggested that he apply for an internship position there. Prior to his internship, Zhiming had also successfully applied for the Industry Preparation for Pre-Graduates (iPREP) scheme by the Infocomm Media Development Authority (IMDA), which is a talent development program that supports students and helps them become industry-ready. One of the ways they do so is by offering funding support for overseas internships that are info-communications or engineering related, and Zhiming was able to utilize this funding support for his internship at No Moss Co.
The process of going from 'I don't know how to do this' to 'I've got it working' is really empowering, and DigiPen (Singapore) provides an environment to cultivate this mindset daily. I've learned not to shy away from hard work, and it is an attitude that helps me at work when the going gets tough."
Upon his application, Zhiming secured a video interview with No Moss Co co-founders Steven Ma and James O'Toole. "Steven and James have a very strong and unique vision for No Moss Co where they strive to mentor staff and create environments for employees to pursue what they believe to be their purpose," Zhiming says. "During the video interview, instead of telling me what my role as an intern would entail, Steven asked me what my ideal internship would be like. I shared that my goal was to start developing my own games after I had graduated from DigiPen (Singapore), and I wanted an internship that would set me up with the highest chance of succeeding as an independent games developer — since it's a high-risk endeavor. Upon hearing this, Steven looked straight at me and told me not to wait for my graduation, but to start doing so at No Moss Co. Just like that, they invited me to go over and make games in their office under their guidance. It all happened so quickly!"
Zhiming subsequently flew to Sydney and started his internship at No Moss Co in May 2017. During his stint, he worked on a number of projects, primarily in the area of game development. The team at No Moss Co closely follows the Scrum framework, which is a working style and methodology often used in software development management. A key component of Scrum is a practice called the "daily scrum," a 15-minute stand-up meeting where everyone on the team reviews their current work progress and shares more about what they're working on that day. A typical workday for Zhiming would begin at around 9 a.m. before moving on to the daily scrum at 10 a.m. Then, it would be non-stop work until the early evening.
"If it was a quiet day, I'd usually work till 5 p.m. or 6 p.m. and head home. But there was often something happening at night, such as playtests, meet-and-greets, Dota 2 game sessions, or industry events. Sometimes, the team also likes to just use the office space after hours to relax and hang out," Zhiming says.
The original game development team at No Moss Co was made up of a handful of individuals working on their own games under the No Moss Co roof. With the guidance and encouragement of his mentors, Zhiming managed to complete and release his first commercial project, Monster Kitchen, during the first half of his internship. Monster Kitchen is a puzzle game for mobile platforms that is currently available on the App Store and Google Play. As exciting as that project was, things were about to get a whole lot more interesting for Zhiming.
"A few months into my internship, Steven came up to all of the game development folks and gave us an offer to start a game studio together. He wanted to invest in us as a team. On our end, an opportunity like this was exactly what we were working towards in the first place, so we took it. Hence, the four game developers at No Moss Co became the founding team of No Moss Studios, and I was one of them," Zhiming says. "No Moss Studios functions as the game development branch of No Moss Co, and the team has just released our first title, Beam Team, a two-player couch co-op game for the PC. Beam Team will also be released on Nintendo Switch at a later date." You can find out more about Beam Team here.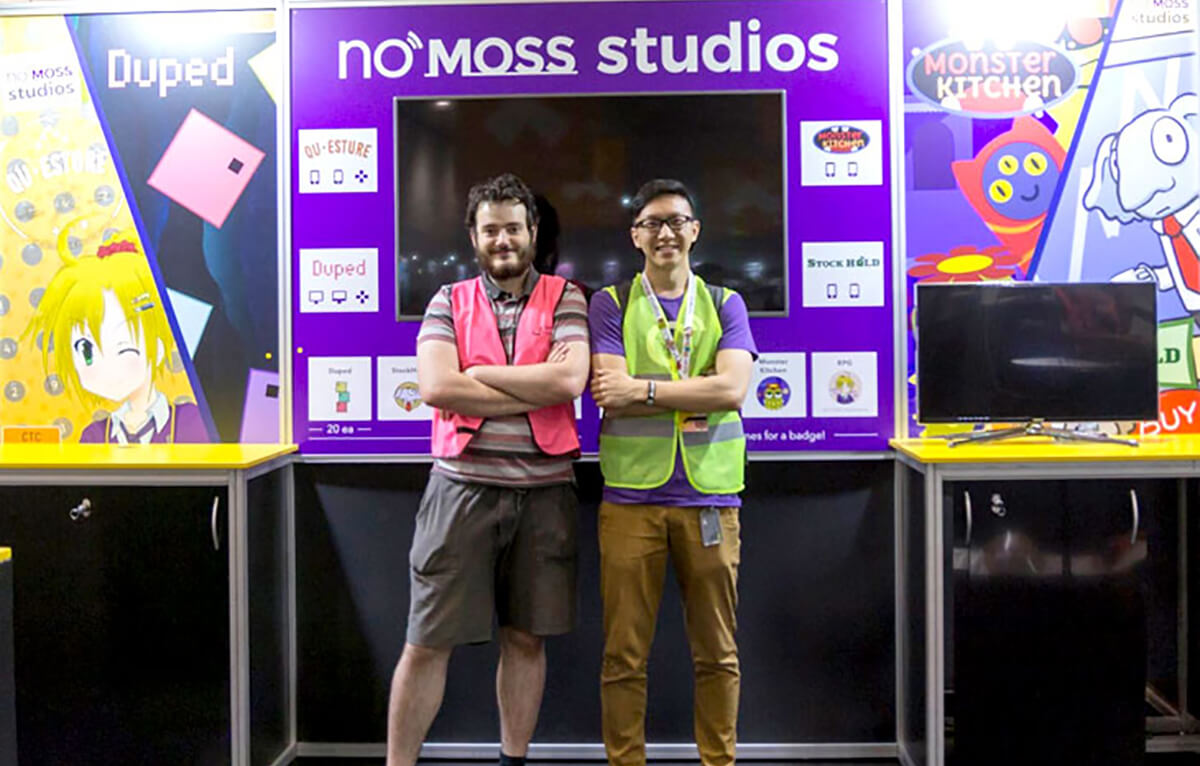 DigiPen (Singapore)'s rigorous curriculum meant that Zhiming was comfortable working with the technology needed to develop the games at No Moss Studios from the get-go. Beyond technical skills, Zhiming also learned invaluable soft skills during his time as a student.
"DigiPen (Singapore) imbues you with a certain kind of work ethic," Zhiming says. "The project-based classes helped me develop the discipline to put the hours into my work and the courage to explore beyond my comfort zone. When tasked with doing something as daunting as developing our own game engines for the project, it was common for passionate teams to take it upon themselves to learn, adapt, and develop really cool technology for their games. The process of going from 'I don't know how to do this' to 'I've got it working' is really empowering, and DigiPen (Singapore) provides an environment to cultivate this mindset daily. I've learned not to shy away from hard work, and it is an attitude that helps me at work when the going gets tough."
Having recently graduated, Zhiming is about to fly back to Sydney to continue working at No Moss Studios. There, he will be involved in business development, team-building, marketing, and community engagement. Having had a taste of working life, Zhiming will be stepping back into the industry with a more holistic view of game development as a career.
"At school, it was very easy to settle into a lifestyle of working late nights and rushing deadlines in a sprint towards the end of the semester," Zhiming says. "But I quickly learned that this lifestyle was not feasible for a career, largely because it is not sustainable in the long run. At work, there is technically no 'end' in sight, and it's important to achieve a balance between work and life where each can enhance the other. I'm still discovering what this means for myself, but I'm excited to find out at No Moss Studios. The opportunity to jump from intern to co-founder felt ridiculous initially, but my love for game development started years ago when I saw my friends playing my crappy first game. This journey feels right to me, and I'm ready to cut my teeth and try to make a career out of my games."