Leaving behind a stable job in pursuit of a career change is never easy — something that Stephanie Wong can personally attest to. Stephanie is a graduate of DigiPen (Singapore)'s Continuing Education program for Embedded Software Developer that aims to re-skill professionals, managers, executives, and technicians (PMETs) for the local info-communications technology (ICT) sector. Having recently graduated, she works today as an associate embedded software engineer at Government Technology Agency (GovTech).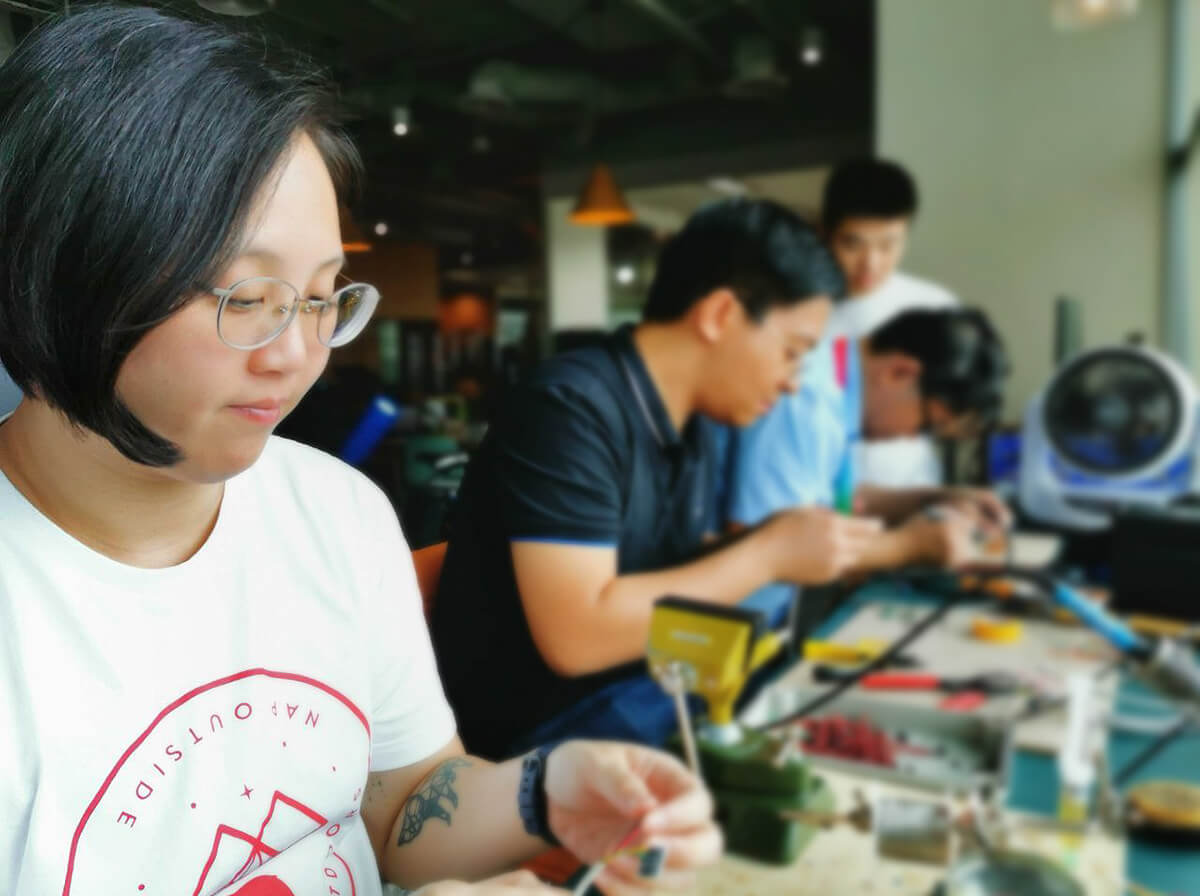 Prior to joining the Continuing Education program, Stephanie was working as a web administrator at another public agency. Though her job was stable, it wasn't giving her many opportunities to hone or deepen her software development skills. Stephanie wanted to pursue something more hands-on but didn't know where to start. Serendipitously, she came across the application announcement for the Continuing Education Program for Embedded Software Developer while browsing Facebook. Upon seeing that the program was offered by DigiPen (Singapore), Stephanie decided to give it a shot, as she had heard about the Institute's renown in the field of computer science.
Due to the rigor of the course, the reskilling program is targeted at those who have a background in science, technology, engineering, or mathematics. This was not a problem for Stephanie, who graduated with a Bachelor of Science degree in Multimedia Technology and Design from the Singapore University of Social Sciences in 2017. Even then, she soon realized it was a big challenge to keep up with the course content, including daily assignments and weekly quizzes.
Embedded software development deals with both the hardware and software sides of computer technology. Trainees in the program had to explore the inner workings of embedded microcontroller systems by learning to build and program these devices from scratch. This meant that they had to learn C programming, applied mathematics, electric circuits and electronics, and how to write their own real-time operating systems. For their final projects, the trainees had to apply everything they had learned to build a device where multiple microcontrollers and microprocessors could communicate with each other via the internet.
"Diving deep into topics that were completely new to me was challenging, especially when it came to the hardware side of technology," Stephanie says. "For example, I had to familiarize myself with how analog transistors and logic gates work when previously, I had never even seen these things before." Even with the steep learning curve, Stephanie enjoyed the process and was glad for the opportunity to expand her knowledge in software, electrical, and electronic engineering. She also liked seeing her projects come to life since the program was very hands-on.
Despite the demanding pace of the course and the initial uncertainty of giving up her previous job to join the Continuing Education program, Stephanie says she has no regrets. Speaking honestly, she admits there were moments where she wanted to give up, but she kept telling herself to push on and work hard in order to land a better job. This all paid off when she was converted into an associate embedded software engineer at GovTech at the end of her on-the-job training. Stephanie enjoys her work at GovTech and says she's grateful for a career that allows her to make a positive change. "The work that we do at GovTech impacts the lives of everyday Singaporeans for the better, and that's something I'm proud to be a part of," she says. Want to make your own career change? Learn more about DigiPen (Singapore)'s upcoming Continuing Education programs.