According to graduate Rudy Ng (2014), designing for card games isn't that different from designing a video game. He's done both.
As a student in the Bachelor of Science in Computer Science and Game Design program at DigiPen Institute of Technology Singapore, he worked on multiple PC game projects as a team producer. Today, he's putting that education to use as development team lead at Bushiroad, Japan's largest trading card game company.
Shortly after graduating, Rudy landed a job as a sales executive at the company's Bushiroad Singapore branch (Bushiroad South East Asia), which at the time did not have its own game development team. That soon changed, however, and after 10 months of waiting he transferred onto a brand new game design team that worked on Ascendants of Aetheros, a strategy card game that takes place in the fictional fantasy world of Aetheros.
Rudy worked on areas like world building, rule design, and game balance. At that time, the team consisted of only two members, Rudy and his supervisor, Shunichi Taira. Ascendants of Aetheros was released in July 2016 and was the first IP developed outside of Bushiroad's headquarters in Japan. Unlike other Bushiroad games, such as Cardfight Vanguard, Ascendants of Aetheros is suitable for two to four players, making it a compact, standalone game.
As Bushiroad continues to strive forward in the games industry, I hope to be able to use my education and experience to help bring more fun and joy to all gamers worldwide, be it in a physical or digital form."
While many of the same game design theories can be applied to both video games and card games, Rudy says the process for developing and shipping a card game is very different. For starters, there is no need to program a card game. On the other hand, he says, a designer might have to learn some extra project management skills to handle the logistics of making a card game. They would have to learn how to work with printers for color proofing, which is to ensure the printed material is neither too light nor too dark against the original CG artwork. In addition, balancing a card game is more tedious than balancing a video game, Rudy says, as there are various factors and card combinations that can affect a game, thus requiring many rounds of playtests.
Rudy cites an example of his development work on Ascendants of Aetheros, saying, "Some lightbringer and action card combinations can be too strong, so we had to play multiple scenarios for each card to determine which one of these cards to nerf." An imbalanced card game can affect its replayability, a factor that he also mentioned was challenging to think about in conjunction with world building.
In the pre-production phases, Taira was in charge of determining the game's production specs, target audience, and price point for the cards. Rudy, in turn, says he learned a lot about these areas by working closely with his supervisor.
While many of his job responsibilities at Bushiroad were unfamiliar grounds, the new challenges have not fazed Rudy. He cites his role as a project manager for two simultaneous final semester game projects at DigiPen (Close Call and Puzbot) as a key experience in developing his soft skills, making his eventual transition into Bushiroad a smooth one. "My role as a producer for both of the projects prepared me for many skills, like recognizing a person's strengths, planning the timeline, and organizing the project," he said.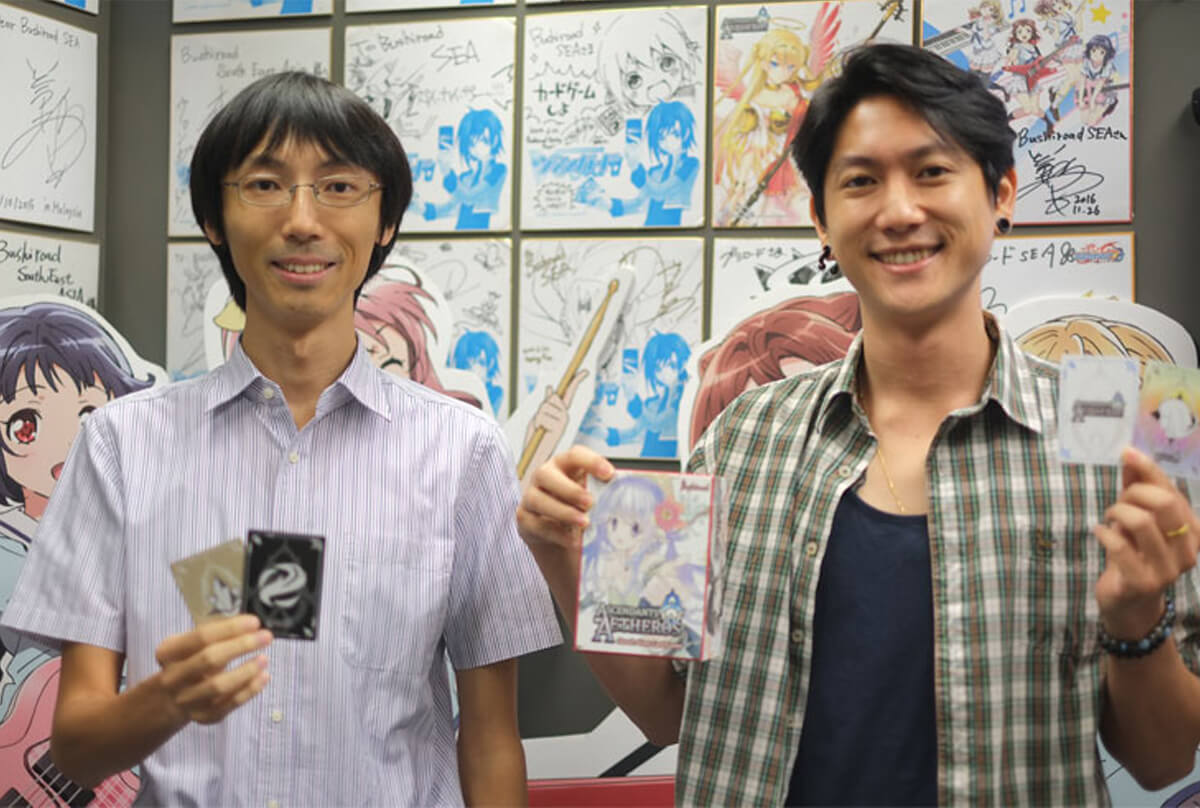 Even then, he also looks to Taira's experience as a guide. Since Taira had worked on multiple games in the past, he was more familiar with how trading card game mechanics worked. "Taira's also an interesting case," Rudy said. "He was a biology major before joining Bushiroad."
Working in Bushiroad has given Rudy a few perks on the job. "I was able to travel to the Game Developers Conference (GDC), and I even attended the Bushiroad Spring Fest and World Championship in 2016," he says. Rudy was also the host of Season 2 and the scriptwriter and producer of Season 3 for BUSHI NAVI International, a YouTube video series. Even for that job, Rudy says his DigiPen education prepared him well. "The film elective at DigiPen (Singapore) helped with my film production work. The class even covered a bit of scriptwriting so it gave me the basics I needed," Rudy said. "I like to try new things."
As much as Rudy is enjoying his current job, he admits that he sometimes misses programming. Looking ahead, if Bushiroad decides to have a software department in Singapore, he says he would be more than happy to put his computer science skills to use once again. "As Bushiroad continues to strive forward in the games industry, I hope to be able to use my education and experience to help bring more fun and joy to all gamers worldwide, be it in a physical or digital form," Rudy said.