Rachel Ang has a knack for working with systems and designing solutions to complex problems. As a data engineer in the technology division of Synpulse8, a company that specializes in digital product development and experiences for the financial services industry, she puts those talents to daily use. Rachel is currently seconded to a bank where she works on data migration. Her day-to-day tasks include writing scripts in SQL, program development in C#, as well as attending client meetings to understand, refine, and assess the technical feasibility of these requests. Prior to joining this project, Rachel was previously seconded to another bank where she helped to build performance dashboards and analyze data for products like credit and debit cards.
Even though Rachel enjoys what she's doing now, engineering wasn't love at first sight for her. As someone who claims she is not academically inclined, Rachel had always set her sights on attending an arts school and studying fashion design. But her educational and career paths were forever altered one fateful day when she chanced upon some information about Formula 1. "It was the end-of-year holidays after I received my 'N' level results," Rachel recalls. "I was bored at home and started researching on why people enjoyed watching Formula 1, since it is just watching cars racing in laps. However, as I read about how the cars are built and about the innovations involved in optimizing the races, I realized that this was all pretty cool." In particular, she remembers being awed by the F-duct, which is a system racecar drivers can activate to increase their maximum speed. That experience prompted her to go on and read about other engineering marvels beyond Formula 1. Since she still enjoyed design, she decided to direct her design skills toward engineering instead of fashion, eventually pursuing a diploma in mechatronics during her polytechnic days.
While in polytechnic, Rachel's curiosity about engineering was further piqued when she and her teammates had the opportunity to plan, design, and build an engineering solution from scratch. Rachel and her team helped a timing belt manufacturer overhaul their production process in order to make it more efficient. Rachel's role was to design and fabricate the electrical box and the body of the prototype from scratch. "I have always had a niche for planning and designing, but this experience made me realize that I enjoy building things too," Rachel says. "This project taught me a lot about putting everything together in an engineering solution and coming up with a workable prototype. The experience has stuck with me for a long time."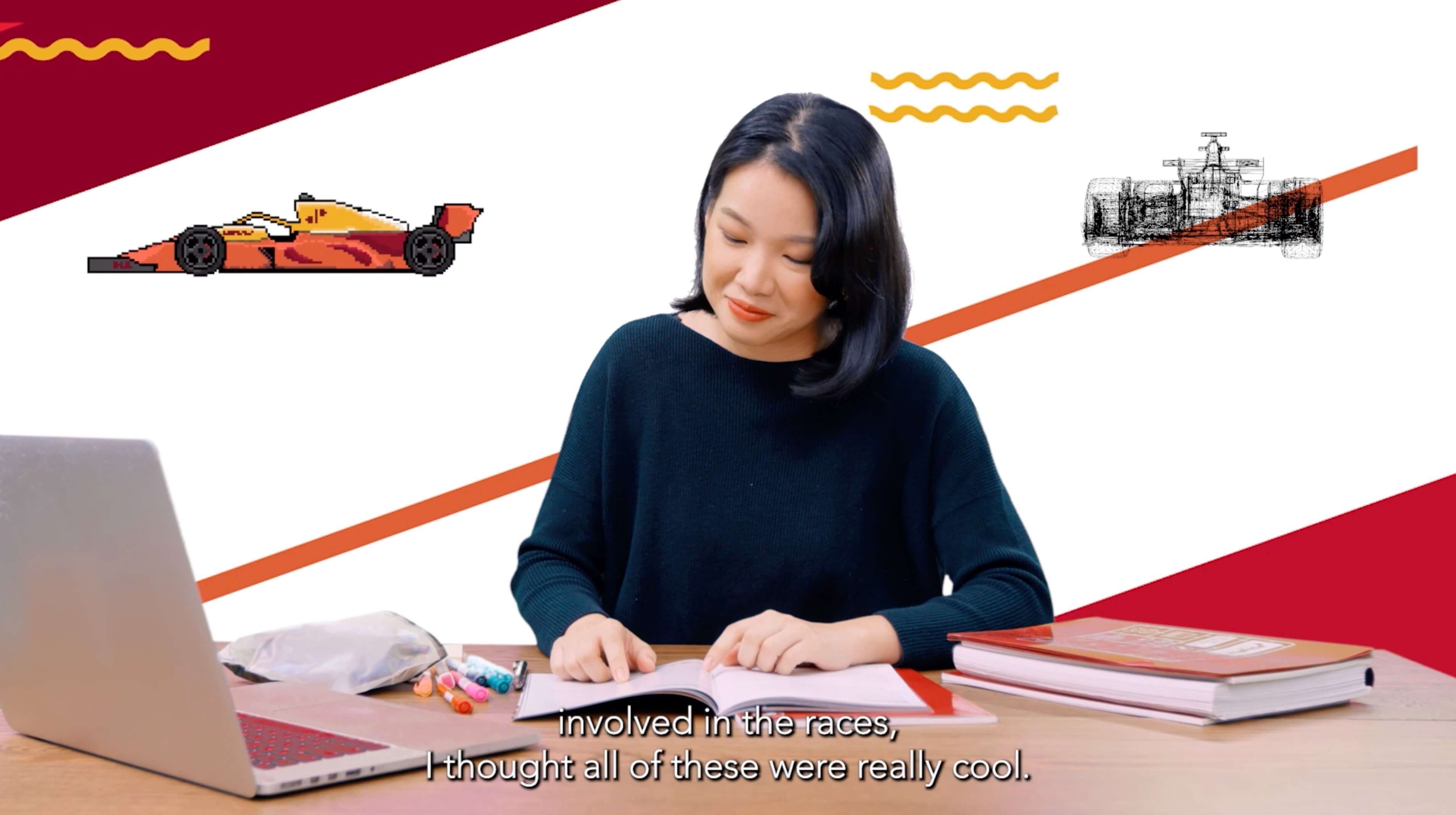 Rachel decided to further her engineering skills by applying for SIT-DigiPen (Singapore)'s BEng in Systems Engineering (ElectroMechanical Systems), which has now been renamed as BEng in Mechatronics Systems. She was particularly drawn to the program's multidisciplinary approach toward system development, and she relished the chance to deepen her technical knowledge in different engineering domains. Despite the rigor of the course, Rachel enjoyed her studies and credits the school's curriculum and pedagogy for helping her get to where she is today.
"The school has a reputation for nurturing good candidates for the industry, and being a graduate makes me proud that I managed to complete the degree," Rachel says. "From late nights spent working on projects and assignments, to studying hard for my exams, this educational journey has really prepared me to work effectively in a high-pressure environment." She is also proud to have adopted the problem-solving mindset and believes there is nothing DigiPen (Singapore) graduates cannot overcome.
Based on her experience, Rachel encourages aspiring engineers to start working on mini, open source projects whenever they can. She also advises anyone who is interested in the field to keep an open mind and start talking to others who are already in it. After all, the next innovation may just be what inspires the upcoming generation to pursue an education and career in engineering.