One might think that 3D simulations are used only for video games, but the same technology that powers interactive entertainment is used in many other industries.
Case in point, three SIT-DigiPen (Singapore) graduates who are building 3D simulations for maritime/naval training simulators as a part of their work at (Training & Simulation Systems) (STEE-T&S).
For Terence Chow (Bachelor of Arts in Game Design), Tan Rijiian (Bachelor of Fine Arts in Digital Art and Animation), and Leong Cheng Meng (Bachelor of Science in Computer Science in Real-Time Interactive Simulation), their skills in computer science, user-experience design, and visualization are being used to create life-like experiences for maritime and naval training.
With computing power that processes simulations at 60 frames per second, sailors can feel what it's like to sail the high seas without having to leave the shores of Singapore. This not only simplifies the logistics involved in training, it also saves costs.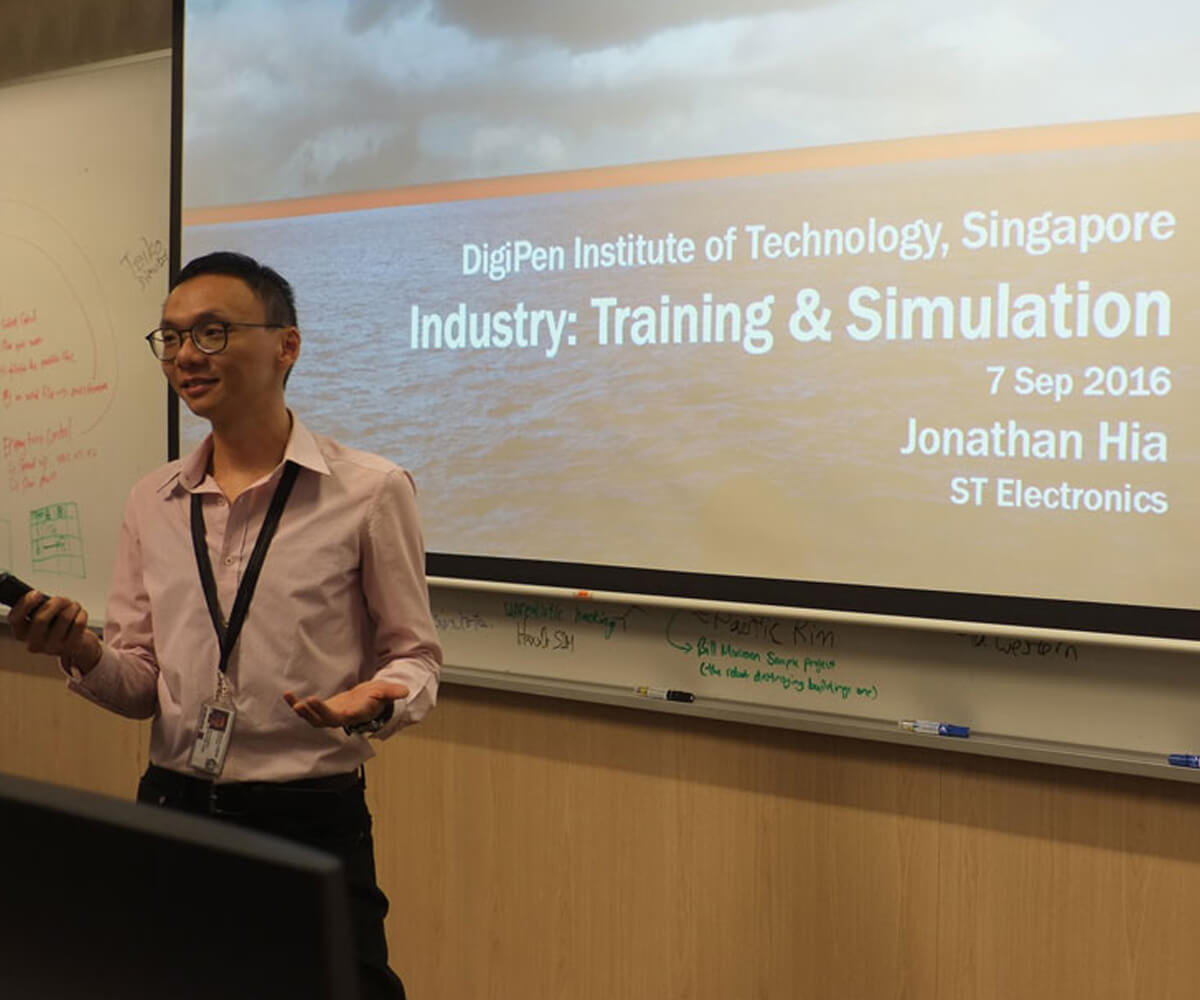 STEE-T&S, which provides solutions in the areas of simulation, edutainment and training, is where the SIT-DigiPen (Singapore) graduates work. This company is responsible for creating customized modelling and simulation solutions for a wide range of industries, from commercial to the defence sector.
Our graduates are involved in creating the virtual environment used for training. Terence and Rijian are in the modelling team, and they are responsible for creating the 3D model assets and terrain.
Terence, who was trained to be versatile and adaptive, worked on both the design and programming aspects of the simulators. While pursuing his game design degree at DigiPen (Singapore), he took additional classes in programming and scripting. This broad knowledge base allows him to communicate and work better with the software engineers in his team.
DigiPen taught me not only the hard skills such as programming and software usage, I was also taught many important soft skills, such as presentation and communication skills, which are very useful in the work environment," Terence said.
This current project — and others like it — could take as long as five years to develop, so joining the team midway, as was the case for Terence, is not unusual. Fortunately, his wide knowledge base allowed him adjust into the team nicely.
Similarly, Rijian's experience in creating digital models during his time at DigiPen (Singapore) allowed him to adjust smoothly into the work routine at STEE-T&S. While creating models for games focuses on aesthetics and appealing to player imaginations, developing maritime simulations require more accuracy to reflect real-life environments and experiences. The end user has to experience what it's like handling a ship's equipment, so the virtual models have to be indicative of how a physical object or interface would function in the real world.
Rijian's observation and interpretive skills are constantly put to the test, because the reference images he uses must be translated as closely as possible into digital 3D models. Models that have a higher resolution take a longer time for him to create and render. He then has to create a lower-polygon-count model to optimize the performance of the GPU, a practice that is also standard in game development.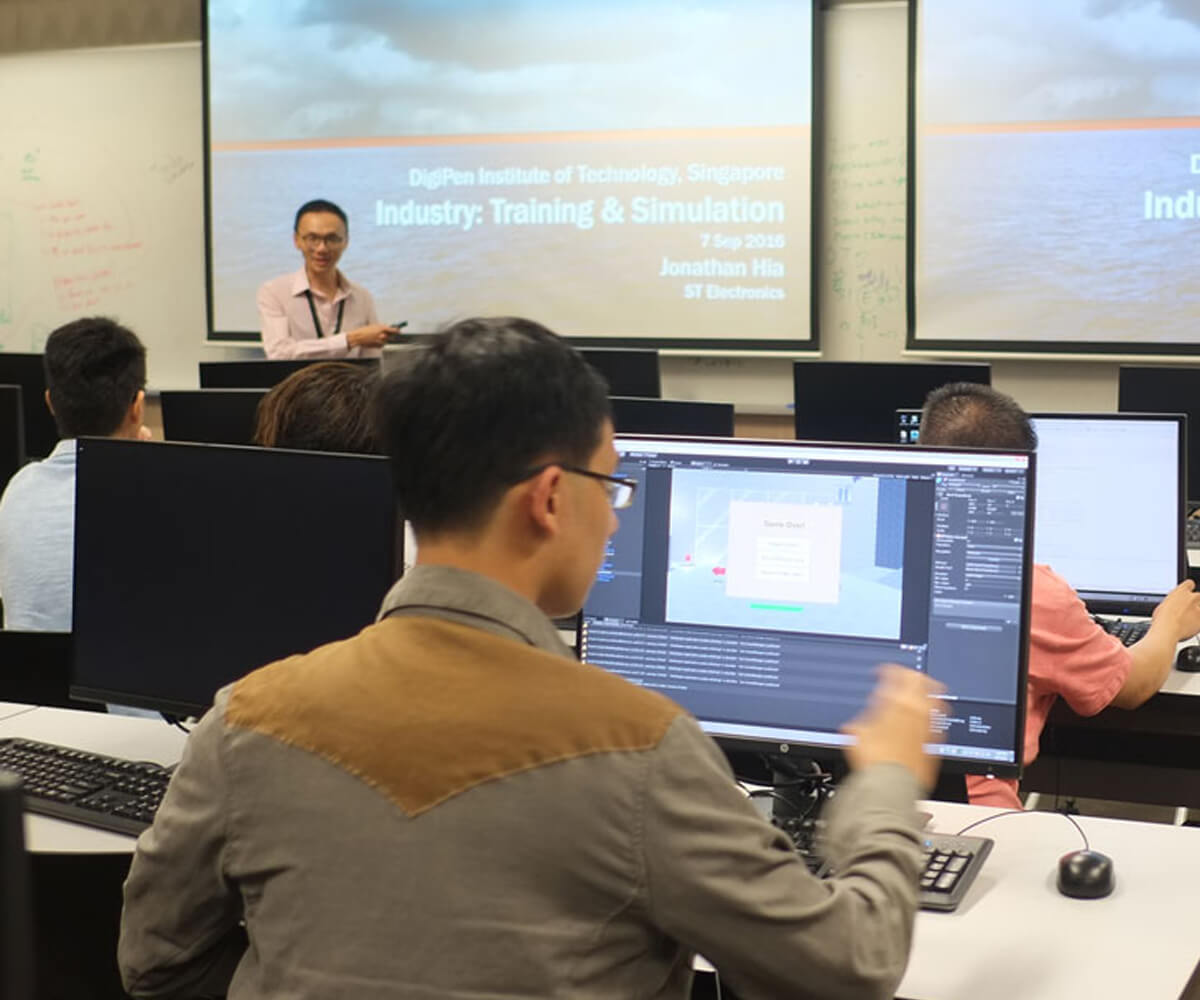 "Making a serious simulation is not much different than making a game in terms of the production pipeline," Ri Jian said. "With DigiPen's training in game production, I was able to transit quite smoothly into a project straightaway after joining the team at STEE-T&S."
The Image Generation Group, where Cheng Meng works, is responsible for creating new features for the engines that are used to drive the simulations. Typically the team of modelers and designers request new features meant to improve the realism of a simulation, and Cheng Meng's group works with them to determine the best software solutions that can be implemented. Cheng Meng and his fellow software engineers require a deep understanding of the engine's source code and the limitations of the software in order to fulfill the requests of the other internal teams.
When Cheng Meng joined STEE-T&S, he only needed a couple of weeks to familiarize himself with the engine before working his magic behind the scenes. He was able to apply his C++ programming knowledge to help out on multiple projects within STEE-T&S.
"A strong foundation in 3D mathematic skill is required to create simulations, which was the focus of Real-Time Interactive Simulation at DigiPen," Cheng Meng said.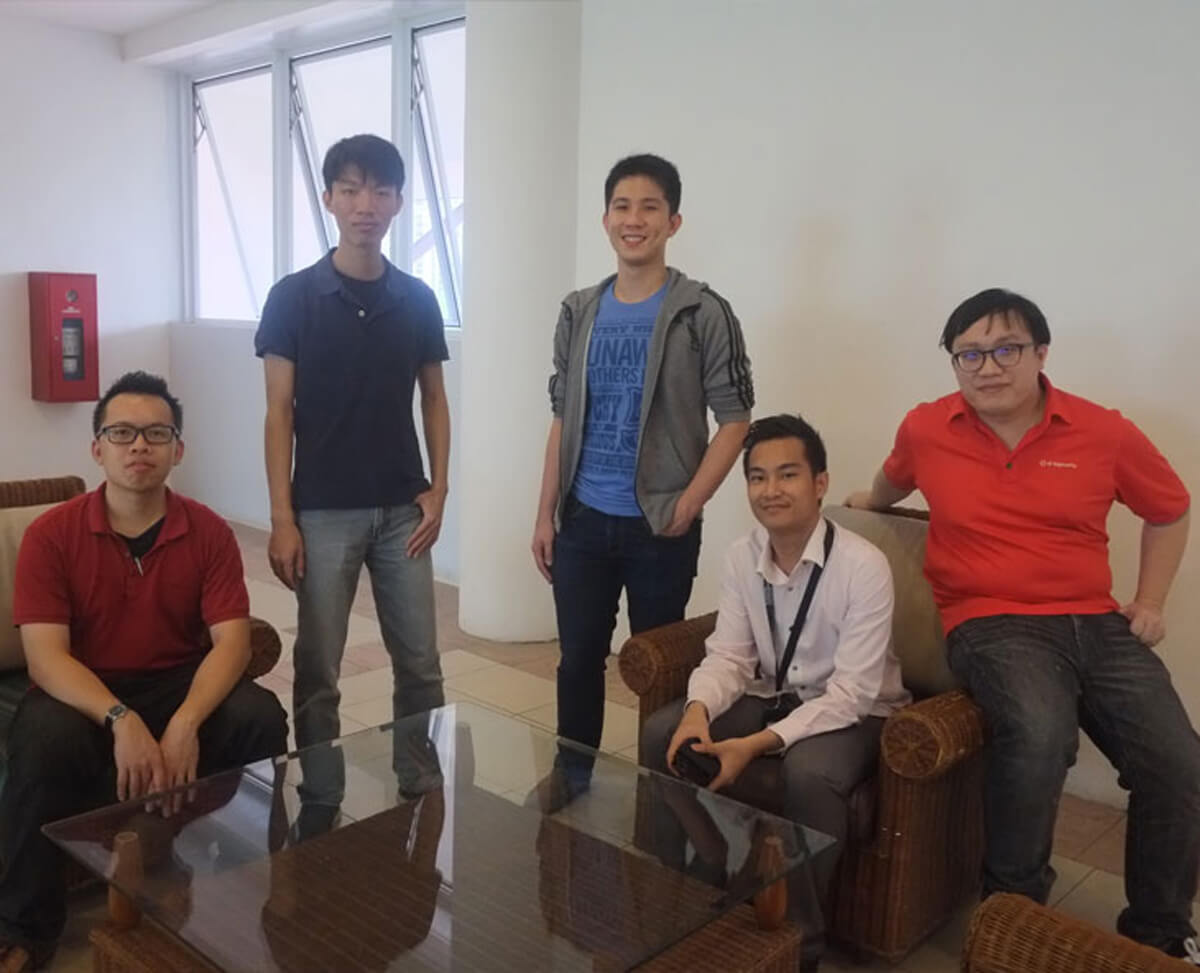 Soon after joining STEE-T&S, the team had the opportunity to participate in the demonstration of their Oculus Rift project at the IMDEX Asia 2015, an exhibition that gathered key players and decision makers of the maritime defense industry in the Asia Pacific region. The graduates cited this as a highlight of working in STEE-T&S.
Melvin Lau, Assistant Principal Engineer in STEE-T&S, oversees the graduates working on this project. He recounted how he was pleasantly surprised by their competency in the C++ programming language. Besides doing well on the interview questions, some were even able to identify errors placed intentionally into the interview questions. This trait, among others that he gleaned from the interviews, is why Melvin values any applications from SIT-DigiPen (Singapore) graduates.
Prior to  STEE-T&S, Melvin was already familiar with DigiPen (Singapore), having first heard of the school while working at Lucasfilm. Sharpened with the creative industry's perspective, he is aware of the importance of team dynamics and the ability to adapt to production pipelines.
"The graduates came in very well prepared and eager to learn," Melvin said. "Their strong fundamentals allowed them to quickly pick up our internal workflow and software tools, and they were able to start working on my projects in a short period of time with high-quality work and content."
With the rising demand of digital simulation technology in industries outside of traditional games and entertainment, SIT-DigiPen (Singapore) students have proven more than capable of applying their skills to these new technology sectors. In just the past few years, our graduates have been hired by the likes of Continental Automotive, PSA, Autodesk, Government Digital Services, and other businesses. As DigiPen (Singapore) takes in more students annually — the annual student intake has grown from 100 in 2010 to more than 250 in 2016 — more graduates are expected to join a wider spectrum of industries.