In the push toward becoming a Smart Nation, more and more data are being shared and stored digitally. It is no surprise then that the demand has risen for skilled cyber defenders who can help prevent hackers from accessing, corrupting, and wrongfully sharing these data online.
Military Expert 4 (Apprentice) (ME4A) Chew Tee Chin, a BA in Game Design (BAGD) graduate, is one such skilled cyber defender. Tee Chin is currently a Command, Control, Communications, and Computers Expert (C4X) in the Singapore Armed Forces (SAF), specializing in military cyber defense operations, systems, and networks. In a nutshell, Tee Chin is part of a team that helps to defend Singapore's military systems and networks against cyber attacks.
In February 2019, the Ministry of Defence (MINDEF) and the SAF launched the C4X scheme for uniformed personnel and the Defence Cyber Expert (DCX) job specialization for non-uniformed personnel, to develop a highly-skilled cyber workforce in Singapore. This is in line with the nation's focus to beef up its digital defense efforts amid a spate of high-profile cyberattacks, such as the WannaCry ransomware attacks in 2017 and the SingHealth data breach in 2018.
The latest edition of the annual Cybersecurity Public Awareness Survey, released by the Cyber Security Agency of Singapore (CSA) in September 2019, found that close to half of all respondents had experienced at least one cyber incident in the past 12 months, signaling the prevalent need for cybersecurity professionals in both the public and private sectors.
Tee Chin joined the SAF as part of the C4X scheme as he wanted a career that allows him to contribute to Singapore's security and success while working in a dynamic and challenging work environment. Being one of the first to join the C4X scheme also fills him with immense pride as his work paves the way for future generations of cyber defenders.
On a day-to-day basis, Tee Chin performs cyber threat monitoring and analysis to safeguard MINDEF and the SAF's networks and systems. Relating the challenges in his job, Tee Chin shared: "Successfully resolving the cyber incidents gives me an immense sense of satisfaction as it is akin to solving a mystery or a puzzle." In addition, Tee Chin also enjoys the challenge of leading a team of cyber analysts and operators, ensuring that the team stays vigilant 24/7 against any cyber threats while performing their tasks.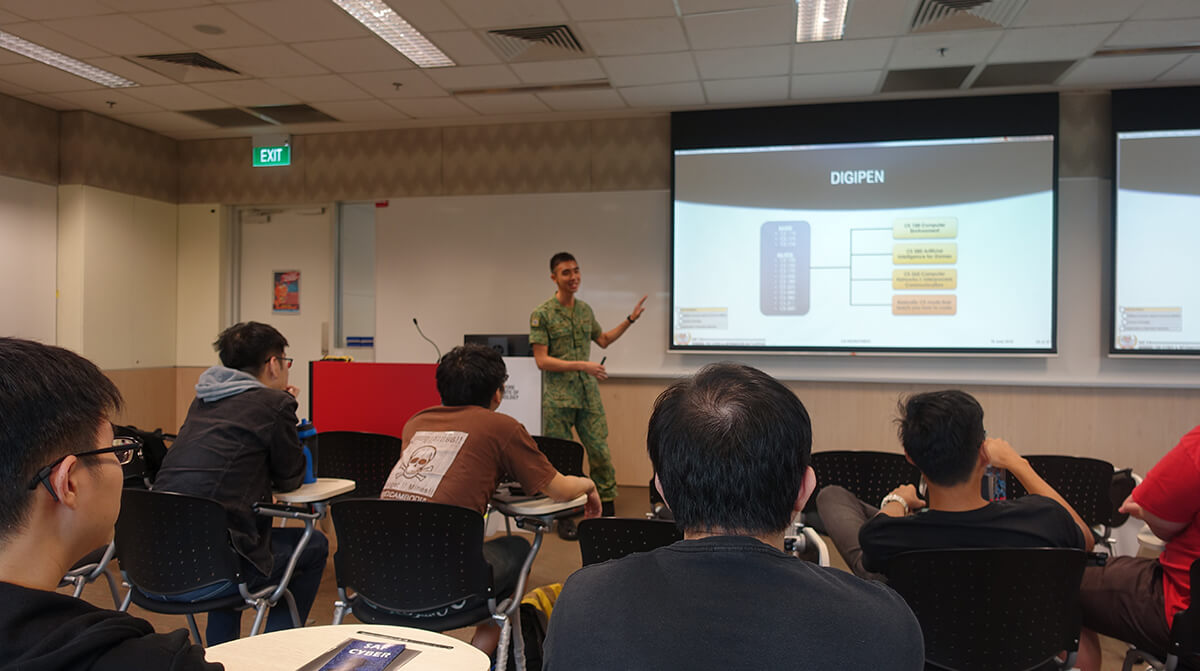 Tee Chin's strong foundation in general computer hardware and technical programming knowledge that he learned during his time at DigiPen (Singapore) made it easy for him to pick up the necessary skills for his current job, even though he had little prior experience in computer networking.
Furthermore, MINDEF and the SAF offered multiple training opportunities to hone his skills in areas such as network security, cyber analytics, threat hunting, malware forensics, and cryptography, through a mix of in-house training as well as industry-recognized professional courses.
"In this day and age of technological advancement, almost every piece of software or technology that we own is able to connect to the internet in one way or other. And with so much of our personal information voluntarily shared and stored online, strong cybersecurity defenses are needed to ensure that everyone is safe and that their privacy is protected," Tee Chin says. He adds that cyber defense is a shared responsibility. "Vulnerable devices are not just a risk to the users themselves but to everyone. These compromised devices could be potential attack vectors that hackers use to carry out their attacks."