For the majority of Singaporeans, public transport is an integral part of life. The extensive rail and bus networks help to connect all corners of our sunny island, allowing commuters to zip from one end to the other seamlessly. All this is possible thanks to a large team of engineers who work tirelessly behind the scenes. Among them is Samuel Tan, a graduate from the pioneer batch of BEng in Systems Engineering (ElectroMechanical Systems) — or SEEMS — program. Samuel works today as an executive engineer at SMRT Corporation and is part of the team responsible for performing maintenance work for communications equipment on the Circle Line rail network.
Before entering SIT-DigiPen (Singapore), Samuel initially studied aerospace engineering at Ngee Ann Polytechnic. He chose the course as he thought it would be the most promising at the time. However, he discovered over his three years pursuing his diploma that the aerospace industry was not for him. After looking into other related career options, Samuel eventually applied to a handful of engineering courses in Singapore Institute of Technology after graduating from polytechnic and secured an offer to pursue SEEMS, which he gratefully accepted.
SEEMS is a joint degree program offered through Singapore Institute of Technology and DigiPen Institute of Technology Singapore. This multidisciplinary program covers the fields of mechanical, electrical, and computer engineering, allowing students to become adept engineers of complex systems that are controlled by microprocessors and microcontrollers. This holistic approach to engineering turned out to be just what Samuel was looking for, and he found himself thriving in the course. "I enjoy systems engineering because it can be applied in almost any field of engineering," Samuel says. "The concepts and tools that we are taught can be adapted to improve efficiency and optimize processes anywhere."
Samuel did so well in his first trimester that he applied and qualified for the Public Transport Industry Scholarship (PTIS). The PTIS is awarded by the Land Transport Authority and covers the tuition fee for the year that the recipient receives the scholarship and every year thereafter until the end of his or her undergraduate studies. In return, the recipient is bonded to SMRT Corporation and agrees to work on the nation's expanding rail network. At his recent commencement ceremony, Samuel also won the Rohde & Schwarz Outstanding Student Award in Systems Engineering (ElectroMechanical Systems) prize for his academic excellence, leadership qualities, and significant contributions to SIT and the community.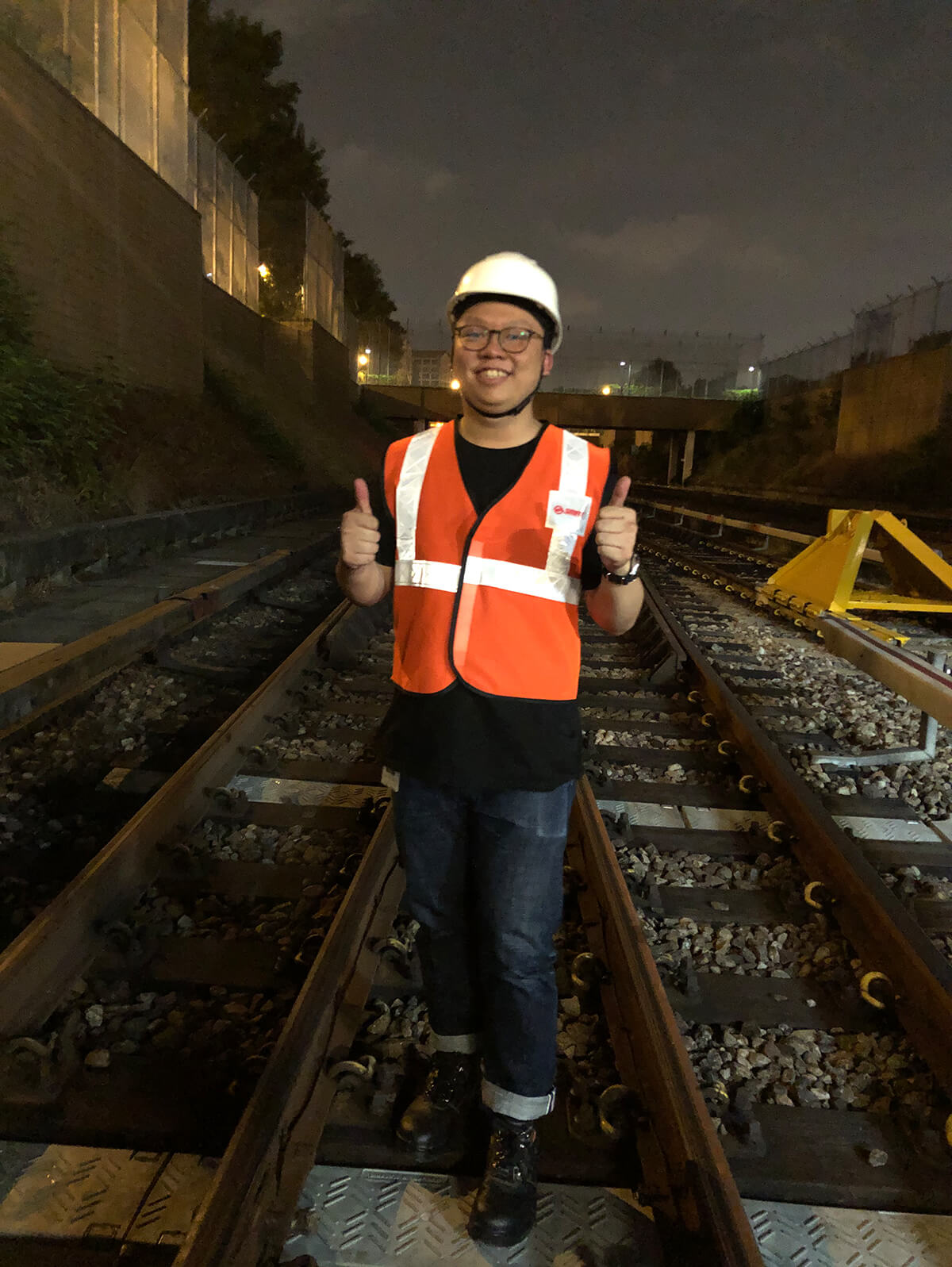 Currently, Samuel's day-to-day job scope at SMRT Corporation includes troubleshooting hardware and software issues, as well as planning maintenance work for the maintenance teams. He is also involved in Standard Operating Procedure (SOP) reviews and planning for future upgrades. Samuel loves that his work life isn't mundane, as every week is a little different from the last. "One of the highlights for me so far was my attachment to a Mass Rapid Transit (MRT) train station for a week as part of my orientation," Samuel says. "It opened my eyes to just how challenging it was to be at the front line of the train operations, and I have a newfound respect for the station staff."
As much as he enjoys his work, the learning curve for Samuel has been steep. The complexity of the rail network means that many of the systems are interconnected and could affect other systems in the organization. A network disruption could be crippling, given that over three million people in Singapore rely on the MRT daily. Fortunately, SMRT employees prepare and train extensively to prevent such disruptions. In an environment where no one can afford to make mistakes, Samuel says he's grateful for his supportive team that guides him along. Samuel also credits his time at SIT-DigiPen (Singapore) for molding him into an adaptable and resourceful worker. "In the SEEMS program, every trimester of study has a different focus. This taught us to tailor our systems thinking to fit different fields of engineering, be it mechanical, electrical, electronic, or computer engineering," Samuel says.
What keeps Samuel going is also the sense of fulfillment that he gets from his job. He finds it meaningful that his work makes a positive impact on the nation, and he is thankful for the encouraging comments that commuters have been leaving on SMRT Corporation's social media platforms.