Upon completion of his Media Education Scholarship from Info-communications Media Development Authority (IMDA), Bachelor of Arts in Game Design (BAGD) graduate Daryl Bong proceeded to take on a different role than some of his peers. Instead of diving into the world of games, he was accepted into a management associate program at Singtel that provides cutting-edge services and solutions in the field of information and communications technology.
"I didn't think Singtel had anything to do with games," Daryl said, reflecting on his choice to enter Singtel's Management Associate Program (MAP) during his last semester at DigiPen (Singapore). "But I decided to give it a shot anyway. Singtel has evolved tremendously in the last decade, and there are plenty of new opportunities available. I'm excited to see how I can leave a mark on an organization that is experiencing such a transformation, especially one as massive as Singtel."
Since 2003, the Media Education Scholarship (MES) has helped more than 200 scholars launch their careers in the Singapore media industries. In addition to receiving tuition and other financial support from a sponsoring media company, MES scholars are given a direct path into the industry through internship and career opportunities at the sponsoring company after graduation. For Daryl, that sponsoring company was Singtel.
His skillset is becoming more relevant with recent trends in AR/MR technology, which is expecting higher potential and growth in the next few years. Also, other tech companies are investing heavily to improve development frameworks in this area."
Even though Daryl was initially unsure of what career path to embark on in Singtel, he had a clearer idea when the HR department shared with him about MAP, a structured leadership program that allows him to explore his options through job rotation in different business areas. As part of the program, Daryl began attending leadership workshops, networking dialogue, and career coaching sessions. Through one such networking dialogue, he was introduced to Ms. Soh See Theng, lead IT architect of NCS, a subsidiary of Singtel. Based on that connection, Daryl indicated his interest and was rotated to NCS' Chief Architect Office to develop proof-of-concepts and prototypes for augmented- and mixed-reality technology (AR/MR), a job that requires someone with technical knowledge in Unity and experience in designing and developing for user interface (UI) and user experience (UX).
"In order to drive NCS' capabilities in these emerging technologies, I also help to conduct demonstrations, presentations, and sharing sessions with both internal and external stakeholders," Daryl said.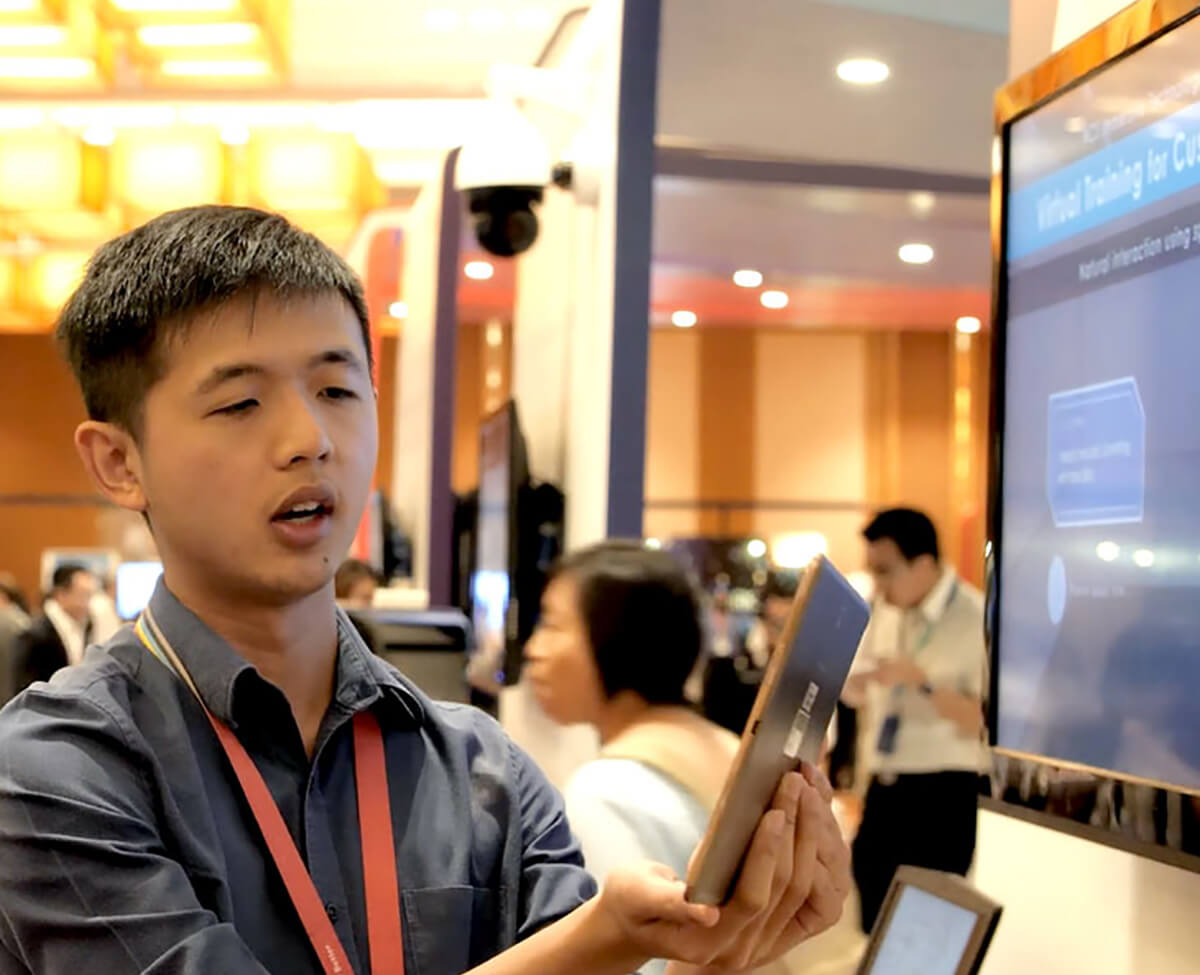 Thanks to Daryl's experience working in Unity and rapid prototyping, both of which he obtained during his education at DigiPen (Singapore), Ms. Soh found Daryl to be a good fit for the team. "Daryl's expertise in gaming, UX, and 3D technology complements our team. He is willing and capable to learn and explore technology outside his field of study," Ms. Soh said. "His skillset is becoming more relevant with recent trends in AR/MR technology, which is expecting higher potential and growth in the next few years. Also, other tech companies are investing heavily to improve development frameworks in this area."
While Daryl relies on the foundation he learned in school, he said he's also finding opportunities to grow and learn as he adapts to the working world.
"In school, we were able to focus solely on creativity or innovation," Daryl said. "When working for a company, those innovations have to translate into revenue and be backed by a proper business plan. You can't just have a 'great idea' without knowing who's paying for it and where the money's coming from. Coming up with the right business angle is a skillset I'm still learning to develop."
Time management is another challenge for the young graduate, as the nature of his job requires quick turnarounds. This is similar, Daryl says, to the tight deadlines he encountered during his course of study at DigiPen. He opined that meticulous iteration and testing are very important, regardless of the kind of software that is being developed. DigiPen's emphasis on delivering polished projects motivates Daryl to elevate his prototypes despite the short time frames. He says his confidence in presenting his work to his clients and colleagues also stems from the numerous presentations he gave as a student.
From a young age, Daryl found joy in making pen-and-paper games for his relatives and friends. The ability to spread such simple joy ignited his passion in creating interactive experiences for others. To follow his childhood dreams, he took the first step by pursuing the Diploma in Games Design & Development at Singapore Polytechnic. After that, he enrolled in DigiPen (Singapore)'s BAGD program to hone his skills, particularly in the design aspect of game development.
As Daryl can attest, however, students who study game design aren't limited to jobs within the video games industry.
"As much as I hope the local game industry continues to flourish, it is also essential for us — particularly BAGD students — to prove that our skillsets can be applied in the outside world," Daryl said, ending with some words of advice for fellow designers. "Ironically, designers are still underappreciated in a time when user experience is everything. People need to learn our value, so whatever you do, do not shortchange yourself and always strive to 'make it great.'"