DigiPen (Singapore) recently wrapped up the pilot run of the Continuing Education Attach-and-Train (AnT) Program for Artificial Intelligence (AI) Software Developer, with seven trainees graduating. All trainees have since found full-time employment with the partnering companies in the program.
These trainees hailed from diverse backgrounds — such as engineering, computer science, design, and finance — and were equipped with the necessary fundamental skills and knowledge to kick-start a career in software development upon completing the program.
One of them is former senior games engineer Ian Tan. Having been in the gaming industry for close to eight years, he wanted to expand his capabilities in order to stay relevant in the field and saw the program as a chance to upskill himself. His past experience in programming made it easier for him to understand the new concepts and principles he had to learn while undergoing the training. Today, Ian is with gumi Asia, where he works on implementing game features and carrying out bug fixes.
Similarly, Tan Ken Yang, another graduate, also decided to participate in the program to deepen his knowledge in AI. As a DigiPen (Singapore) alumnus, he was accustomed to the school's pedagogy and curriculum and thus adapted quickly to the rigor of the course. The former web developer is now working in the electronics sector with ST Engineering, where he does scripting and programming to create simulations.
"My biggest challenge so far has been in getting used to the software engine that the company uses," said Ken Yang. "[But] the training has prepared me well for the job at hand, so kudos to DigiPen (Singapore) for making this AnT program possible."
The AnT Program for AI Software Developer is a manpower development program created in collaboration with Workforce Singapore (WSG) with the goal of reskilling and up-skilling professionals, managers, executives, and technicians (PMETs) to meet the manpower needs of the industry amidst the evolving digital economy. The goal of the program was to equip trainees with relevant skills and valuable work experience, helping them become ready to take on new jobs as AI software developers. DigiPen (Singapore) sought input from four partnering companies — Ubisoft Singapore, gumi Asia, Continental Automotive Singapore, and ST Engineering — to develop the curriculum. Trainees learned the basics of programming, object-oriented software design, game software development, mathematics for AI applications, implementation of classic AI algorithms, and advanced AI techniques for games.
"Due to the sheer amount of content that was covered in the program, it was crucial for trainees to not just be fast learners but to know how to learn and apply what they've learned," says Swavek Wlodkowski, Senior Lecturer in Computer Science and Program Manager for Continuing Education, DigiPen (Singapore). "The trainees who succeeded in the program all displayed exceptional drive and discipline. Furthermore, they showed a keen aptitude for computational, logical, and analytical thinking."
The program comprised four months of classroom training and two months of on-the-job training with the partnering company to which the trainees were attached. Upon graduation, each trainee was conferred a Specialist Diploma in Artificial Intelligence Software Development by DigiPen (Singapore).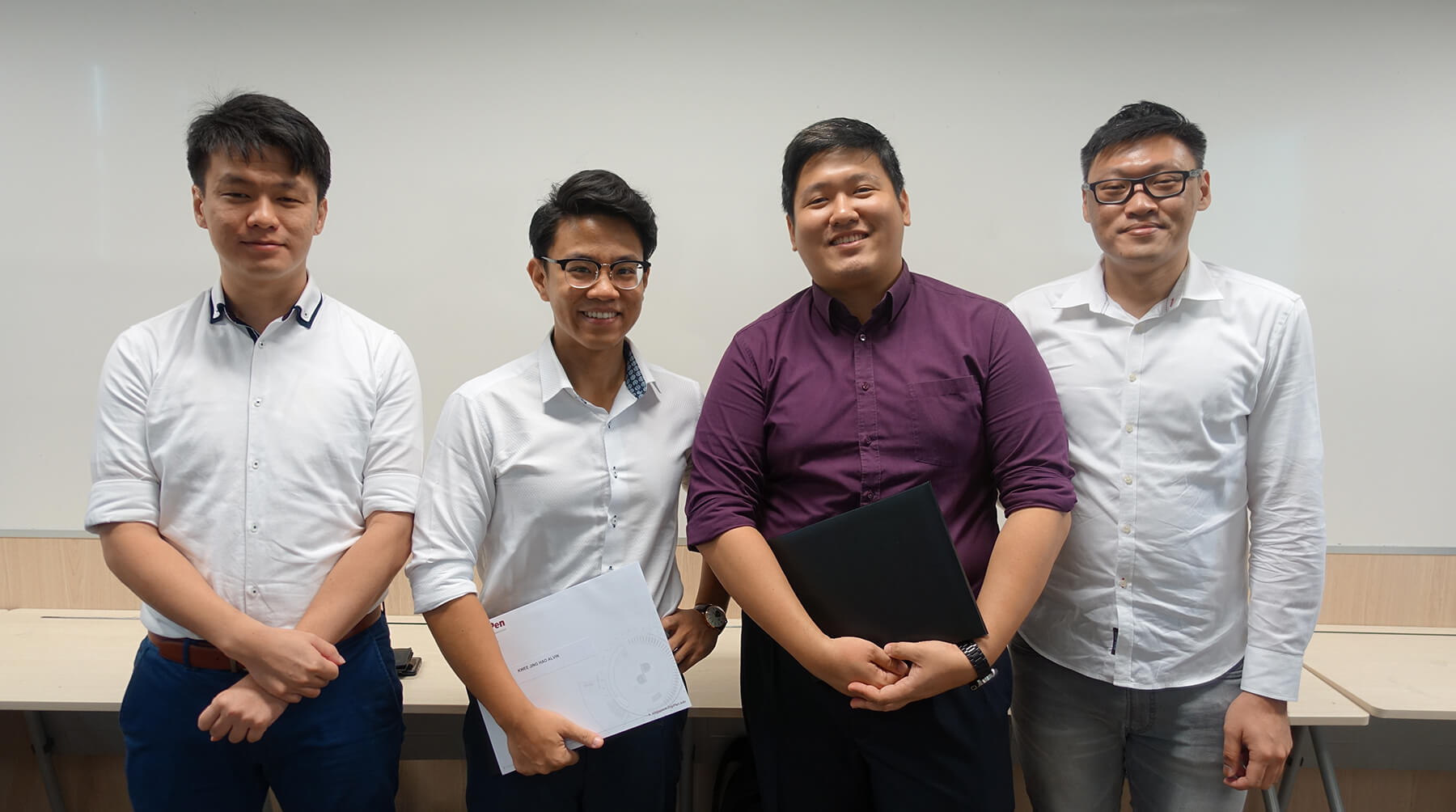 "We are incredibly proud of all our trainees who have completed the program, especially those without a STEM background," Mr. Tan Chek Ming, Managing Director of DigiPen (Singapore), says. "In our opinion, what proved pivotal was also the camaraderie which was built up amongst the trainees that helped see them through. We are grateful to WSG and the partnering companies who helped us design and run this program for these PMETs. With this conversion, notwithstanding the grueling pace, we have proven that it can be done."
This sentiment was echoed by former mechanical engineer Yap Yuanzhen, who found the program useful in preparing him for a new career as a software engineer at Continental Automotive Singapore. He conceded that the first half of the training process had been tough, as everything was new to him. But he soon got the hang of it and even used his prior knowledge of basic programming from his engineering days to better understand and cope with the demands of the new role.
Alvin Kwee left his job in audit and sales in search of a more fulfilling career where his work would have a positive impact on others. An epiphany dawned upon him after he read an article on how Elon Musk was solving the South Australia energy crisis with a Tesla-built giant battery system. He realized that using technology such as AI would be the fastest and most direct way to create positive impact on others.
Determined to make a career switch and find work that he finds more meaningful, Alvin signed up for the AnT program after hearing about it from a friend. The transition was not as smooth-sailing as he had hoped, given his lack of background in STEM. There had been times during the training when he doubted whether programming was suitable for him. However, with perseverance and encouragement from his fellow trainees and the lecturer, he pressed on and successfully completed the program. Alvin is now at Continental Automotive Singapore as a software engineer, where he works on writing scripts to automate tedious, repetitive processes.