Billy Ker's life took a turn in a different direction when, under his father's recommendation, he applied to work for The New Paper under Singapore Press Holdings (SPH) and landed a job as an infographics journalist.
Though Billy originally intended to enter the VFX industry, the Bachelor of Fine Arts in Digital Art and Animation (BFA) graduate has since won multiple journalism awards from the Society of News Design in 2013 and 2014 and was crowned the Young Journalist of the Year by SPH in March 2016.
The New Paper team had never heard of DigiPen (Singapore) prior to meeting Billy. Nevertheless, Billy's supervisor, Kelvin Chan, decided to take a chance in hiring him as SPH's hiring policy focused on skills, portfolio, and the employee's character.
Billy was a one-in-a-million candidate, a diamond in the rough," Kelvin said. "The newspaper business is increasingly digitizing, and SPH has to be prepared. Having Billy spearhead the movement gives us an advantage to continually push the industry standards forward."
When asked about his transition from studying at DigiPen (Singapore) to working at SPH, Billy said he was initially worried that what he learned from DigiPen would be worlds apart from what he would be doing in the press industry. However, after starting work, he realized that a lot of the skills he gained in his DigiPen education carried over quite well. He cited storyboarding, motion graphics, and illustration as vital skills for his work as an infographics journalist.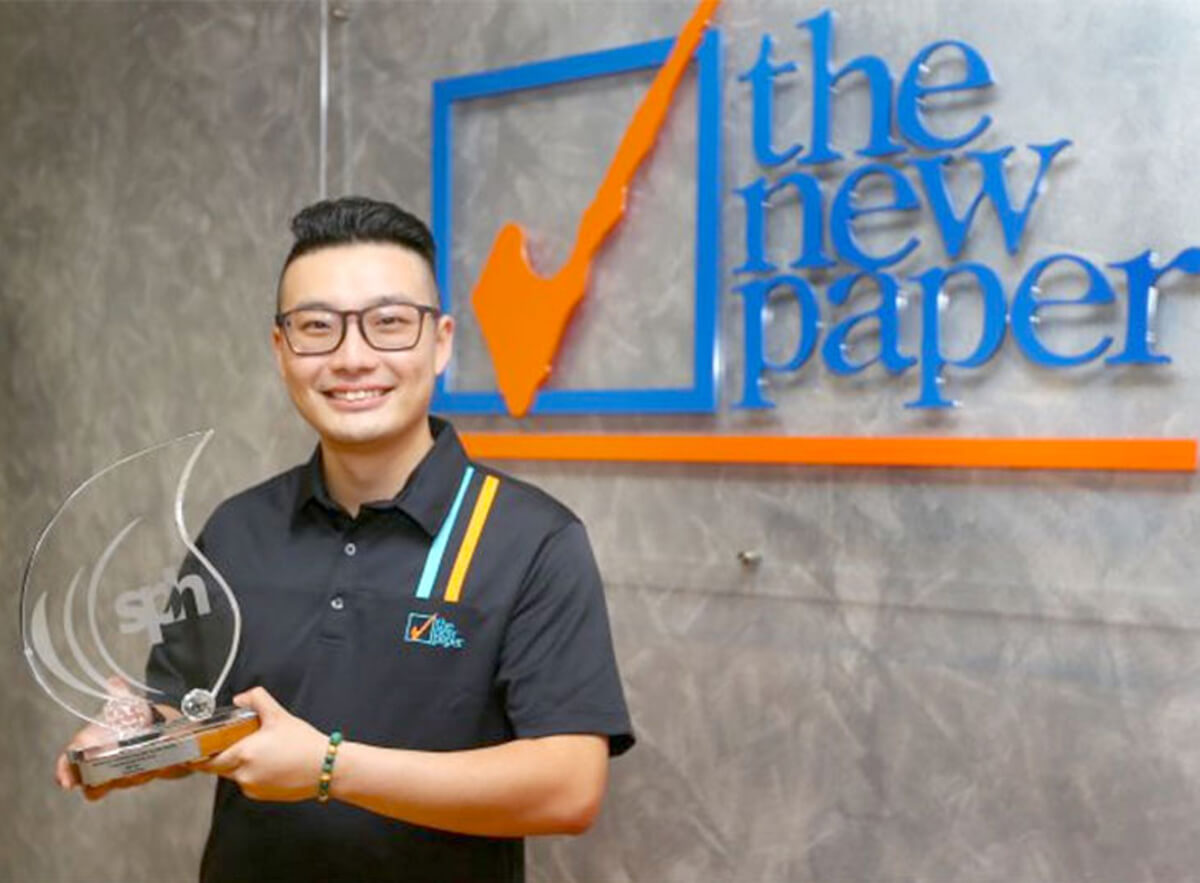 "As newspapers all over the world are moving into the digital realm, we're starting to need more interactive graphics and animations in this line of work," Billy said. "That's where my animation skills from DigiPen (Singapore) come into play."
Billy's typical work day starts at 4 p.m. That's when he reports to the newsroom and begins to work on whatever projects must be completed in time for the 1 a.m. printing deadline. As a journalist, however, Billy also has to be ready to go out on news assignments at any time of day.
"We interact with lots of people on the job during these assignments and get to try out a lot of new things such as boarding and doing a story about the latest cruise ship that made port in Singapore, or even trying out new amusement park rides before official openings," Billy said.
Because of the tight time frame for each assignment, Billy said his experience with project deadlines at DigiPen helped him to cope well under pressure. The team-based projects at DigiPen also reflect the process that Billy goes through while working on an assignment at The New Paper, in which a team of six employees will brainstorm for an angle and decide how to tell the story using visual aids.
The most rewarding aspect of my job is actually seeing the work published on a regular basis and getting it shared on social networks," Billy said. "One of my favorite projects was to create a comic-like video for Captain America: Winter Soldier when the movie first premiered. I generally enjoy working on movie-related graphics such as those for Marvel and DC."
As for winning the Young Journalist of the Year award from SPH, Billy said it came as a big surprise for him. "The Young Journalist of the Year award is not commonly associated with us artists," Billy said. "I only found out that I won during the award ceremony itself, when the other three nominees and I were on stage."
Billy's supervisor Kelvin said that while many DigiPen (Singapore) students dream to make it into the gaming, animation, and VFX industry, he felt it was good for students to take notice of graduates like Billy who are casting a wider net and taking the initiative to apply their educational backgrounds toward other professional opportunities. As more industries and professions — whether in journalism, architecture, systems integration, or other areas — move further into the digital realm, the demand for skilled digital artists will continue to grow.