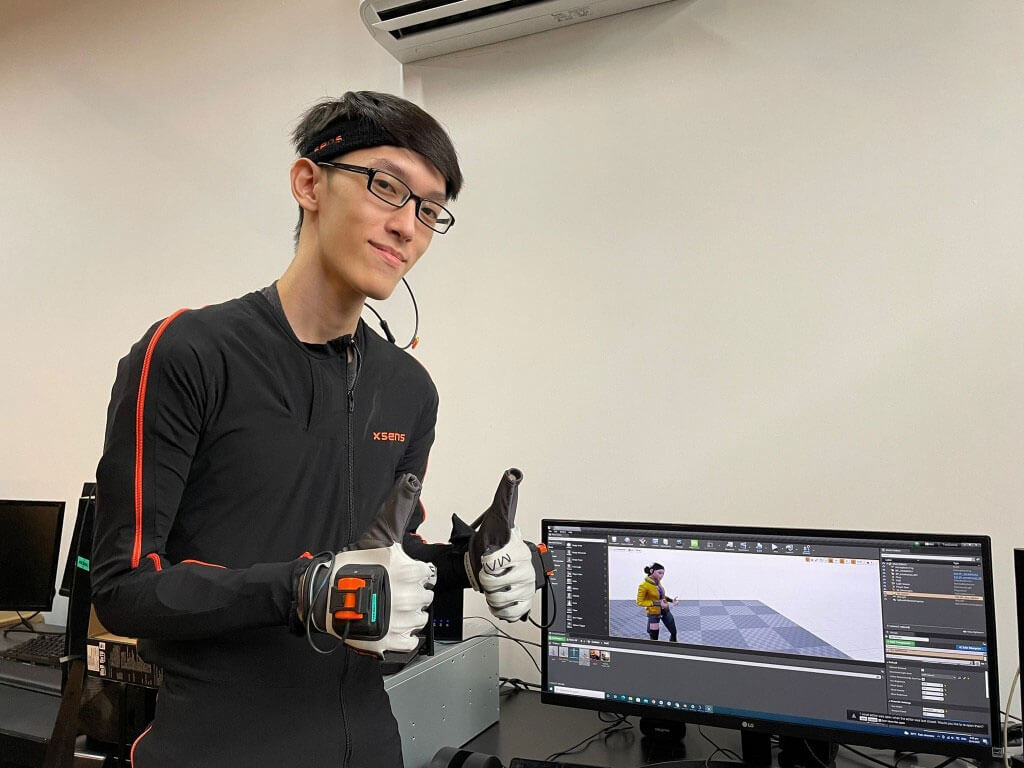 In the last two years, businesses and individuals were all forced to quickly pivot towards greater digital adoption as a result of the COVID-19 pandemic. While many industries were greatly affected, the restrictions on physical interactions caused certain industries to thrive — including the virtual production business. Tay Hao Wen, a virtual production engineer specializing in motion capture at Anomalyst Studio, is a first-hand witness to this. In the few months he has been with the firm, Hao Wen has already been part of multiple large-scale projects for a host of notable clients.
Hao Wen's interest in virtual production was first piqued thanks to his education at DigiPen (Singapore). He initially pursued a BA in Game Design as he enjoyed video games and thought it would be cool to create them, but he pivoted toward virtual production when he discovered its myriad possibilities while taking a module on the topic. The class was taught by former faculty member Rahul Nath. "Virtual production is the bridge between the real world and a virtual one," Hao Wen says. "I love how we are able to use it to create worlds and characters that can seamlessly blend in with real-world elements when done well," he adds.
As part of a module assignment, Hao Wen — together with classmates Lim Guo Bin and Lim Cheng Kai — designed and developed an ambitious proof of concept for an interactive, virtual museum. Unlike regular museums, this museum showcased otherworldly artifacts and creatures. Hao Wen worked as the map and world designer for the project. He even donned a motion capture suit to bring some of the aliens in the museum to life.
While working on the museum project, Hao Wen also had the opportunity to learn more about virtual production when Rahul invited Ben Kee, the founder of Anomalyst Studio, to share more about the technology's possibilities and industry applications. Hao Wen was excited about what motion capture could achieve and decided to approach Ben for an internship position. The application process went smoothly, and Hao Wen started as an intern designer at Anomalyst Studio a few weeks later in August 2021.
Anomalyst Studio is a multimedia production company that specializes in creating immersive virtual productions and interactive visual experiences. The studio works closely with its clients to bring their visions to life. During Hao Wen's internship, he mainly helped to create virtual environments or special effects for projects. He also worked as a motion capture assistant whenever needed and had the privilege to work on projects for clients such as Razer, Jasmine Sokko, and Shigga Shay. The latter left the biggest impression on Hao Wen, as he recalls working with the local rapper to bring his mixed reality performance to life during the opening of the Global Esports Games 2021 (GEG 2021). "The team had to put together a performance where Shigga would wear a motion capture suit and perform live on stage, all while a virtual character in the metaverse mirrored his movements in real-time," Hao Wen says. "It was exciting, as this was a first-of-its-kind performance."
To prepare for GEG 2021, Hao Wen created visual effects for the virtual character, as well as conducted motion capture rehearsals. He even acted as a stand-in for Shigga to test out the technology and record a full session that served as a backup in the event of any major problems on the actual day. Though the entire performance lasted only around five minutes, the event proved to be unexpectedly challenging. "In a live environment, having too many radio waves can negatively impact motion capture data," Hao Wen explains. The team ended up having to use a wire in order to minimize lag, but this posed its own limitations. For example, they had to check that the wire would not restrict Shigga's movements or cause him to trip during his performance, all while ensuring the wire did not accidentally come loose or unplugged midway through. Thankfully, the event went smoothly. "The entire experience was super intense, but I am really proud to be part of the team that made this a reality," Hao Wen says.
In the final month of his internship, Ben approached Hao Wen with an offer of a full-time position. Both Ben and Chandrika Ong — Hao Wen's internship supervisor — were impressed with his strong level design skills, dedication, and problem-solving abilities. "Throughout his six-month internship, Hao Wen displayed enthusiasm in learning new tools and workflows. His efficiency and independence make him a good asset to add to the team, and we are happy to have Hao Wen join us as a full-time staff at Anomalyst Studio," they say. Hao Wen gladly accepted the offer and joined the team officially when he graduated in April 2022.
It has been a whirlwind year for Hao Wen, who never expected that putting on a motion capture suit for the first time because of a school assignment would ultimately lead him to his current role. He is grateful for the guidance and opportunities that both DigiPen (Singapore) and Anomalyst Studio have given him and looks forward to pushing the boundaries of what virtual production can achieve.