Fujitsu Asia is a leading Japanese information and communications technology (ICT) company that has roots in traditional manufacturing. With the rise of digitalization globally, it has evolved to become a business leader in technological innovations and services. As part of this digital transformation, five SIT-DigiPen (Singapore) students from the BS in Computer Science in Real-Time Interactive Simulation program have had the opportunity to intern at Fujitsu Asia over the last two years. One of these student interns, 2019 graduate Alan Lim, is now working at Fujitsu Asia full-time.
During their internship, the students were tasked with implementing an in-house web development project with a technical lead from Fujitsu as their supervisor. Within the first week of training, the interns were all able to hit the ground running. As part of their day-to-day tasks, the interns had the opportunity to explore web development as full-stack developers. They credit their strong foundations in computer science as being crucial in helping them pick up the necessary technical skills for the job.
To enhance their learning, the interns were exposed to a variety of projects. These included improving process automation internally, implementing IT service management workflows, and setting up a knowledge base for one of Fujitsu's clients. The students also worked directly with Fujitsu's internal and external consultants to conduct user demonstration sessions and workshops. They had the chance to conduct user acceptance testing (UAT) with customers, manage bug lists, and coordinate with external Fujitsu vendors on the project delivery.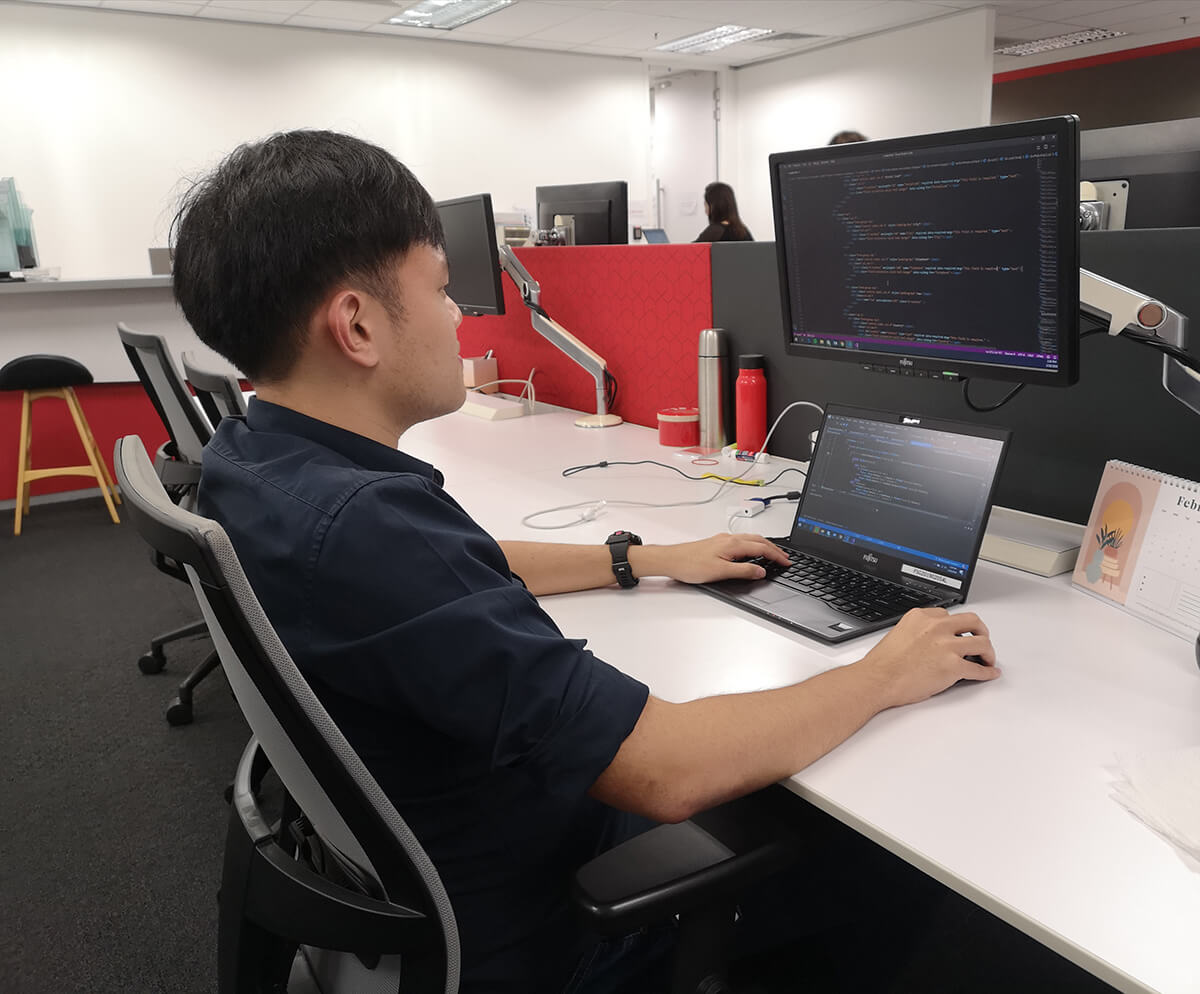 "We are happy with the SIT-DigiPen (Singapore) interns. They have strong foundations in software design and development, which helps them pick up new technologies quickly and easily," Goh Kok Tiong, Head of Application Services at Fujitsu, says. "The students are independent, willing to learn, and have confidence in sharing their knowledge and ideas with the team. They are not afraid to take on new challenges and can deliver the assigned tasks with minimal supervision."
Kok Tiong and his team were also impressed with how the interns displayed initiative and could think on their feet. They took ownership of their assignments and were resourceful in gathering and analyzing market data in order to contribute insightfully to the projects, he says.
According to Swavek Wlodkowski, faculty chair of the Department of Computer Science, it's no surprise that DigiPen (Singapore) student interns receive high praise when they venture out into the industry. That's because the DigiPen (Singapore) curriculum focuses heavily on applied learning and collaboration. Students complete group projects every semester where they get to interact and work with team members from varied backgrounds and specialties. These cross-disciplinary projects give students an avenue to hone their communication and teamwork skills while familiarizing themselves with the project management pipeline. Furthermore, students are taught how and why different technology works so that they can become technology creators — and not just users.
"SIT-DigiPen (Singapore) students develop a deep understanding of the under-the-hood details of programming languages and computers in general and are able to transfer this knowledge to most modern platforms and ever-changing technology stacks," Swavek says.
After his internship ended, Alan graduated and converted to a full-time engineer on Fujitsu Asia's Business Intelligence team, where he continues to work on the same web application project. He says he is looking forward to growing more in his role and expanding his range of technical skills there.