Making a game is very different from playing one, as anyone who has ever ventured into the world of independent (indie) game development can attest. It is often a long process where success is not guaranteed and the going can get tough. And yet, what drives these creators is the passion they have for their craft and the hope that others will one day enjoy the games they have dreamed up. One such indie developer is 2013 BS in Computer Science in Real-Time Interactive Simulation alumnus Chin Yong Kian, who recently launched his solo game, Serious Scramblers, on the Nintendo Switch™.
Yong Kian's lifelong love for video games started when he was just a young boy. He fondly recalls playing games on the Game Boy and SEGA Genesis at his uncle's house. "I was awed by titles like Super Mario Land 2, Shinobi, and Castle of Illusion and would often look forward to visiting my uncle every week," Yong Kian says. "Those early experiences likely planted the seed that grew into a dream of making my own video games one day." With this goal in mind, Yong Kian enrolled in DigiPen (Singapore), as he was drawn to the Institute's renown in the industry and its ties with his favourite game company, Nintendo.
Upon graduation, Yong Kian worked as a part-time programmer at local game company Springloaded for a couple of months before launching his own start-up, Rotten Mage. Some people were surprised by how quickly Yong Kian embarked on the indie route, but he did so in order to pursue his dream as soon as possible. "The entire reason that I enrolled in DigiPen (Singapore) was because I wanted to be equipped with the technical skills to create my own games one day," Yong Kian says. "As such, I decided to take the plunge not long after graduating."
Rotten Mage was founded in 2013 by Yong Kian, fellow DigiPen (Singapore) alumnus Lim Chian Song, and their friend Jonathan Ong. Yong Kian, Chian Song, and Jonathan first met when they were classmates at Nanyang Polytechnic and bonded over a shared passion for games. The three of them made a pact to start their own company together one day. Thus, Rotten Mage was born once all of them completed their undergraduate studies.
Rotten Mage specializes in making fun and quirky games in the 2D pixel-art style. The team first launched arcade tower-defence game Spacejacked for the PC in 2016 and has since ported it over to other platforms, including PlayStation 4, Xbox One, and Nintendo Switch™. Since then, Rotten Mage has gone on an indefinite break, as each co-founder focuses on his own personal commitments. There are still a couple of project prototypes in their backlog that they hope to return to eventually.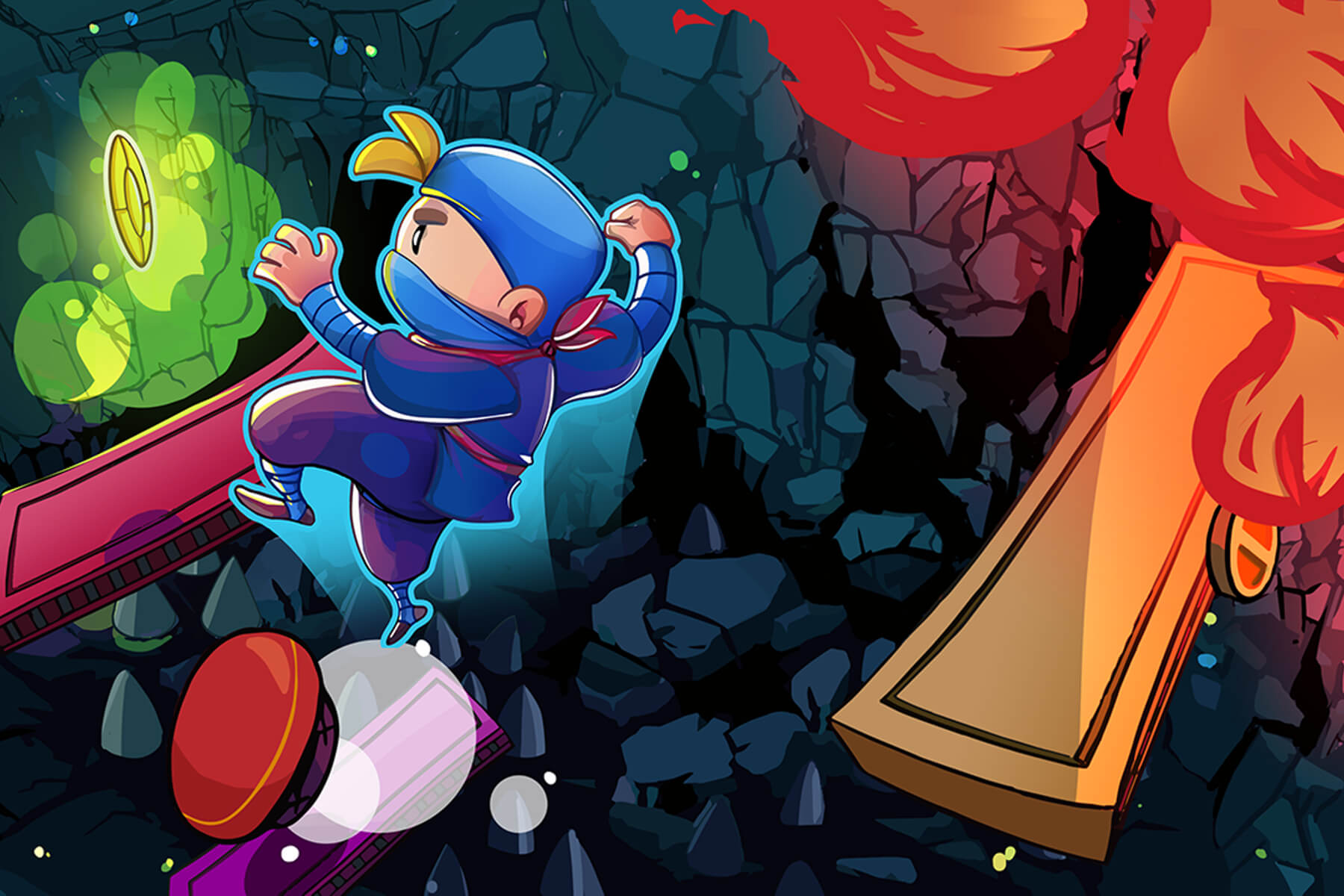 With Rotten Mage on pause, Yong Kian branched out into solo entrepreneurship with his own venture, ChinyKian Games. "It's very creatively liberating to work on games by myself," Yong Kian says. "Even while we were developing Spacejacked, I've always set aside time for my own personal projects." One such project is Serious Scramblers, a challenging vertical platformer where players control a character that falls from one platform to the next while avoiding obstacles and defeating monsters along the way. Serious Scramblers was inspired by an early mobile game called Rapid Roll, where players roll a ball down platforms while avoiding spikes. "I was playing Rapid Roll on my old Nokia phone while on reservist training in 2018 and decided there and then to remake a similar game in my own style," Yong Kian says.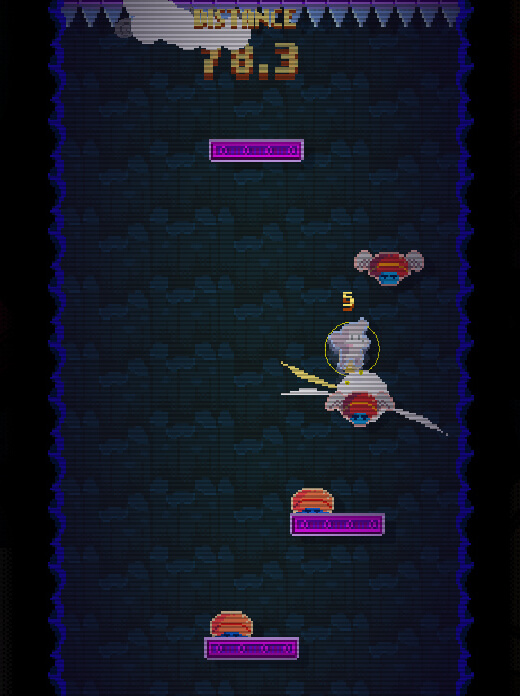 Yong Kian got down to business and started developing Serious Scramblers in his free time once his reservist training ended. Serious Scramblers was a one-man operation where Yong Kian developed everything — from its concept, to its code, and even its artwork — from scratch. "I was able to handle all the technical aspects of game development on my own thanks to the strong foundational skills that I've learned from DigiPen (Singapore)," he says. Yong Kian only outsourced the music and logo art for the game. He commissioned fellow DigiPen (Singapore) BA in Game Design graduate, Victoria Chastan, to design the Serious Scramblers logo.
In order to sustain his indie game development endeavours, Yong Kian teaches as a part-time adjunct lecturer at both Nanyang and Republic Polytechnics. He mainly works on his games during the school holidays or on weekends. "I make it a point to have at least a tiny bit of progress on my projects each week, but I'm mindful not to work to the point of burnout," Yong Kian shares. It took Yong Kian over a year to finish the game for mobile. At launch, Serious Scramblers raked up over a quarter million downloads on iOS, a feat that propelled Yong Kian to port the game to other platforms. Serious Scramblers launched on the PC a year later in November 2019, then on Nintendo Switch™ in August 2020.
Yong Kian's best advice for other aspiring indie game developers is to start small when it comes to creating their first commercial game. He also emphasizes the importance of playtesting and getting feedback on these project ideas as early as possible. "The lack of a sounding board can be challenging for a solo indie developer, and it's invaluable to have someone you can bounce ideas off," he says. For Yong Kian, his Rotten Mage co-founder Jonathan filled that gap for him. Yong Kian also shared his ideas with his students, who gave him feedback and suggestions on how to improve.
As a huge Nintendo fan, seeing his game on the Nintendo eShop is a dream come true for Yong Kian. He has no regrets embarking on this indie journey despite its ups and downs, and he's thankful for the support he's been given. And when it comes to naysayers? Yong Kian ignores them and focuses on why he started making games in the first place: for the fun and experience of it.
Serious Scramblers is now available on the Nintendo eShop for $1.99. It is also available on Steam and the App Store.