The DigiPen (Singapore) alumni club was formed in 2017 as a way for all alumni to stay connected, foster friendships, and support one another. In order to plan and organize club activities, alumni appoint new members each year to a special alumni committee through a community voting process. This month marks the handing of the reins from the third alumni committee to the incoming members of the fourth committee.
Traditionally, the alumni club holds an Annual General Assembly around the middle of the year to thank the outgoing committee members and welcome the incoming committee members before the start of their new term in June. But in light of the COVID-19 pandemic, a physical ceremony was not possible due to the safe distancing measures in place.
Even though the outgoing committee members did not have a chance to meet up for the last time before stepping down, Muhammad Firman — the outgoing president of the alumni committee — was quick to express his gratitude for the third alumni committee members and everything that they have done over the past year. Under the leadership of the third alumni committee, the club bonded over events such as the Mongolian barbecue outing and an exciting virtual reality gaming session at Zero Latency. More recently, the third alumni committee also organized an online "Creativity Competition," which encouraged graduates to sharpen their skills and stay creative in the midst of Singapore's circuit breaker period.
With the ongoing COVID-19 situation, the road ahead for the fourth alumni committee may be more unpredictable than usual, but Firman has this advice for the incoming members: "Be flexible. You may need to change your plans or activities on the fly but that is okay," he says. "It is also important to remain open to all ideas and suggestions, no matter how ridiculous they initially sound."
Taking over the role of president is 2018 BS in Computer Science and Game Design graduate Woo Bing Han. Bing Han is looking forward to connecting with his fellow alumni and planning activities that will help instill a sense of pride amongst them. "At the end of the day, we are all DigiPen (Singapore) graduates. I hope that we can break away from labels and any segregation by degree programs and instead bond over common ground," he says.
Echoing a similar sentiment is BS in Computer Science in Real-Time Interactive Simulation representative Keechin Goh, who sees the diverse talents and interests of the alumni as strengths. "I believe that the alumni network can provide invaluable access to the many facets of professional development," he says. Keechin aims to build an alumni chat group where graduates from different cohorts and programs can gather to network. He adds: "Having an avenue for structured and accessible ideation can lead to discoveries of new frontiers and opportunities."
After being voted in, the incoming committee members met up for the first time via a video conferencing call. It was a chance for everyone to get to know one another better and discuss their plans for the upcoming year. The fourth alumni committee also marks the first time that there are program representatives from the BEng in Systems Engineering (ElectroMechanical Systems) — or SEEMS — program, and the Continuing Education Attach-and-Train (AnT) Programme. Samuel Tan is the SEEMS representative, and Jaimes Soon is the Continuing Education representative.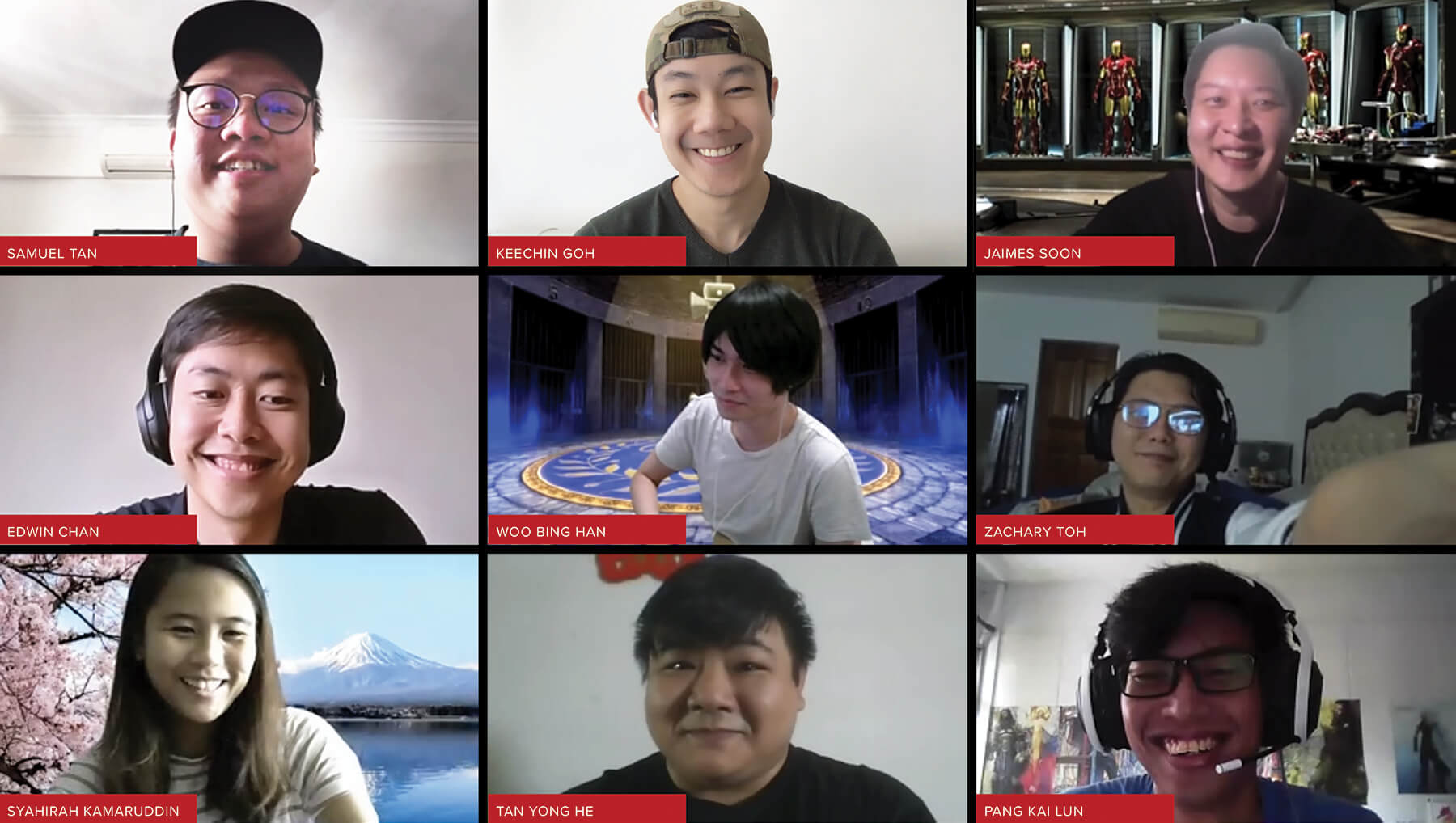 "I am thrilled to be a part of the alumni committee and excited to see what we can bring to the table to empower and invest in each alumnus. This is a community for all DigiPen (Singapore) graduates, and I hope that they can see this as a safe sanctuary for like-minded individuals," Jaimes says. Samuel is equally excited and looks forward to connecting with graduates from the different batches and degree programs.
Beyond just bonding amongst DigiPen (Singapore) graduates, BFA in Digital Art and Animation representative Pang Kai Lun is also keen on finding ways where the alumni can play a more active role in the lives of current students. Kai Lun, together with some friends, started a Discord chat for BFA students and alumni in mid-2019 to discuss industry-related topics and share job opportunities. He has also started using this channel to stream weekly online figure drawing sessions for fellow graduates and juniors to practice their sketches and stay creative.
The fourth alumni committee members are stepping up in the midst of unprecedented circumstances. Social gatherings and large-scale meetings may not be possible for the foreseeable future, but the incoming members would like to reassure the rest of the alumni that they are not alone. The committee is currently exploring the possibility of virtual events and online activities to keep everyone engaged and connected. Some ideas include hosting a Netflix party or virtual singing session, starting an alumni Slack or Telegram group to network, delivering care packages to alumni in need, and playing online games together. In Jaimes' words: "You may not be able to physically attend any events during this time, but we will bring the events to you!"
The alumni committee members for 2020-2021 are: