The Department of Fine Arts and Animation serves as a crucial pillar in the school's Bachelor of Fine Arts in Digital Art and Animation program. This is where students get exposed to traditional art techniques in drawing, painting, and ceramics, as well as pick up the fundamentals of modern production tools used in animation and design. The department is chaired by senior lecturer Dominic Chang, a soft-spoken yet fun-loving instructor with a big heart for his students.
Though Dominic has been working and teaching in the animation industry for close to two decades, he had a rather unconventional start as an artist. Dominic graduated with a Bachelor of Science (Hons) in Quantity Surveying from the University of Portsmouth. At that time, his peers from secondary school, junior college, and National Service all ended up working in more corporate roles like banking and engineering, and Dominic strived to do the same. "My goal then was to study hard, graduate, and start working so that my parents would not have to support me financially," he says.
Upon graduation from university, Dominic worked as a quantity surveyor while doing some graphic design work on the side. His drawing and illustration skills at the time were all self-taught, as he did not have much exposure to the creative field. "Animation was something I thought was beyond my talents or abilities," Dominic says. "What animators did seemed like alchemy or the mystic arts to me." Despite this, his curiosity about the world of animation never went away. After saving up for two years, Dominic decided to pursue his own passions and leave the world of civil engineering behind. Since he had always enjoyed drawing as a hobby, Dominic successfully applied for a short course at Nanyang Polytechnic, where he completed a specialist diploma in computer animation.
During the course, he learned the fundamentals of 2D and 3D animation, which further fueled his interest in the field. One of his lecturers at the time was Barry Parker from Sheridan College in Ontario, Canada. Keen to further his animation skills, Dominic assembled a portfolio and applied for Sheridan College's animation course with encouragement from his then girlfriend (now wife) and Barry. Dominic especially valued his partner's support. "As someone who is introverted and sensitive, her believing in me was the encouragement I sorely needed," he says. Dominic was accepted into the program and completed the 2D animation course after three years. During his time at Sheridan, Dominic did lots of figure drawing, storyboarding, and traditional 2D animation. He loved every bit of his experience, saying he still treasures the camaraderie he shared with his peers there. "Crucially, I had also found my tribe — a diverse range of artists and animators whose warmth, friendship, and mutual encouragement I still cherish to this day," Dominic says.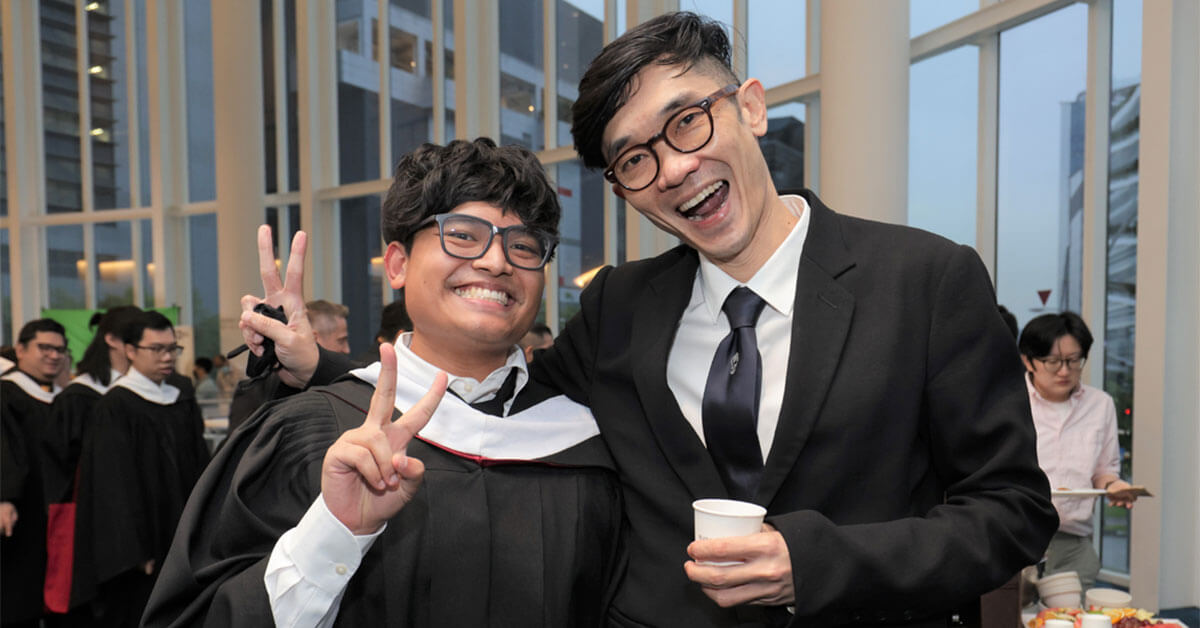 After graduating from Sheridan College, Dominic joined Southern Star Singapore as the 2D animation lead. This was where he first met and worked with current DigiPen (Singapore) faculty members Sandara Tang and Marc Tan. From there, Dominic moved to Scrawl Studios as their lead storyboard artist before joining Tiny Island Productions as their lead storyboard artist and eventually, animation director. While at Tiny Island Productions, Dominic played a vital role in developing the original 3D animation series, Dream Defenders. He helped to oversee storyboarding, reviewing, animation feedback, voice casting, and recording for the series.
While working in animation production, Dominic was also invited to teach part-time at Nanyang Polytechnic, and later at Ngee Ann Polytechnic as well. Dominic would teach after office hours or take time off work once a week for lectures as a way to earn additional income. Through these teaching stints, Dominic discovered he had a knack for connecting with students and found great joy in helping them sharpen and improve their work. After six years at Tiny Island Productions, Dominic was keen to move into education full-time. Serendipitously, he was approached for a teaching position by Calvin Tan, who was a senior lecturer at DigiPen (Singapore). Dominic promptly accepted the offer and joined the Institute in 2012.
At DigiPen (Singapore), Dominic teaches 2D animation and figure drawing. As a lecturer, he is always careful about what he says and how he phrases things — particularly when critiquing student work. The balance between being tactful yet firm when the need arises is a fine line to walk, but one that Dominic is prepared to toe for the sake of his students. As a parent to three teenagers, Dominic fully understands what it's like to be responsible for molding and nurturing the students in his class. He says he affords them the same level of dedication, care, and fairness he would want for his own children, and he is always mindful about guiding students toward improving themselves as artists and individuals. "One needs to constantly keep abreast of changing trends in the industry and improve their own skillsets in order to avoid stasis," Dominic says. He encourages his students to seize opportunities and not be dependent on others to decide things for them. After all, Dominic himself is a perfect example of daring to dream and turning one's passions into reality.