Wondering what you can expect as a student from DigiPen (Singapore)? Besides having an awesome time at university, you will also be well-equipped with the knowledge and experiences to shine in your chosen field by the time you graduate. Here are five ways we prepare you for success.
Strong academic foundations
At DigiPen (Singapore), we believe in equipping students with strong foundational knowledge in whichever discipline they specialize in. For example, students in the BFA in Digital Art and Animation program first start off by mastering the fundamentals of traditional art before moving on to learning computer animation techniques and technologies. And in the BS in Computer Science in Real-Time Interactive Simulation, BS in Computer Science in Interactive Media and Game Development, and BEng in Mechatronics Systems degrees, students learn to do programming and software development projects from scratch. Building upon these strong foundations paves the way for students to pick up specialized knowledge in other areas — such as AR/VR development, cloud computing, and artificial intelligence technologies — more easily later on. Learn more about our approach to computer science education in this animated comic.
Unique multidisciplinary project work
In order to simulate real world conditions, you will be exposed to cross-program collaboration starting from your first year on campus. This is where students from different degree programs come together to work on multidisciplinary projects that usually take the form of a game or interactive simulation.
When working on such a project, students will adopt different roles as they contribute their expertise in either computer science, design, or art to bring the project to life. For example, students from the BS in Computer Science in Real-Time Interactive Simulation and BS in Computer Science in Interactive Media and Game Development programs will often take on roles such as technical lead, tools programmer, or gameplay programmer as they work together to build a custom engine for the project from scratch. On the other hand, students from the BA in User Experience and Game Design program commonly take on the mantle of UX/UI designer or producer to ensure that the user experience is great and the project is running on track. Finally, students from the BFA in Digital Art and Animation program thrive in roles such as 3D modeler or animator.
These projects not only hone technical competencies, but also sharpen other soft skills like effective communication and time management. Read more about our unique, multidisciplinary approach to project work in this illustrated comic.
Industry collaborations
Throughout your time in school, you will also have multiple opportunities to learn from and network with leading companies. DigiPen (Singapore) works closely with 10 strategic partners — Acronis Asia, Autodesk Asia, Bandai Namco Studios Singapore, Continental Automotive Singapore, gumi Asia, Koei Tecmo Singapore, NetVirta, One Animation, ST Engineering, and Ubisoft Singapore — and other industry heavyweights to regularly organize exclusive events, talks, and sharing sessions for our students. Just recently, we had professionals from DBS Bank share their top career tips and other practical advice for our graduating students.
Real work experience
All students in the SIT-DigiPen (Singapore) joint degrees have to do a compulsory Integrated Work Study Programme (IWSP), which is a distinctive feature of SIT's degree programs. During the IWSP, students undertake 12 months of relevant work within the course of their studies.
Apart from the IWSP, many students from the BA in User Experience and Game Design and BFA in Digital Art and Animation degrees opt to do internships as well. Our Career Services office works closely with companies to regularly update students on both internship and full-time job opportunities. The office is also able to provide career counselling services and give tips on resume writing and interview techniques.
Both the IWSP and internships provide you with the opportunity to apply classroom knowledge in a hands-on, professional work setting. By integrating theory with practice, you will gain deep, specialist skills in your chosen areas of study.
Overseas exposure
Another distinctive feature of our curriculum is the Overseas Immersion Programme (OIP). This is a compulsory program where you will spend 12 weeks at our main U.S. campus in Redmond, Washington, attending lectures, labs, and industry seminars.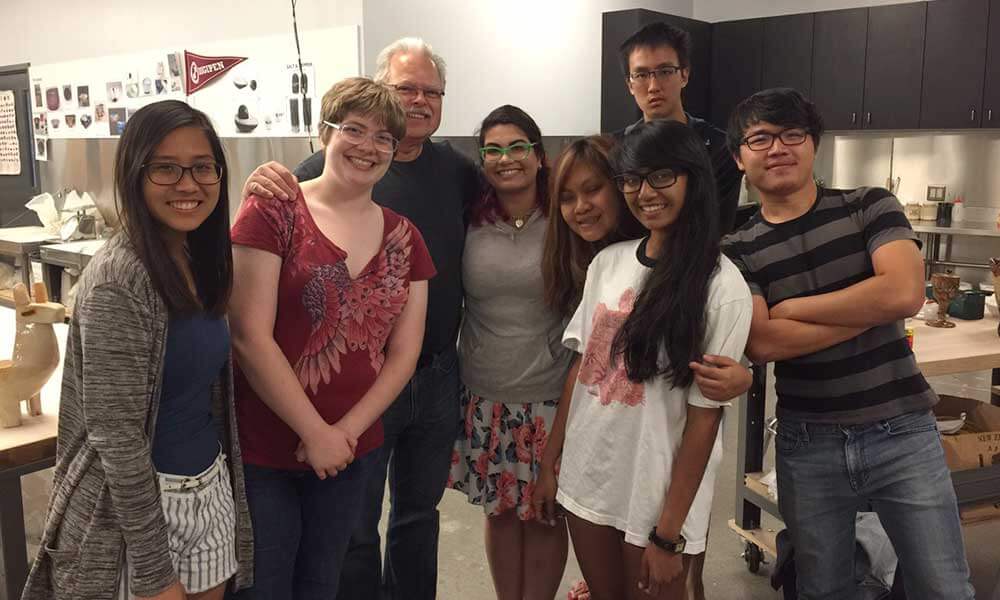 Redmond is a world-renowned technology hub, with companies such as Amazon, Microsoft, Facebook, Google, and Nintendo in the vicinity. The OIP is often cited by graduates as one of their best memories as they get to experience independent living overseas while being immersed in a different culture with their international peers.